Welcome to the ultimate guide to HVAC systems! Whether you're a homeowner, renter, or simply curious about how these systems work, this comprehensive article will provide you with all the information you need. From understanding the different types of HVAC systems to choosing the right one for your needs, installation, maintenance, troubleshooting, and more, we've got you covered.
What is an HVAC System?
HVAC stands for Heating, Ventilation, and Air Conditioning. It refers to the technology used to provide thermal comfort and improve indoor air quality in residential, commercial, and industrial settings. An HVAC system is responsible for regulating temperature, humidity, and airflow to ensure a comfortable and healthy environment. When planning a home renovation, don't forget to assess and upgrade your HVAC system for optimal comfort and energy efficiency.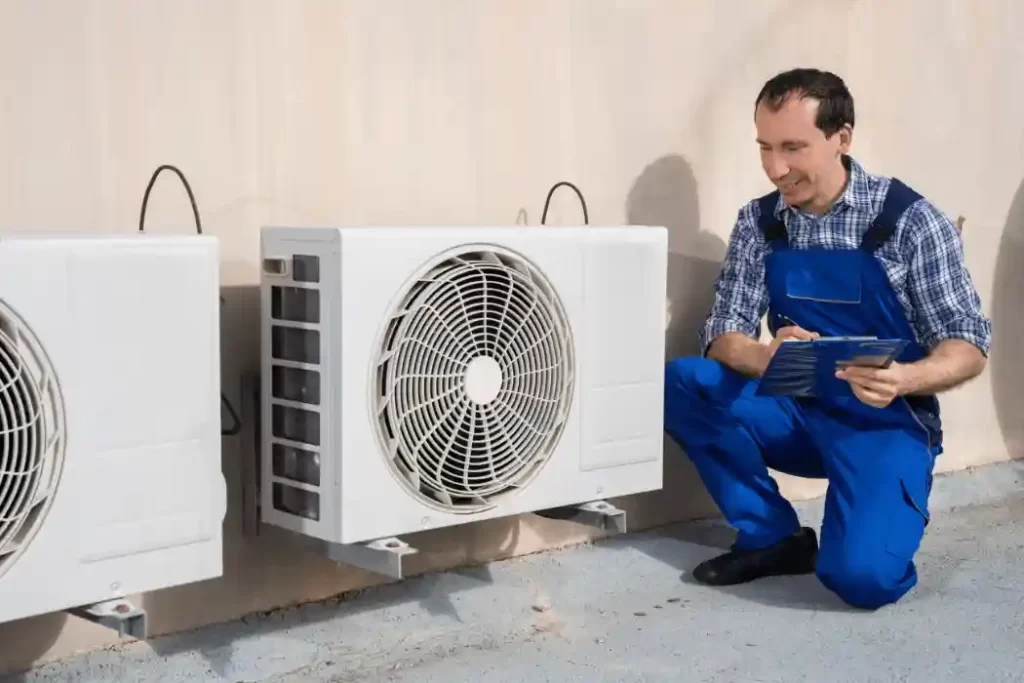 Types of HVAC Systems
There are several types of HVAC systems available, each with its own advantages and applications. Let's explore the most common ones:
Split System
The split system is the most traditional and widely used HVAC configuration. It consists of two main components: an indoor unit (typically the furnace or air handler) and an outdoor unit (the air conditioner or heat pump). The two units work together to provide both heating and cooling.
Packaged System
A packaged system houses all the components in a single unit, typically installed on the roof or a concrete slab near the foundation. This type of system is commonly used in commercial buildings and some residential properties. It offers the advantage of space-saving and simplified installation.
Ductless Mini-Split System
As the name suggests, ductless mini-split systems do not require ductwork to distribute air. Instead, they consist of an outdoor unit connected to one or more indoor air handlers. These systems are ideal for retrofitting older homes, room additions, or areas where ductwork installation is not feasible.
Hybrid System
Hybrid systems combine the energy efficiency of a heat pump with the reliability of a furnace. They can automatically switch between the two heating sources based on outdoor temperatures. Hybrid systems are an excellent choice for areas with varying climates.
Components of an HVAC System
To understand how an HVAC system operates, let's take a closer look at its key components:
Furnace
The furnace is responsible for heating the air. It burns fuel (such as natural gas, propane, or oil) and distributes the warm air throughout the building using a blower fan.
Air Conditioner
The air conditioner cools the indoor air by extracting heat and moisture from it. It uses a refrigerant that circulates between the indoor and outdoor units to achieve this cooling effect.
Heat Pump
A heat pump is a versatile component that can both heat and cool your home. It works by transferring heat from one place to another, depending on the desired temperature.
Thermostat
The thermostat acts as the control center for your HVAC system. It allows you to set the desired temperature, control fan speed, and program schedules for energy efficiency.
Ductwork
Ductwork refers to the network of channels that distribute conditioned air throughout the building. It ensures proper airflow and temperature balance in each room.
How Does an HVAC System Work?
An HVAC system operates on the principle of forced air. Here's a step-by-step overview of how it works:
The thermostat detects the current temperature in the room and compares it to the desired temperature setting.
If the room is colder than the set temperature, the thermostat sends a signal to the furnace or heat pump to start heating.
The furnace burns fuel or the heat pump extracts heat from the outdoor air, depending on the system.
The warm air is then circulated through the ductwork, reaching every room in the building.
Simultaneously, the air conditioner or heat pump removes heat and moisture from the indoor air if cooling is required.
The conditioned air is delivered through the same ductwork, providing a comfortable environment.
The thermostat continuously monitors the temperature and adjusts the HVAC system's operation accordingly.
Choosing the Right HVAC System
Selecting the right HVAC system for your home is crucial for long-term comfort and energy efficiency. Here are some factors to consider:
Consider Your Climate
The climate in your region plays a significant role in determining the type of HVAC system that suits your needs. For example, areas with harsh winters may require a different system than those with a moderate climate.
Energy Efficiency
Opting for an energy-efficient HVAC system can help reduce utility bills and minimize environmental impact. Look for systems with high SEER (Seasonal Energy Efficiency Ratio) and AFUE (Annual Fuel Utilization Efficiency) ratings.
Size and Capacity
Proper sizing is essential to ensure optimal performance and comfort. A system that is too small will struggle to meet the demand, while an oversized system may cycle on and off frequently, leading to inefficiency and reduced lifespan.
Noise Level
Consider the noise level of the HVAC system, especially if it will be installed near living spaces or bedrooms. Some systems offer quieter operation, ensuring a peaceful indoor environment.
Cost
While cost should not be the sole determining factor, it is essential to consider your budget and the long-term savings offered by energy-efficient systems. Balance upfront costs with potential energy savings over time.
HVAC Installation Process
Installing an HVAC system involves several crucial steps. It is recommended to hire a qualified HVAC contractor for a successful installation. Here's an overview of the installation process:
Finding a Qualified HVAC Contractor
Research and choose a reputable HVAC contractor with experience in installations, preferably certified by industry organizations. Request multiple quotes and compare their expertise, warranties, and customer reviews.
Proper Sizing and Load Calculation
The HVAC contractor will perform load calculations to determine the system's size needed to effectively heat and cool your home. Factors such as insulation, square footage, windows, and climate are considered.
Ductwork Installation
If your system requires ductwork, the contractor will design and install it to ensure proper airflow and distribution. Properly installed ductwork minimizes energy loss and maintains consistent temperatures.
Equipment Installation
The contractor will install the indoor and outdoor units, connect them to the electrical supply, and configure the thermostat. They will also test the system for functionality and make any necessary adjustments.
HVAC Maintenance and Upkeep
Regular maintenance is essential to keep your HVAC system operating efficiently and extend its lifespan. Here are some important maintenance tasks:
Regular Filter Replacement
Clean or replace the air filters at least every three months or more frequently if needed. Clogged filters restrict airflow and decrease efficiency.
Cleaning the Outdoor Unit
Regularly clean the outdoor unit to remove debris, leaves, and dirt that can obstruct airflow. Ensure proper clearance around the unit for adequate ventilation.
Annual Professional Check-Up
Schedule an annual maintenance check-up with a qualified HVAC technician. They will inspect and clean the system, identify any potential issues, and ensure optimal performance.
Air Duct Cleaning
Periodically consider professional air duct cleaning to remove dust, allergens, and contaminants from the ductwork. Clean ducts improve indoor air quality and enhance system efficiency.
Proper Insulation
Ensure proper insulation in your home to minimize heat loss during winter and heat gain during summer. Well-insulated homes require less energy for heating and cooling.
Energy Efficiency and Cost Savings
Implementing energy-efficient practices can help reduce your HVAC system's energy consumption and lower utility bills. Here are some strategies to consider:
Programmable Thermostats
Install a programmable or smart thermostat to optimize temperature settings based on your daily schedule. This avoids unnecessary heating or cooling when no one is at home.
Zone Heating and Cooling
If possible, divide your home into different zones and install thermostats for each zone. This allows for customized temperature control and avoids conditioning unoccupied areas.
Insulation and Sealing
Properly insulate your home to prevent air leakage and improve energy efficiency. Seal any gaps or cracks in windows, doors, and ductwork to minimize air infiltration.
Regular Maintenance
Stay consistent with HVAC maintenance tasks mentioned earlier. Regular upkeep ensures the system operates at peak efficiency, preventing costly breakdowns and extending its lifespan.
Troubleshooting Common HVAC Issues
Despite regular maintenance, HVAC systems can encounter occasional issues. Here are some common problems and troubleshooting tips:
Uneven Heating or Cooling
If certain areas of your home have inconsistent temperatures, check for blocked vents, dirty filters, or ductwork leaks. Adjusting dampers or consulting a professional can help identify and resolve the issue.
Noisy Operation
Unusual noises from your HVAC system may indicate loose components, worn-out belts, or malfunctioning motors. Consult a professional technician to diagnose and address the source of the noise.
Airflow Problems
Insufficient airflow can result from clogged filters, blocked vents, or faulty fans. Check and clean the filters, remove any obstructions from vents, and consult a professional if the issue persists.
Frequent Cycling
Short cycling, where the system turns on and off frequently, can be caused by an oversized system, faulty thermostat, or refrigerant leaks. A qualified technician can identify the root cause and provide solutions.
High Energy Bills
A sudden increase in energy bills may indicate an inefficient HVAC system or a problem with the insulation. Consider scheduling a professional energy audit to identify areas for improvement.
When to Call a Professional
While some HVAC maintenance tasks can be done by homeowners, certain issues require professional expertise. Contact a qualified HVAC technician in the following situations:
Major repairs or component replacements
Refrigerant leaks or recharge
Electrical issues or wiring problems
System malfunctions or error codes
Any concerns related to gas lines or combustion systems
Conclusion
In conclusion, understanding HVAC systems is essential for homeowners and individuals seeking comfort and energy efficiency. By familiarizing yourself with the different types of systems, components, installation process, maintenance requirements, and troubleshooting tips, you can make informed decisions and ensure optimal performance from your HVAC system. Remember to prioritize energy efficiency, regular maintenance, and consult professionals when needed for a comfortable and well-functioning system.