With the scorching heat of summer upon us, finding respite in the cool comfort of an air-conditioned home is a luxury many of us cherish. However, setting the right temperature on your air conditioner is crucial to strike a balance between comfort, energy efficiency, and cost savings. In this article, we will explore the factors to consider when choosing the optimal temperature for your home, recommended temperature settings for different situations, tips for maximizing energy efficiency and comfort, and the environmental impact of your cooling choices.
As temperatures soar, it becomes essential to create a cool and comfortable living environment inside our homes. The air conditioning system plays a pivotal role in achieving this, but setting the thermostat at the right temperature is a decision that requires careful consideration. Not only does it affect our comfort levels, but it also impacts energy consumption and utility bills. Let's delve into the factors that can help guide you in choosing the ideal air conditioning temperature for your home.
Understanding the Importance of Choosing the Right Air Conditioning Temperature
The right air conditioning temperature can make a significant difference in your overall well-being and quality of life. It directly affects your comfort, productivity, and sleep quality. Moreover, selecting an appropriate temperature setting can result in substantial energy savings and reduced environmental impact. By striking the perfect balance, you can stay cool, conserve energy, and maintain an eco-friendly approach.
Factors to Consider When Selecting the Optimal Temperature
Climate and Weather Conditions
The local climate and weather patterns are crucial factors to consider when choosing the right air conditioning temperature. If you live in a region with high humidity or extreme heat, you may need to set the thermostat lower to combat the discomfort effectively. On the other hand, milder climates may require less cooling, allowing you to set the temperature slightly higher. Consider the ideal air conditioning temperature as part of your home renovation plans, ensuring a comfortable and customized indoor climate for your living space.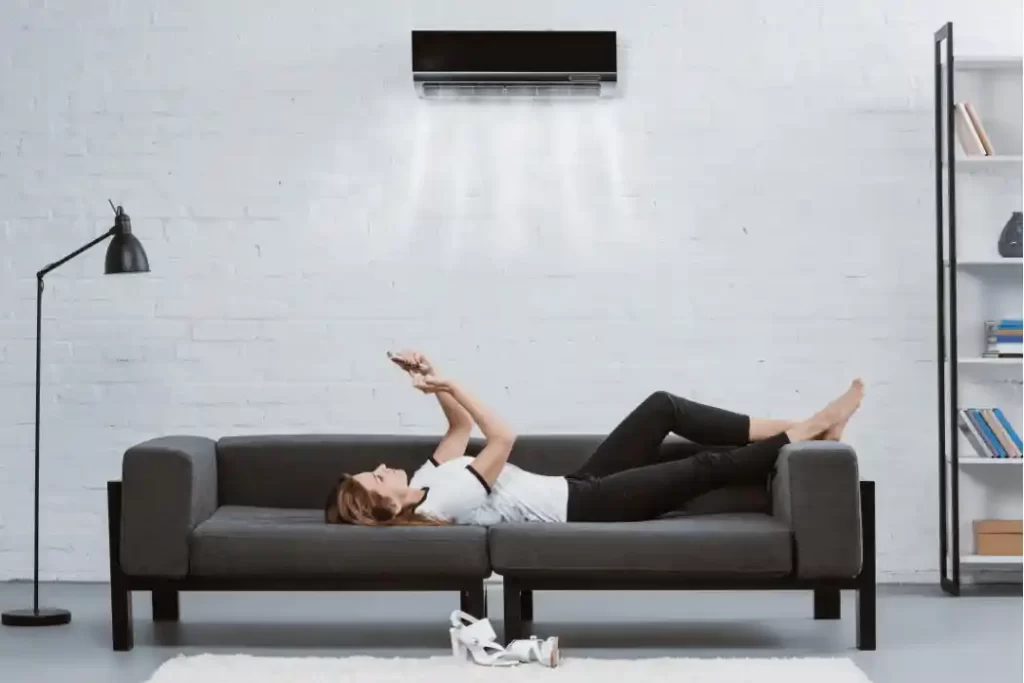 Energy Efficiency and Cost Savings
Energy efficiency is a paramount concern for many homeowners. Setting your air conditioner at an energy-efficient temperature can significantly reduce your monthly utility bills. Every degree you raise your thermostat can result in substantial savings. It is advisable to find the highest temperature at which you feel comfortable to strike a balance between cost savings and personal comfort.
Personal Comfort Preferences
Everyone has unique comfort preferences. Some individuals prefer cooler temperatures, while others find higher temperatures more comfortable. Consider the comfort levels of all occupants in your home and try to reach a consensus. Experiment with different settings to find the temperature that keeps everyone content without straining the air conditioner unnecessarily.
Health Considerations
Health conditions and personal circumstances can influence your temperature preferences. Certain medical conditions may necessitate lower temperatures for individuals who are more sensitive to heat. Similarly, infants, elderly individuals, or people with compromised immune systems may require cooler environments to stay comfortable and safe.
Recommended Temperature Settings for Different Situations
Daytime Temperature Settings
During the day, when the household is active, setting the air conditioner at an appropriate temperature is essential. A recommended daytime temperature range is typically between 72°F (22°C) and 78°F (26°C). Adjust within this range based on personal comfort and external weather conditions.
Nighttime Temperature Settings
At night, when you're asleep and less active, you can set the thermostat slightly higher to conserve energy. A comfortable nighttime temperature range is usually between 65°F (18°C) and 72°F (22°C). Consider using lighter bedding and fans to enhance comfort while maintaining the temperature at an optimal level.
Vacation or Extended Absence
When you're away from home for an extended period, it is advisable to set the thermostat at a higher temperature to minimize energy consumption. However, ensure that the temperature doesn't rise excessively, potentially causing damage to items or materials sensitive to heat. Setting the temperature around 85°F (29°C) is generally sufficient to conserve energy without compromising the integrity of your belongings.
Tips for Maximizing Energy Efficiency and Comfort
In addition to choosing the right temperature, you can implement several strategies to optimize energy efficiency and enhance your comfort levels. Consider the following tips:
Using Programmable Thermostats
Investing in a programmable thermostat allows you to schedule temperature adjustments based on your daily routine. You can set the thermostat to raise the temperature when you're away and lower it before you return. This automated approach ensures energy efficiency without sacrificing comfort.
Proper Insulation and Sealing
Ensure your home is well-insulated and properly sealed to prevent cool air from escaping and hot air from infiltrating your living spaces. Proper insulation helps maintain a consistent temperature, reduces the workload on your air conditioner, and enhances energy efficiency.
Utilizing Ceiling Fans
Ceiling fans can complement your air conditioning system by circulating the cool air, creating a breeze effect that makes the room feel cooler. By utilizing ceiling fans, you can set your thermostat slightly higher while still feeling comfortable.
Strategic Use of Curtains and Blinds
Using curtains and blinds effectively can help block out sunlight and heat during the day. Close the curtains or blinds on windows receiving direct sunlight to prevent excessive heat gain. Conversely, open them during cooler parts of the day to allow natural ventilation.
Maintenance and Regular Servicing
Regular maintenance and servicing of your air conditioning system are crucial for optimal performance. Clean or replace filters regularly, check for leaks, and schedule professional servicing to ensure your unit operates efficiently and reliably.
Balancing Temperature Control with Environmental Impact
While it is important to stay comfortable, we must also consider the environmental impact of our cooling choices. Here are some ways to strike a balance between temperature control and eco-friendliness:
Eco-Friendly Cooling Alternatives
Explore eco-friendly cooling alternatives such as evaporative coolers or geothermal cooling systems. These options utilize natural resources or employ energy-efficient mechanisms to cool your home while minimizing environmental impact.
Energy-Saving Practices
Adopt energy-saving practices such as reducing heat-generating activities during the hottest parts of the day, utilizing natural ventilation when possible, and avoiding excessive cooling. By being mindful of your energy consumption, you can reduce your carbon footprint while enjoying a comfortable living space.
Conclusion
Choosing the right air conditioning temperature for your home is a crucial decision that affects your comfort, energy consumption, and environmental impact. By considering factors such as climate, energy efficiency, personal preferences, and health considerations, you can strike the perfect balance. Combine optimal temperature settings with energy-saving practices and regular maintenance to maximize your comfort while minimizing your ecological footprint.