Maintaining your HVAC (Heating, Ventilation, and Air Conditioning) system is crucial for ensuring optimal performance and extending its lifespan. Neglecting regular maintenance can result in reduced efficiency, higher energy bills, and costly repairs. By implementing these top 10 HVAC maintenance tips, you can keep your system running smoothly and efficiently, providing you with a comfortable indoor environment.
Regularly Change Air Filters
One of the simplest yet most effective maintenance tasks for your HVAC system is regularly changing the air filters. Clogged or dirty filters can obstruct airflow, reduce efficiency, and negatively impact air quality. It is recommended to check and replace filters every 30-90 days, depending on the filter type and environmental factors.
Clean the Outdoor Unit
The outdoor unit of your HVAC system can accumulate debris, such as leaves, dirt, and grass. This can restrict airflow and hinder the system's performance. Regularly clean the outdoor unit by gently removing any debris and ensuring that the surrounding area is clear. Exercise caution and turn off the power supply before performing any cleaning tasks. Proper HVAC maintenance is crucial, especially during home renovations, to ensure optimal comfort, energy efficiency, and longevity of your system.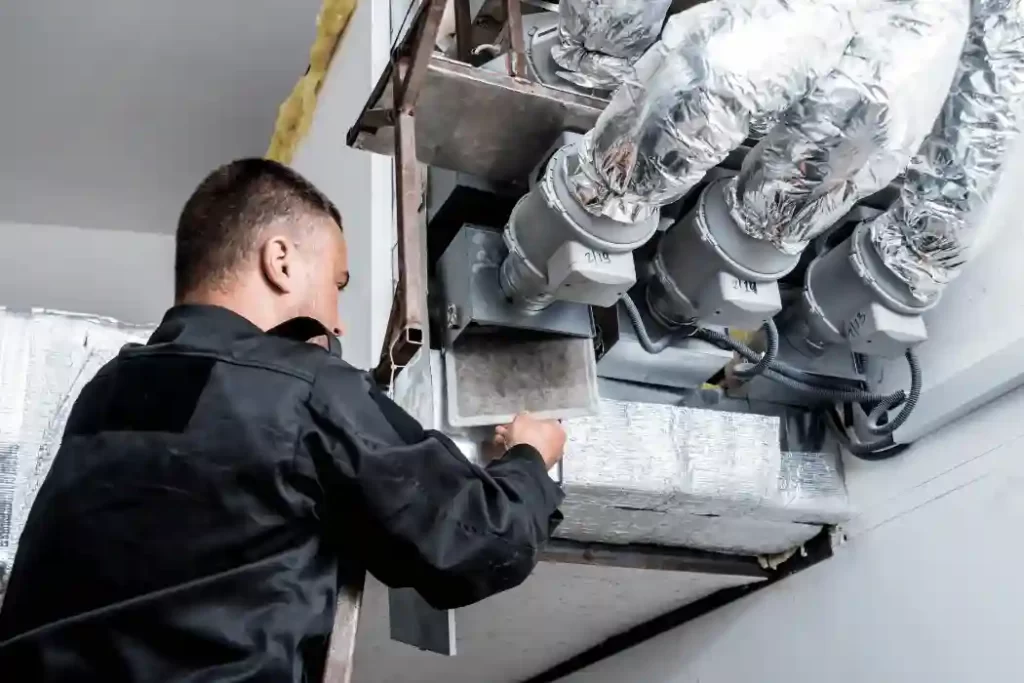 Keep Vents and Registers Clean
Blocked or dirty vents and registers can impede the proper distribution of air throughout your home. Regularly check and clean them to ensure unobstructed airflow. Use a vacuum or a soft brush to remove dust and debris from the vents and registers.
Schedule Professional Maintenance
While some maintenance tasks can be performed by homeowners, it is highly recommended to schedule professional HVAC maintenance at least once a year. A qualified technician can thoroughly inspect, clean, and tune-up your system, identifying any potential issues before they turn into major problems.
Check Thermostat Settings
Optimizing your thermostat settings can significantly impact your HVAC system's efficiency and energy consumption. Consider using programmable thermostats to automatically adjust temperatures based on your schedule. Additionally, keeping your thermostat at a reasonable temperature, such as 78°F during the summer, can help reduce energy usage and lower your bills.
Ensure Proper Insulation
Proper insulation plays a vital role in maintaining a comfortable indoor environment while reducing the strain on your HVAC system. Insulate your home adequately to prevent heat transfer and air leaks. Focus on areas such as the attic, walls, and windows, as they are prone to energy loss.
Seal Air Leaks
Air leaks can lead to inefficient heating and cooling, as conditioned air escapes from your home. Inspect your windows, doors, and other potential openings for air leaks. Seal any gaps or cracks using weatherstripping or caulk to prevent air infiltration and loss.
Maintain Adequate Airflow
Ensuring adequate airflow is essential for the optimal performance of your HVAC system. Keep furniture, curtains, and other objects away from vents to avoid blocking the airflow. Additionally, consider having your ductwork inspected for any blockages or leaks, as they can hinder airflow and reduce efficiency.
Protect the HVAC System during Extreme Weather Conditions
Extreme weather conditions can put extra stress on your HVAC system. During severe cold or hot spells, take measures to protect your system. For example, during winter, insulate outdoor pipes and cover the outdoor unit to prevent freezing. During intense heat, provide shade for the outdoor unit to prevent overheating.
Regularly Clean Evaporator and Condenser Coils
Over time, the evaporator and condenser coils of your HVAC system can accumulate dust and dirt, reducing their efficiency. Regularly clean these coils to ensure optimal heat transfer. Follow the manufacturer's instructions or consult a professional technician for the proper cleaning procedure.
Conclusion
Proper HVAC maintenance is essential for optimal performance, energy efficiency, and the longevity of your system. By implementing these top 10 HVAC maintenance tips, you can ensure that your HVAC system operates smoothly, provides optimal comfort, and saves you money in the long run.