Pressure washing is an effective method to restore and enhance the appearance of various surfaces, from driveways and sidewalks to decks and siding. It's a powerful technique that can remove dirt, grime, mold, and other stubborn stains. However, achieving stunning results with pressure washing requires more than just pointing the nozzle and spraying. In this article, we will provide you with expert tips and guidance to help you master the art of pro-level pressure washing.
Pressure washing, also known as power washing, utilizes high-pressure water jets to clean and restore various surfaces. It is widely used for residential, commercial, and industrial applications due to its efficiency and effectiveness. Whether you want to revitalize your home's exterior, prepare a surface for painting, or clean outdoor furniture, pressure washing can deliver stunning results when done correctly.
Selecting the Right Pressure Washer
To achieve pro-level pressure washing results, it's crucial to choose the right pressure washer for your specific needs. Consider the pressure output, flow rate, and portability. Electric pressure washers are suitable for light to medium-duty tasks, while gas-powered ones provide greater power for heavy-duty applications. Pressure washing is a versatile and essential tool in any home renovation project, helping to restore surfaces, remove stains, and bring a fresh, clean look to your property.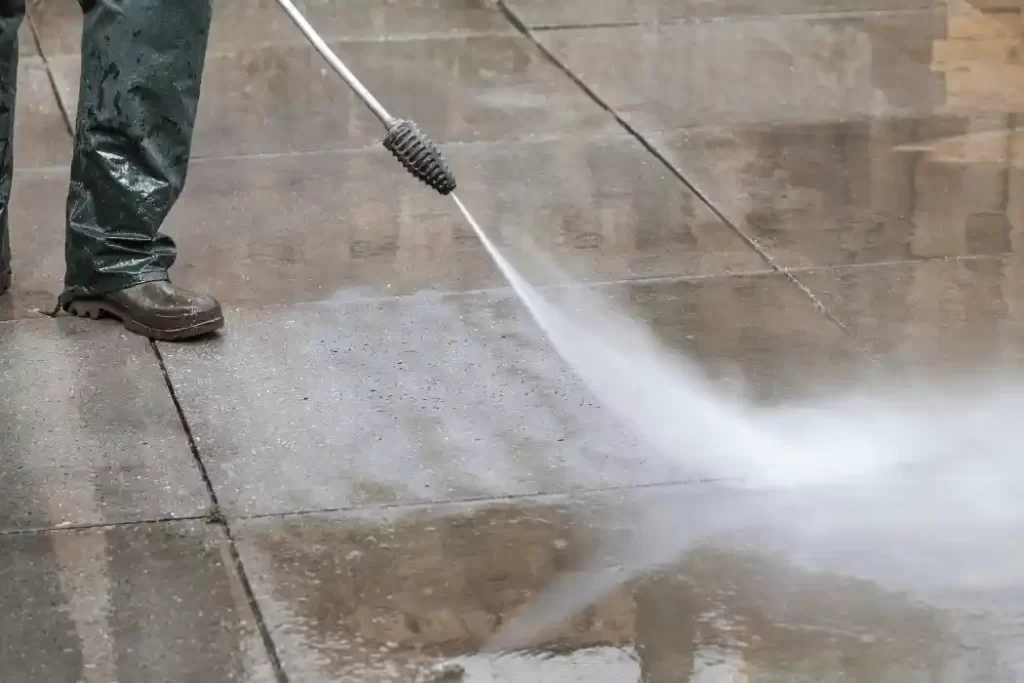 Preparing the Surface
Before starting the pressure washing process, proper surface preparation is essential. Clear the area of any obstacles, such as furniture or vehicles. Cover delicate plants or surfaces that may be vulnerable to high-pressure water. Sweep away loose debris, and apply a suitable detergent to loosen stubborn stains.
Choosing the Appropriate Nozzle
Different surfaces and cleaning tasks require different spray patterns and pressures. Selecting the appropriate nozzle is crucial to achieve the desired results. Narrow spray patterns provide greater pressure for tough stains, while wider patterns are suitable for general cleaning. Experiment with different nozzles to find the optimal one for each task.
Applying the Right Pressure
One common mistake in pressure washing is using excessive pressure, which can damage surfaces or force water into unintended areas. Adjust the pressure according to the surface and the cleaning requirements. Start with low pressure and gradually increase it if necessary. Regularly inspect the surface for any signs of damage.
Using Proper Technique
To maximize the effectiveness of pressure washing, it's important to use the proper technique. Hold the spray nozzle at an angle and maintain a consistent distance from the surface. Move the nozzle in even strokes, overlapping each pass for thorough cleaning. Work systematically to cover the entire area.
Safety Precautions
Pressure washing involves handling powerful equipment and high-pressure water, so taking safety precautions is paramount. Wear protective clothing, including goggles, gloves, and non-slip footwear. Avoid aiming the spray at people, pets, or delicate objects. Be mindful of electrical connections and take precautions when working on elevated surfaces.
Cleaning Different Surfaces
Pro-level pressure washing extends beyond just cleaning one type of surface. Understand the specific requirements for cleaning different surfaces like concrete, wood, brick, vinyl siding, and vehicles. Adjust the pressure, technique, and detergent accordingly to achieve optimal results without causing any damage.
Removing Tough Stains
Some stains, such as oil, rust, or mildew, may require extra attention to remove effectively. Pre-treat these stains with appropriate cleaning agents or specialized solutions before pressure washing. Scrub the stained area gently with a brush or sponge to enhance the cleaning process. Adjust the pressure and nozzle selection accordingly.
Post-Washing Care
After pressure washing, it's important to provide proper care to the cleaned surfaces. Allow them to dry thoroughly before using or applying any treatments. If necessary, apply sealants, stains, or paints to protect and enhance the surface. Regular maintenance and timely cleaning can help prolong the results of pressure washing.
Maintenance Tips for Pressure Washers
To ensure the longevity and performance of your pressure washer, regular maintenance is essential. Follow the manufacturer's guidelines for maintenance tasks such as cleaning filters, inspecting hoses and connections, and changing oil. Properly store the equipment in a clean and dry area when not in use.
Benefits of Hiring a Professional
While DIY pressure washing can be rewarding, there are situations where hiring a professional service is beneficial. Professional pressure washers have the expertise, equipment, and knowledge to handle complex tasks safely and efficiently. They can also provide recommendations for the best cleaning approach and protect delicate surfaces from potential damage.
Conclusion
Mastering the art of pro-level pressure washing requires a combination of knowledge, technique, and practice. By following the expert tips provided in this article, you can achieve stunning results and transform your surfaces into their former glory. Remember to prioritize safety, choose the right equipment, and adapt your approach to different surfaces and cleaning tasks.