Pressure washing is a highly effective method for cleaning various surfaces, including driveways, decks, sidewalks, and even the exterior of buildings. It utilizes high-pressure water to remove dirt, grime, mold, and other tough stains. In this article, we will explore some amazing pressure washing hacks that can make your cleaning tasks easier and more efficient. From using the right equipment to implementing smart techniques, these hacks will undoubtedly blow your mind.
The Power of Pressure Washing
Pressure washing is a highly efficient method that harnesses the force of water to remove dirt and grime from various surfaces. The high-pressure water spray generated by a pressure washer is capable of reaching deep into porous materials, effectively eliminating even the toughest stains. Whether you want to clean your driveway, revitalize your deck, or restore the appearance of your home's exterior, pressure washing is an excellent choice. Integrating pressure washing into your home renovation project is an effective way to restore the beauty of surfaces, removing dirt and grime for a refreshed and revitalized space.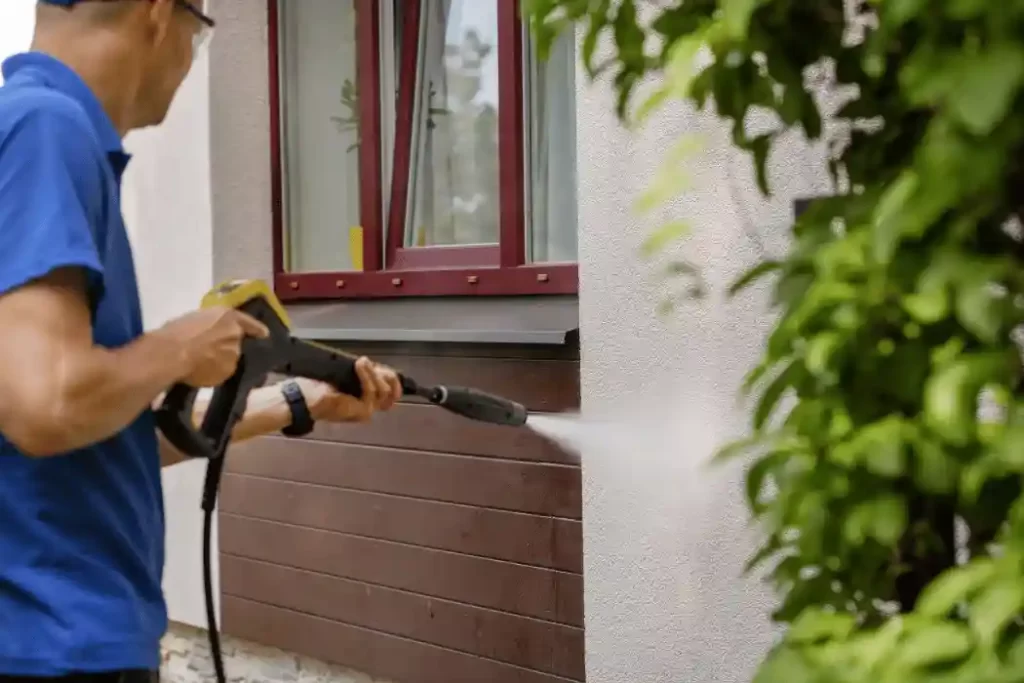 Choosing the Right Pressure Washer
To ensure optimal results, it is crucial to choose the right pressure washer for your specific needs. Consider the pressure rating, flow rate, and power source when selecting a pressure washer. Gas-powered pressure washers are generally more powerful and suitable for larger-scale projects, while electric pressure washers are more lightweight and convenient for smaller tasks.
Safety Precautions for Pressure Washing
Pressure washing involves powerful equipment and high-pressure water, so it's essential to prioritize safety. Always wear protective gear, including goggles, gloves, and sturdy footwear. Avoid directing the pressure washer towards people, pets, or delicate items. Additionally, be cautious of electrical hazards when using electric pressure washers.
Preparing the Surface
Before you begin pressure washing, it's crucial to prepare the surface properly. Remove any loose debris, such as leaves or twigs, and cover delicate plants or outdoor furniture. Sweep the area to be cleaned to ensure no loose dirt remains. Pre-treat any heavily soiled areas with appropriate cleaning solutions to enhance the effectiveness of pressure washing.
Using the Correct Nozzle
Different pressure washing tasks require different nozzles. Nozzles with narrow spray angles provide higher pressure for stubborn stains, while wider angles cover larger areas more quickly. Choose the appropriate nozzle for each cleaning job to maximize efficiency and achieve the desired results.
Optimal Cleaning Techniques
When pressure washing, use smooth and controlled sweeping motions to ensure even coverage. Start from the top and work your way down, moving in straight lines or overlapping arcs. Maintain a consistent distance between the nozzle and the surface to avoid damaging it. Adjust the pressure settings according to the surface being cleaned.
Removing Tough Stains
Pressure washing can effectively remove tough stains, such as oil spills, mold, or mildew. For oil stains, pre-treat with a degreaser before pressure washing. Use a specialized mold and mildew cleaner to tackle these stubborn growths. Applying a detergent or cleaning solution and allowing it to sit for a few minutes before pressure washing can significantly enhance stain removal.
Cleaning Vertical Surfaces
When pressure washing vertical surfaces, such as walls or fences, start from the bottom and work your way up. This technique prevents streaking caused by the downward flow of dirty water. Use a lower pressure setting to avoid damaging the surface and maintain a consistent distance to ensure even cleaning.
Enhancing Efficiency with Detergents
Incorporating appropriate detergents or cleaning solutions can enhance the efficiency of pressure washing. For specific surfaces, such as concrete or wood, there are specialized cleaners available. These detergents aid in loosening dirt and grime, making it easier for the pressure washer to remove them effectively.
Protecting Surrounding Areas
Pressure washing can inadvertently damage surrounding areas if proper precautions are not taken. Before pressure washing, cover nearby windows, delicate plants, and outdoor furniture to shield them from high-pressure water spray or cleaning solutions. Take care to avoid directing the water towards electrical outlets, air conditioning units, or other sensitive equipment.
Post-Pressure Washing Maintenance
After completing the pressure washing task, it's important to perform some post-cleaning maintenance. Rinse the cleaned surface thoroughly to remove any residual detergent or cleaning solution. Allow the surface to dry completely before using or applying any sealants or coatings.
Eco-Friendly Pressure Washing Tips
To minimize environmental impact, consider implementing eco-friendly pressure washing practices. Use biodegradable and environmentally safe cleaning solutions whenever possible. Collect and reuse water when feasible, or direct the wastewater towards suitable drainage areas. Additionally, be mindful of local regulations regarding water usage and wastewater disposal.
Pressure Washing Dos and Don'ts
To ensure a successful pressure washing experience, it's essential to adhere to certain dos and don'ts. Do test the pressure washer on a small inconspicuous area before starting the main task. Do read and follow the manufacturer's instructions carefully. Don't pressure wash delicate surfaces or materials, such as fragile wood or sensitive paint. Don't use excessive pressure that may cause damage. Always exercise caution and use common sense throughout the process.
Troubleshooting Pressure Washing Issues
Sometimes, pressure washing may encounter certain issues that need troubleshooting. If the pressure washer fails to start, check the power source and ensure proper connections. If the water flow seems inadequate, inspect the inlet filter and clear any obstructions. If the pressure seems low, verify that the nozzle is clean and properly fitted. Consult the manufacturer's manual or seek professional assistance for complex issues.
Conclusion
Pressure washing is a powerful cleaning technique that can transform the appearance of various surfaces. By following the outlined hacks and tips, you can achieve outstanding results while ensuring safety and efficiency. Remember to choose the appropriate pressure washer, prepare the surface adequately, and use the correct techniques and nozzles for each task. With these pressure washing hacks, you'll be amazed at the difference they make in your cleaning endeavors.