Your home's exterior is the first thing people notice when they visit or pass by your property. Over time, dirt, grime, and environmental factors can take a toll on its appearance. Fortunately, powerful pressure washing can be a game-changer in restoring your home's exterior and enhancing its curb appeal. In this article, we will explore the benefits of pressure washing, the process involved, and why it is essential for maintaining a clean and vibrant home.
The Importance of a Clean Home Exterior
Your home's exterior is exposed to various elements such as dirt, dust, pollen, mold, mildew, and even graffiti. Over time, these factors can make your house look dull, dirty, and unattractive. A clean home exterior not only enhances the overall aesthetics but also helps preserve the integrity of your property. Additionally, it creates a welcoming environment for you, your family, and guests. Pressure washing is a versatile and essential tool in any home renovation project, helping to restore surfaces, remove stains, and bring a fresh, clean look to your property.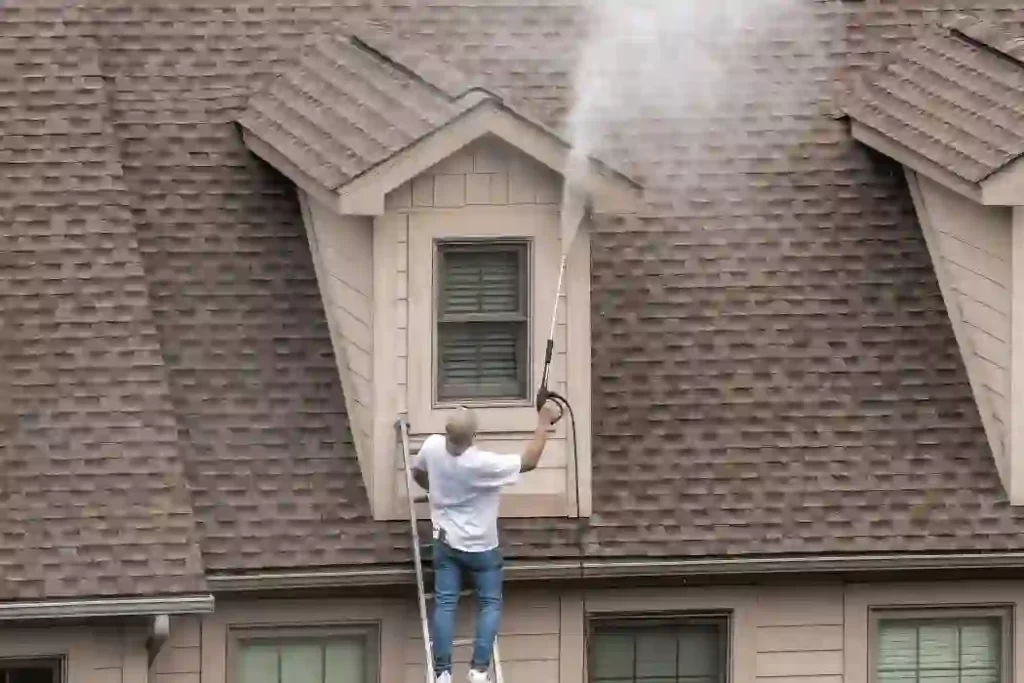 Understanding Pressure Washing
Pressure washing, also known as power washing, is a highly effective cleaning technique that utilizes pressurized water to remove dirt, grime, and other contaminants from surfaces. The process involves using a specialized machine that generates high-pressure water streams to clean and restore various surfaces, including siding, driveways, decks, fences, and patios. The force of the water effectively eliminates tough stains, mold, mildew, and even chewing gum residues.
Choosing the Right Pressure Washer
To achieve optimal results, it's crucial to choose the right pressure washer for the task at hand. Consider factors such as the water pressure, flow rate, and nozzle types when selecting a pressure washer. Different surfaces require different pressure levels, so it's essential to match the equipment to the cleaning requirements. Additionally, take into account the size of the area you intend to clean and whether you prefer an electric or gas-powered pressure washer.
Preparing for Pressure Washing
Before starting the pressure washing process, proper preparation is essential. Clear the area of any obstacles, fragile items, or plants that could be damaged by the high-pressure water. Cover electrical outlets and ensure windows and doors are securely closed to prevent water from entering your home. Taking these precautions ensures a safe and efficient pressure washing experience.
Pressure Washing Techniques
When pressure washing, it's important to use proper techniques to avoid damaging the surfaces or causing harm to yourself. Start by testing the pressure washer on a small, inconspicuous area to determine the ideal distance and pressure settings. Maintain a consistent distance from the surface and use sweeping motions to evenly clean the area. For stubborn stains, adjust the nozzle or use cleaning agents specifically formulated for pressure washers.
Cleaning Different Surfaces
Pressure washing can be used on a wide range of surfaces, each requiring specific techniques for optimal results. For example, when cleaning siding, it's important to avoid spraying water directly upward, as it may penetrate behind the panels and cause damage. Similarly, delicate surfaces like wooden decks require a lower pressure setting to prevent splintering or gouging. Understanding the nuances of each surface ensures effective and safe cleaning.
Removing Stubborn Stains and Mold
One of the remarkable benefits of pressure washing is its ability to eliminate stubborn stains and mold. Mold and mildew not only tarnish the appearance of your home but also pose health risks. Pressure washing with the appropriate cleaning agents can effectively remove these contaminants, ensuring a cleaner and healthier environment for you and your family.
Safety Measures during Pressure Washing
While pressure washing is generally safe when performed correctly, it's essential to prioritize safety. Wear appropriate protective gear, including goggles, gloves, and non-slip footwear. Avoid using a ladder or elevated surfaces while operating the pressure washer to prevent accidents. Additionally, be cautious when handling cleaning agents and ensure proper ventilation when using chemical solutions.
Post-Pressure Washing Maintenance
After pressure washing, it's important to perform post-maintenance tasks to preserve the cleanliness and longevity of your home's exterior. Inspect the area for any missed spots or residual stains and re-treat if necessary. Consider applying a protective sealant or coating to prevent future stains and make cleaning easier. Regular maintenance, including occasional touch-ups and cleaning, will help sustain the beauty of your home's exterior.
Hiring Professional Pressure Washing Services
While some homeowners may prefer a DIY approach, hiring professional pressure washing services can provide numerous advantages. Professional cleaners possess the expertise, experience, and specialized equipment to deliver exceptional results safely and efficiently. They can assess the specific needs of your home, use appropriate techniques, and ensure thorough cleaning without causing damage. Moreover, professional pressure washing saves you time and effort, allowing you to focus on other tasks.
Conclusion
Powerful pressure washing is a transformative solution for enhancing your home's exterior. By removing dirt, grime, stains, and mold, it revitalizes the appearance of your property, making it more inviting and appealing. Remember to follow safety guidelines, choose the right pressure washer, and employ proper techniques to achieve the best results. Whether you decide to tackle the task yourself or hire professionals, the benefits of pressure washing are undeniable, ensuring a clean and vibrant home exterior.