Spring is the perfect time to give your home a fresh and clean look. One of the most effective ways to achieve this is through pressure washing. With the power of high-pressure water, you can effortlessly remove dirt, grime, and stains from various surfaces, leaving them looking brand new. In this article, we will explore the benefits of pressure washing and provide you with a step-by-step guide on how to effectively use a pressure washer for your spring cleaning needs.
Benefits of Pressure Washing
Pressure washing offers numerous benefits when it comes to cleaning your home. Here are some key advantages:
Removes stubborn dirt and stains: Pressure washers provide a powerful stream of water that can effectively eliminate tough dirt, grime, mold, mildew, and other stubborn stains from surfaces.
Saves time and effort: Compared to traditional cleaning methods, pressure washing is much faster and requires less physical exertion. It allows you to cover large areas in a fraction of the time.
Enhances curb appeal: By cleaning your home's exterior surfaces, you can instantly improve its curb appeal and make it look more attractive.
Prevents damage: Regular pressure washing can help prevent the buildup of dirt, algae, and mold, which can cause long-term damage to surfaces if left untreated.
Pressure washing is a versatile technique that can breathe new life into your home renovation project, effortlessly removing dirt and grime from various surfaces, revitalizing your property's appearance.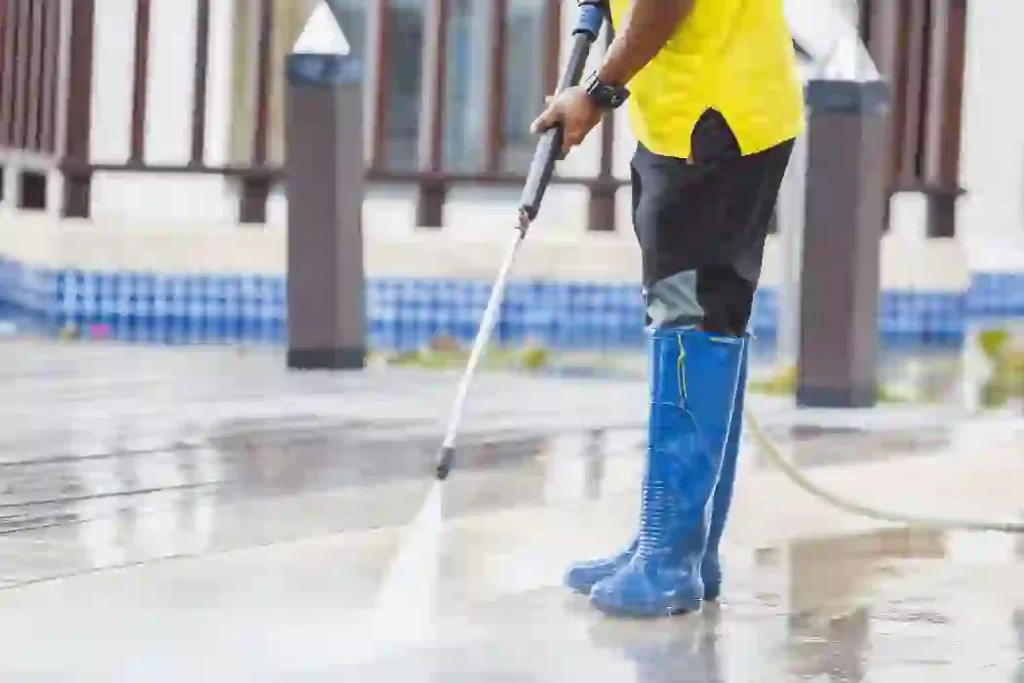 Preparing for Pressure Washing
Before you start pressure washing, there are a few essential preparations to ensure a successful cleaning process:
Clear the area: Remove any obstacles, such as furniture, toys, or plants, from the area you plan to pressure wash.
Protect delicate items: Cover delicate plants, outdoor furniture, and electrical outlets to prevent them from being damaged by the water pressure.
Sweep or brush surfaces: Remove loose debris and dirt from the surfaces you'll be pressure washing using a broom or brush.
Choosing the Right Pressure Washer
Selecting the appropriate pressure washer for your cleaning needs is crucial. Consider the following factors:
PSI (Pounds per Square Inch): PSI determines the water pressure output. Higher PSI is suitable for tougher cleaning tasks, while lower PSI is ideal for more delicate surfaces.
GPM (Gallons per Minute): GPM refers to the water flow rate. Higher GPM can cover larger areas quickly.
Type of pressure washer: Choose between electric and gas-powered pressure washers based on your specific requirements.
Pressure Washing Safety Tips
While pressure washing is a safe cleaning method, it's essential to prioritize safety. Here are some safety tips to follow:
Wear protective gear: Put on safety goggles, gloves, and non-slip shoes to protect yourself from debris and slippery surfaces.
Keep a safe distance: Maintain a safe distance between the pressure washer nozzle and the surface to prevent damage or injury.
Read the user manual: Familiarize yourself with the pressure washer's instructions and safety guidelines before use.
Pressure Washing Different Surfaces
Cleaning Your Driveway
A clean driveway enhances your home's overall appearance. Follow these steps to pressure wash your driveway effectively:
Clear the area: Remove any vehicles or objects from the driveway.
Apply detergent: Use a suitable driveway detergent to loosen the dirt and stains.
Start pressure washing: Begin at one end of the driveway and work your way towards the other end in even strokes.
Revitalizing Your Deck or Patio
Revive your outdoor space by pressure washing your deck or patio:
Remove furniture and plants: Clear the area and relocate any furniture or potted plants.
Sweep the surface: Remove loose debris and leaves from the deck or patio.
Adjust pressure settings: Use a lower pressure setting to avoid damaging the wood or tiles.
Start pressure washing: Begin at one corner and move in the direction of the wood grain or tile pattern.
Restoring Your Fencing
Pressure washing can give your fencing a fresh and clean appearance:
Remove loose dirt: Brush away loose dirt and debris from the fence.
Set the pressure: Adjust the pressure washer to a level that won't damage the fence material.
Clean section by section: Work your way along the fence, spraying from top to bottom.
Refreshing Your Exterior Walls
Pressure washing your exterior walls can remove dirt, algae, and stains, revitalizing the appearance of your home:
Inspect the walls: Check for any cracks or damaged areas that might require repairs before pressure washing.
Wet the surface: Thoroughly wet the walls to prevent dry surfaces from absorbing too much water.
Start pressure washing: Begin at the top and work your way down, keeping the nozzle at a slight downward angle.
Tips for Effective Pressure Washing
To maximize the effectiveness of your pressure washing efforts, keep these tips in mind:
Use appropriate detergents: Choose detergents specifically formulated for pressure washers to achieve optimal results.
Follow the correct technique: Hold the pressure washer nozzle at a slight angle and maintain a consistent distance from the surface.
Work in manageable sections: Divide large areas into smaller sections for more thorough and efficient cleaning.
Maintenance and Care of Pressure Washers
Proper maintenance and care ensure the longevity and performance of your pressure washer:
Regularly clean the filter: Remove and clean the filter to prevent clogging and ensure proper water flow.
Store correctly: Store your pressure washer in a dry and protected area, away from extreme temperatures.
Winterize if necessary: If you live in a region with freezing temperatures, follow the manufacturer's instructions to winterize your pressure washer.
Conclusion
Spring cleaning becomes a breeze with the power of pressure washing. By following the steps and tips outlined in this article, you can transform your home's exterior surfaces, from driveways to decks, fences to walls. Enjoy a fresh and rejuvenated home that stands out with enhanced curb appeal. Embrace the benefits of pressure washing and make your spring cleaning a rewarding experience.