In today's modern world, small bathrooms are becoming increasingly common. With limited space, it is essential to choose fixtures that are not only stylish but also space-saving. The sink, being one of the most frequently used fixtures, plays a significant role in the overall functionality and aesthetics of the bathroom. Let's explore the world of small bathroom sinks and discover the perfect options for your compact space.
Understanding the Importance of Choosing the Right Bathroom Sink
When it comes to choosing a small bathroom sink, it's crucial to consider both style and functionality. The right sink can make a significant impact on your daily routine and enhance the overall appeal of your bathroom. By selecting a sink that fits your space perfectly and complements your design preferences, you can create a harmonious and efficient bathroom environment. As part of our home renovation project, we replaced the old, bulky bathroom sink with a sleek and modern small bathroom sink to maximize space and enhance functionality.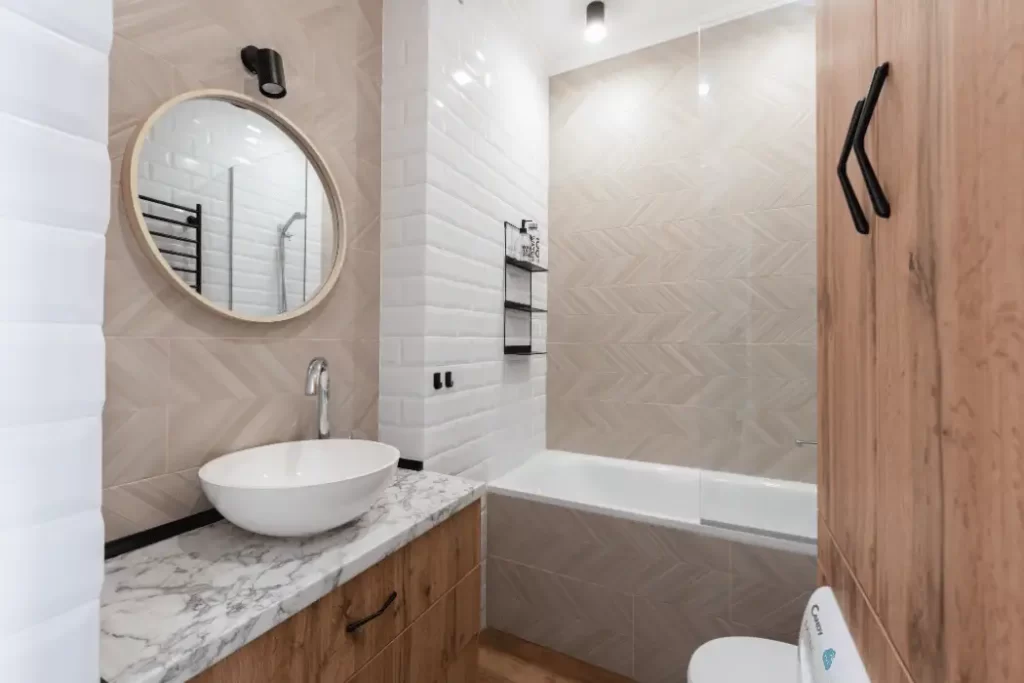 Types of Small Bathroom Sinks
Pedestal sinks are classic and elegant options for small bathrooms. They consist of a freestanding sink basin mounted on a pedestal base, which hides the plumbing. Pedestal sinks are known for their sleek and streamlined design, making them ideal for creating an open and airy feel in your bathroom.
Wall-mounted sinks are excellent choices for small bathrooms with limited floor space. These sinks are installed directly onto the wall, leaving the floor beneath them open and clear. Wall-mounted sinks are not only stylish but also offer flexibility in terms of height adjustment, making them suitable for various user preferences.
Console sinks combine the elegance of pedestal sinks with additional countertop space. They typically feature two or four legs supporting a sink basin and a countertop. Console sinks are versatile and come in various styles, allowing you to choose the one that best matches your bathroom décor while providing extra space for your essentials.
Vessel sinks are unique and visually striking options for small bathrooms. These sinks sit on top of the countertop or vanity, resembling a bowl or basin. Vessel sinks are available in a wide range of materials, shapes, and colors, making them perfect for adding a touch of modern sophistication to your bathroom.
If you have an awkward corner in your small bathroom, a corner sink can be a great solution. These sinks are specifically designed to fit into tight spaces, utilizing the corners efficiently. Corner sinks come in various styles and sizes, allowing you to optimize the available space while creating a functional and visually appealing bathroom.
Factors to Consider When Choosing a Small Bathroom Sink
Before making a decision, it's important to consider several factors that will influence the suitability of a small bathroom sink for your specific needs. Here are some key considerations:
The size and shape of the sink should align with the available space in your bathroom. Measure the area carefully to ensure a proper fit without overcrowding the room.
Choose a sink material that is durable, easy to clean, and resistant to stains and scratches. Common materials include porcelain, ceramic, stainless steel, and glass.
Consider the type of faucet you prefer and ensure that the sink you choose is compatible with it. Different sinks may have different configurations and mounting options.
Storage and Countertop Space
Evaluate your storage needs and determine whether you require additional countertop space. Some sinks offer integrated storage solutions, such as cabinets or shelves.
Select a sink that complements your overall bathroom design. Consider the aesthetics, color scheme, and design elements to create a cohesive and visually appealing space.
Creative Storage Solutions for Small Bathroom Sinks
In small bathrooms, maximizing storage space is crucial. Here are some creative storage solutions to consider:
Utilize the space beneath your sink by installing cabinets or drawers. This provides a hidden storage area for toiletries, cleaning supplies, and other bathroom essentials.
Floating shelves are an excellent option for displaying decorative items or storing frequently used items within easy reach. Install them above or beside your sink to make the most of vertical space.
Wall-mounted cabinets offer additional storage without taking up valuable floor space. Choose cabinets with mirrored doors to combine storage functionality with a vanity mirror.
Mirrored cabinets are both practical and stylish. They provide storage space while also serving as a mirror, making them perfect for small bathrooms where every inch counts.
Maintaining and Cleaning Your Small Bathroom Sink
To ensure the longevity and cleanliness of your small bathroom sink, follow these maintenance and cleaning tips:
Wipe the sink with a soft cloth or sponge after each use to prevent the buildup of grime and soap scum. Use mild cleaners specifically formulated for the sink material.
Dealing with Stains and Hard Water Deposits
If you notice stains or hard water deposits on your sink, create a solution of vinegar and water or use a non-abrasive cleaner to remove them. Avoid using harsh chemicals or abrasive scrubbers that could damage the sink's surface.
Regular Maintenance Practices
Inspect the sink regularly for any signs of damage or leaks. Check the faucets and drains for proper functioning and address any issues promptly to prevent further damage.
DIY Installation Tips for Small Bathroom Sinks
If you're handy and up for a DIY project, you can install a small bathroom sink yourself. Here are some essential tips to guide you through the process:
Gathering the Necessary Tools and Materials
Before starting the installation, gather all the tools and materials you'll need. This typically includes a wrench, screwdriver, plumber's putty, silicone caulk, and the sink installation kit.
Preparing the Installation Area
Clear the area where you plan to install the sink, ensuring that it is clean and free of any obstructions. Turn off the water supply and disconnect the existing plumbing, if applicable.
Installing the Sink Properly
Follow the manufacturer's instructions to install the sink securely. This usually involves attaching the sink basin to the wall or pedestal, connecting the faucet and drain, and sealing any gaps with plumber's putty or silicone caulk.
Conclusion
Finding the perfect small bathroom sink is an exciting endeavor that combines functionality and style. By considering the available space, your storage needs, and the overall design of your bathroom, you can select a sink that enhances the aesthetics while maximizing the functionality of your small bathroom. With the right sink, your small bathroom can become a stylish and efficient oasis.