When it comes to creating a stunning interior design, the choice of flooring plays a crucial role. One timeless and visually striking option is black and white floor tiling. This classic combination offers a sophisticated and elegant look that can transform any space. In this article, we will explore the beauty, history, benefits, maintenance, and design possibilities of black and white floor tiling, providing you with all the information you need to create a stunning space.
The Beauty of Black & White Floor Tiling
Black and white floor tiling brings a sense of timeless beauty to any room. The contrasting colors create a visually appealing pattern that instantly catches the eye. Whether you prefer a bold and dramatic look or a subtle and refined style, black and white tiles provide a versatile foundation for your design vision. Their sleek and clean appearance adds a touch of sophistication and elegance to both modern and traditional interiors. Transform your living space with stunning black & white floor tiling during your home renovation!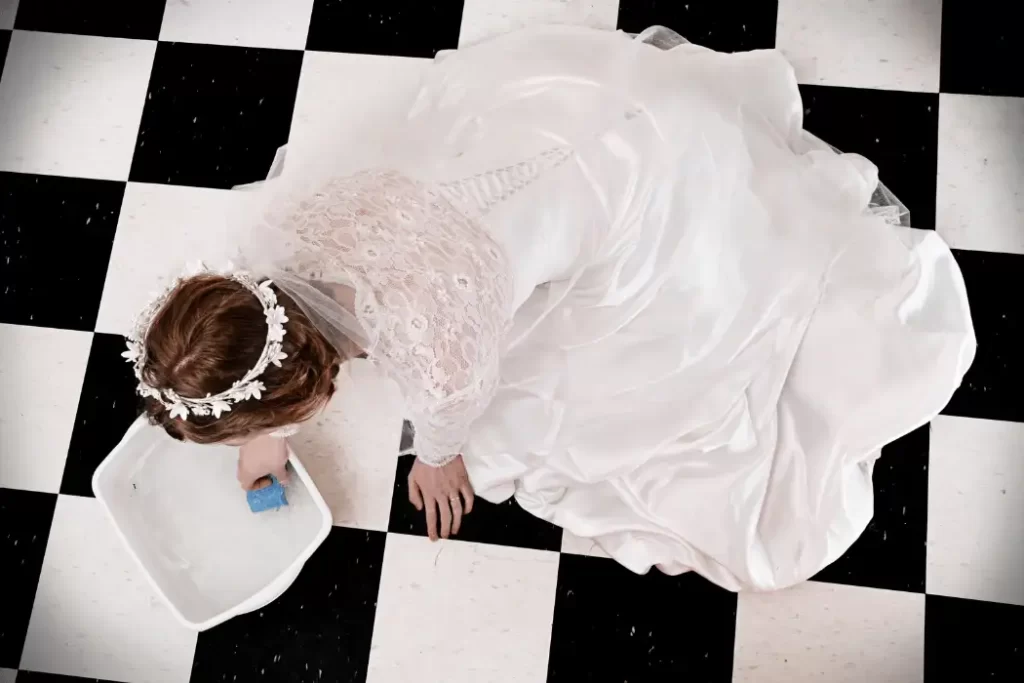 History and Origins
Black and white floor tiling has a rich history that dates back centuries. This iconic style first gained popularity in the Victorian era and was widely used in grand buildings and mansions. Inspired by European designs, black and white floor tiles became a symbol of luxury and class. Over time, they have evolved and adapted to different design trends, maintaining their status as a timeless flooring option.
Types of Black & White Floor Tiles
Black and white floor tiles come in various materials, patterns, and sizes. Some popular options include ceramic tiles, porcelain tiles, marble tiles, and vinyl tiles. Each material offers its unique characteristics and benefits, allowing you to choose the one that best suits your requirements. From intricate mosaic patterns to simple geometric designs, there is a wide range of choices available to create the perfect aesthetic.
Choosing the Right Pattern
Selecting the right pattern is crucial when it comes to black and white floor tiling. The pattern you choose will greatly influence the overall look and feel of the space. Some popular patterns include checkerboard, diagonal, herringbone, basket weave, and hexagon. Consider the size of the room, the existing décor, and your personal preferences when making your decision. Experimenting with different patterns can help you find the perfect balance between classic and contemporary.
Benefits of Black & White Floor Tiling
Black and white floor tiling offers numerous benefits beyond its aesthetic appeal. Firstly, it is highly durable and resistant to wear and tear, making it an excellent long-term investment. Additionally, these tiles are relatively easy to clean and maintain, making them suitable for high-traffic areas such as kitchens and bathrooms. The contrasting colors also help to hide minor dirt and stains, ensuring that your floor always looks presentable.
Versatility in Design
One of the major advantages of black and white floor tiling is its versatility in design. It can complement various interior styles, from minimalist and Scandinavian to vintage and retro. Whether you want to create a sleek and modern space or add a touch of nostalgia, black and white tiles can effortlessly adapt to your desired ambiance. Their neutrality allows you to experiment with different colors and textures in the rest of the room while maintaining a cohesive and harmonious look.
Maintaining and Cleaning Black & White Floor Tiles
To keep your black and white floor tiles looking their best, regular maintenance is essential. Sweep or vacuum the floor to remove loose dirt and debris. Use a pH-neutral cleaner and a soft mop or cloth for routine cleaning. Avoid using harsh chemicals or abrasive tools that can damage the surface of the tiles. Promptly clean up any spills to prevent staining. By following these simple steps, you can ensure that your black and white floor tiling remains in excellent condition for years to come.
Enhancing the Aesthetics with Decorative Elements
While black and white floor tiling creates a striking foundation, you can further enhance its aesthetics by incorporating decorative elements. Consider adding a border in a contrasting color or using colored grout to create a unique and eye-catching effect. You can also pair the tiles with complementary accessories and furnishings to complete the overall look. Play with different textures, materials, and patterns to add depth and visual interest to your space.
Tips for Installation
Installing black and white floor tiles requires precision and careful planning. Here are a few tips to ensure a successful installation:
Prepare the subfloor by making sure it is clean, level, and free of any cracks.
Use a high-quality adhesive that is specifically designed for the type of tiles you are using.
Follow the manufacturer's instructions for tile placement and spacing.
Take your time during the installation process to ensure accurate alignment and consistent patterns.
Allow sufficient time for the tiles to set and dry before walking on them or placing furniture.
Following these guidelines will help you achieve a professional and seamless installation.
Popular Applications
Black and white floor tiling can be used in various spaces, adding elegance and style to each. Some popular applications include:
Entryways and Foyers: Create a grand entrance with a captivating black and white tile design.
Kitchens: Achieve a classic yet contemporary look by incorporating black and white tiles in your kitchen floor.
Bathrooms: Enhance the spa-like ambiance with intricate mosaic patterns or sleek geometric designs.
Living Areas: Make a bold statement in your living room or dining area with a dramatic black and white tile layout.
Commercial Spaces: Hotels, restaurants, and retail stores can benefit from the timeless appeal of black and white floor tiling, creating an inviting and upscale atmosphere.
Conclusion
Black and white floor tiling continues to captivate homeowners and designers alike with its timeless beauty and versatility. Its rich history, durability, and ease of maintenance make it a practical and attractive choice for any space. By carefully selecting the right pattern, maintaining the tiles properly, and incorporating complementary elements, you can create a stunning space that exudes elegance and sophistication. Let the combination of black and white floor tiling be the foundation of your design vision.