Have you ever looked at your home and thought it needed a touch of uniqueness? Something that would make it stand out and reflect your personality? One of the easiest and most stylish ways to transform your space is by using beaded door curtains. These exquisite curtains not only add a touch of elegance but also bring functionality and versatility to any room. In this article, we will explore the various ways you can elevate your space with beaded door curtains.
The Appeal of Beaded Door Curtains
Beaded door curtains have a long history of adding flair and elegance to homes. They have been used in various cultures around the world for centuries, and their popularity continues to grow. The unique charm of these curtains lies in their ability to create a sense of mystery and intrigue while adding a touch of bohemian style. During the home renovation, we installed beautiful beaded door curtains to add a touch of elegance and uniqueness to the living room.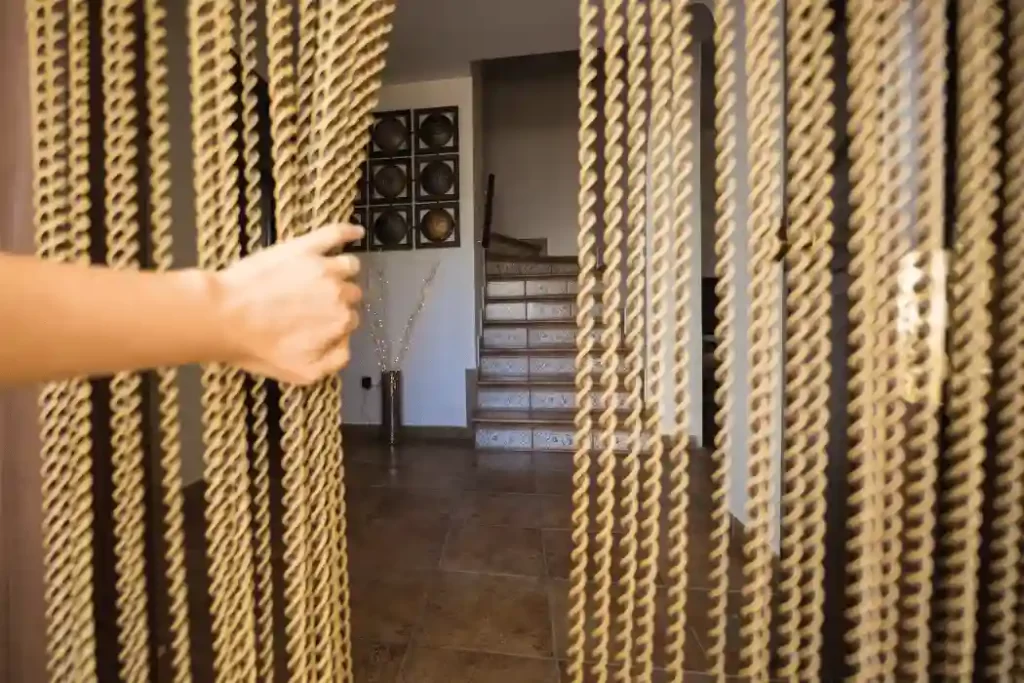 Enhancing Privacy and Dividing Spaces
One of the key benefits of beaded door curtains is their ability to enhance privacy without completely blocking off a room. These curtains create a visual barrier that allows light to pass through while maintaining a sense of separation. They are particularly useful in open-plan living spaces or shared rooms, where you want to define different areas without sacrificing natural light or airflow.
Creating Visual Interest and Texture
Beaded door curtains are a fantastic way to introduce visual interest and texture to any space. The beads come in various shapes, sizes, and materials, allowing you to customize the look to match your style and preferences. Whether you prefer subtle and understated or bold and vibrant, there is a beaded door curtain that will complement your décor perfectly.
Adding a Bohemian Vibe to Your Décor
If you love the bohemian aesthetic, beaded door curtains are a must-have accessory. They effortlessly bring that free-spirited and eclectic vibe to any room. The gentle sway of the beads and the soft sound they create when touched by a passing breeze evoke a sense of tranquility and relaxation. Whether you're creating a boho-inspired living room or a cozy reading nook, beaded door curtains will add that extra touch of magic.
Promoting Natural Light and Airflow
Natural light and airflow are essential elements for a healthy and inviting living space. Beaded door curtains are a fantastic way to allow both to flow freely while still maintaining a sense of privacy. The beads create a beautiful play of light and shadow, adding an ethereal quality to the room. Additionally, they facilitate airflow, making them ideal for rooms where ventilation is important, such as kitchens or bathrooms.
Elevating Your Home Office or Workspace
In recent years, more people have been working remotely or setting up home offices. If you're looking to create a productive and inspiring workspace, beaded door curtains can help you achieve just that. They create a sense of separation from the rest of your home while maintaining an open and inviting atmosphere. Choose a beaded curtain that complements your office décor and watch as it transforms your workspace into a stylish and functional area.
Making a Statement in the Bedroom
Your bedroom should be a sanctuary—a place where you can relax and recharge. Beaded door curtains offer an excellent opportunity to add a touch of elegance and drama to your bedroom décor. Whether you hang them in place of traditional doors or use them as a decorative element around your bed, they will create a luxurious and romantic ambiance. Choose beads in soothing colors or opt for bold jewel tones to create the desired effect.
Perfect for Playful and Imaginative Spaces
Beaded door curtains are not just for adults; they can also be a delightful addition to children's rooms or play areas. Children love the tactile experience of running their fingers through the beads and watching them shimmer. These curtains can create a magical entrance to a play corner or serve as a creative backdrop for imaginative adventures. Let your child's imagination soar with the addition of beaded door curtains.
Enhancing Outdoor Areas
Who says beaded door curtains are only for indoor use? These versatile curtains can also transform your outdoor spaces, such as patios, porches, or gazebos. Hang them at the entrance to create a stunning and inviting gateway. The beads will catch the sunlight and create a mesmerizing play of light and shadow. With beaded door curtains, you can effortlessly extend your style and creativity beyond the confines of your home.
Maintenance and Care Tips for Beaded Door Curtains
To keep your beaded door curtains in top condition, regular maintenance is essential. Here are a few tips to help you care for your curtains:
Gently dust the beads regularly to remove any dirt or debris.
Avoid excessive tugging or pulling, as it may cause the beads to break.
If the beads become tangled, carefully separate them with your fingers.
For deep cleaning, remove the curtains and soak them in a mild detergent solution. Rinse thoroughly and allow them to air dry before rehanging.
Choosing the Right Beaded Door Curtain for Your Space
When selecting a beaded door curtain, consider the following factors:
Material: Choose a material that matches your desired look and durability requirements. Options include wood, bamboo, acrylic, glass, or plastic beads.
Length and Width: Measure the doorway or space where you plan to hang the curtain to ensure a proper fit.
Style and Color: Select beads that complement your existing décor and personal style. Consider the overall aesthetic you want to achieve, whether it's bohemian, modern, or eclectic.
Installation Guide: How to Hang Beaded Door Curtains
Installing beaded door curtains is a straightforward process. Here's a general guide to help you hang them:
Measure the doorway or space to determine the curtain length.
Install a curtain rod or track above the doorway.
Attach the curtain to the rod or track using the provided hooks or rings.
Adjust the curtain's position and ensure it hangs evenly.
Test the curtain's movement and make any necessary adjustments.
Conclusion
Beaded door curtains offer a unique and versatile way to transform your space. Whether you want to enhance privacy, add visual interest, or create a bohemian ambiance, these curtains have got you covered. With their elegant charm and functional benefits, beaded door curtains are an excellent addition to any room or outdoor area. So, go ahead and elevate your space with the enchanting allure of beaded door curtains.