In today's fast-paced world, the desire for a tranquil and harmonious living space has never been greater. Enter the organic modern living room trend, a design style that seamlessly blends contemporary elements with nature-inspired aesthetics. This trend focuses on creating a comfortable and inviting space that embraces natural materials, earthy tones, and a sense of serenity. In this article, we will explore the essence of organic modern living rooms and discover how to infuse this trend into your own home, redefining comfort in a whole new way. In our home renovation, we embraced the essence of organic modern living room design, combining natural elements and contemporary aesthetics to create a harmonious and inviting space.
Embracing Nature's Palette
At the core of organic modern living room design is a color palette that reflects the beauty of the natural world. Think earthy tones such as warm browns, soft greens, calming blues, and soothing neutrals. These colors evoke a sense of tranquility and balance, creating a serene atmosphere in your living space. Consider using eco-friendly, non-toxic paint to further enhance the organic aspect of your walls.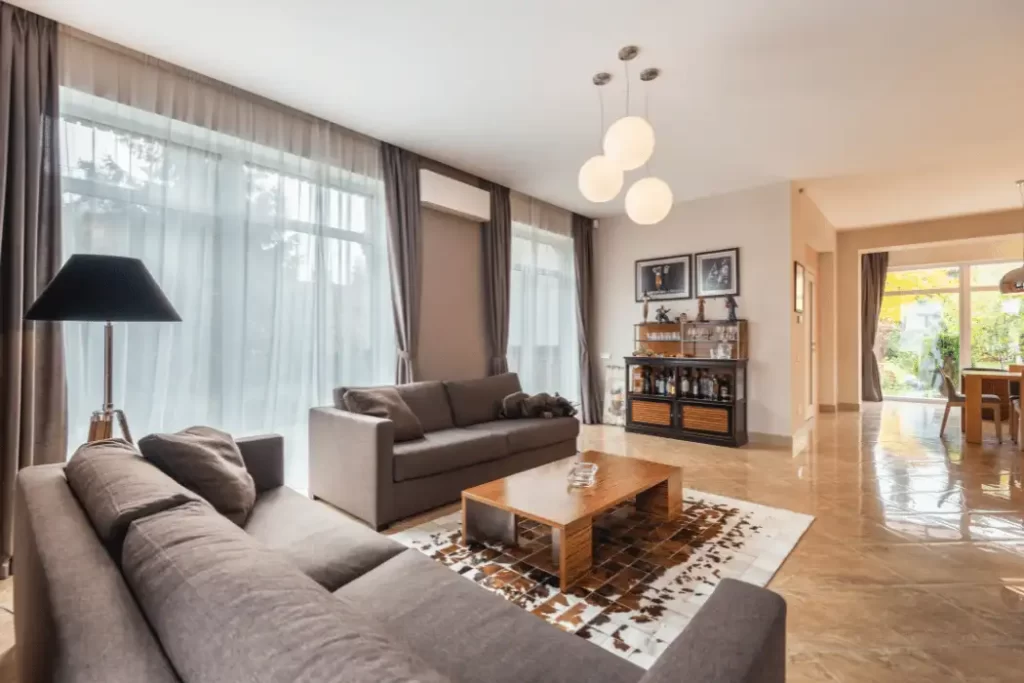 Natural Materials and Textures
Organic modern living rooms celebrate the use of natural materials and textures. Opt for furniture crafted from sustainable wood, bamboo, rattan, or reclaimed materials. Incorporate stone accents, such as marble or granite, to add a touch of elegance and grounding to the space. Textiles made from organic cotton, linen, or wool contribute to the cozy and inviting feel of the room.
Bringing the Outdoors In
To truly embrace the organic modern living room trend, bring elements of nature indoors. Large potted plants and indoor gardens can infuse the space with life and vitality, creating a connection to the outdoors. Consider placing a variety of plants, from leafy greens to flowering succulents, strategically throughout the room.
Light and Airy Spaces
An organic modern living room often emphasizes light and openness. Maximize natural light by using sheer curtains or opting for window treatments that allow sunlight to filter through. Arrange furniture to promote an open flow, allowing the room to breathe and creating a sense of spaciousness.
Simplistic and Functional Furniture
In keeping with the modern aspect of this trend, choose furniture with clean lines and a minimalist design. Avoid cluttering the space with unnecessary items and opt for pieces that serve both form and function. Modular furniture can be an excellent addition to an organic modern living room, as it allows for versatility and adaptability.
Layering with Textiles
Soft, plush textiles are essential for creating a cozy and inviting organic modern living room. Layering different textures, such as chunky knit throws, fluffy cushions, and woven rugs, adds depth and visual interest to the space. Stick to a neutral color palette for textiles to maintain a sense of calm and harmony.
Artwork Inspired by Nature
Adorn your living room walls with artwork that celebrates the beauty of nature. Whether it's paintings of landscapes, botanical prints, or abstract pieces inspired by natural forms, artwork can enhance the organic ambiance of the room and reflect your connection to the environment.
Accentuating with Lighting
Lighting plays a significant role in setting the mood of an organic modern living room. Choose lighting fixtures that complement the natural aesthetic, such as pendant lights with bamboo or rattan elements. Incorporate warm and soft lighting to create a cozy and relaxing atmosphere during the evenings.
Cozy Nooks and Reading Corners
Create cozy nooks and reading corners within your living room to encourage relaxation and contemplation. A comfortable armchair or chaise lounge paired with a floor lamp and a small side table can become the perfect spot for unwinding with a good book or enjoying a cup of tea.
Sustainability and Mindfulness
Above all, the organic modern living room trend emphasizes sustainability and mindfulness in design choices. Opt for eco-friendly and ethically sourced materials, and invest in furniture and decor that are built to last. Mindfully curate your living room, focusing on quality over quantity, and choose items that align with your values and aesthetic preferences.
Conclusion
In conclusion, organic modern living room trends redefine comfort by marrying contemporary design with the calming influence of nature. From embracing a soothing color palette to incorporating natural materials, this design style creates a space that fosters relaxation, well-being, and a deeper connection with the environment. By infusing your living room with elements of nature and prioritizing sustainability, you can create a haven of comfort and beauty that truly embodies the essence of organic modern living.