If you've noticed an unsightly brown spot on ceiling, you're not alone. Many homeowners encounter this issue, and it can be a cause for concern. These mysterious blemishes not only look unappealing but may also indicate an underlying problem that requires attention. In this article, we'll explore common causes of brown spot on ceiling and provide effective remedies to tackle the issue head-on. During the home renovation, we discovered a troubling brown spot on the ceiling, prompting us to address potential water damage and ensure a safe and sound living space.
Understanding the Brown Spot on Ceiling
Before we delve into the causes and remedies, it's essential to understand the nature of these brown spots. Typically, such stains are a result of water damage, mold growth, or even smoke residue. Identifying the specific cause will help you address the issue accurately.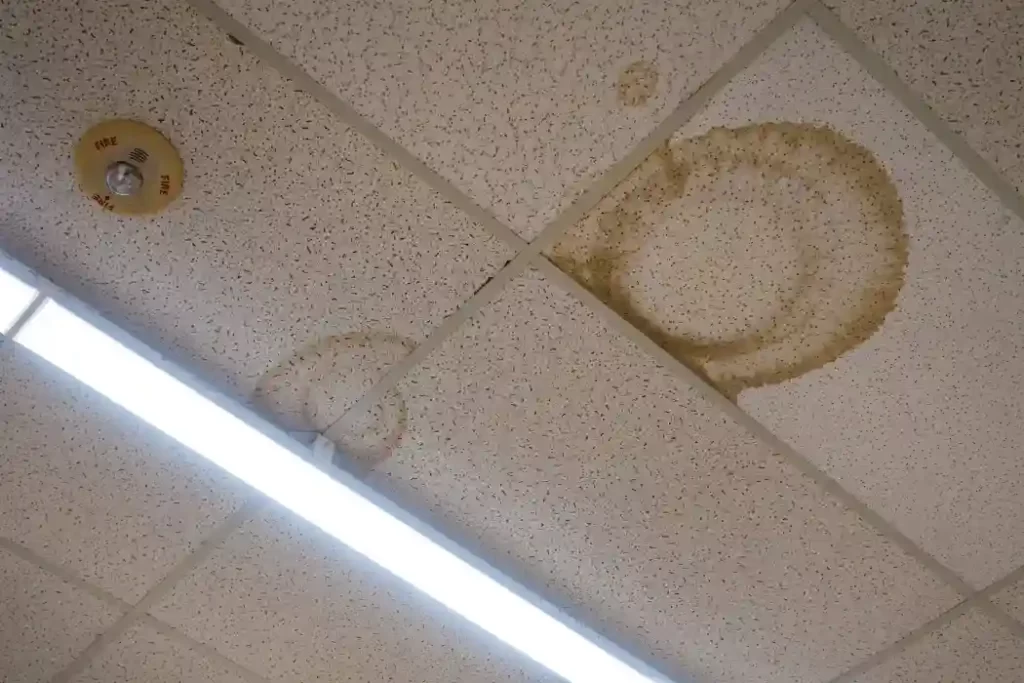 Water Damage: The Silent Intruder
One of the primary culprits behind brown spots on ceilings is water damage. Leaky roofs, broken pipes, or faulty plumbing can allow water to seep into the ceiling, leaving behind unsightly marks. If left unattended, water damage can lead to more severe issues like structural damage and mold growth.
Pro Tip: Regularly inspect your roof and plumbing to catch potential water leaks early and prevent further damage.
Mold: The Unwanted Guest
Mold thrives in moist environments, making the presence of brown spots on your ceiling a possible indicator of mold growth. Mold not only damages the aesthetic appeal of your home but also poses health risks, especially for individuals with allergies or respiratory issues.
Pro Tip: If you suspect mold, hire a professional mold remediation service to assess and remove the infestation safely.
Smoke Residue: Lingering Aftermath
If you have a fireplace or frequently light candles, the brown spots on your ceiling might be due to smoke residue. Over time, smoke particles can accumulate on the ceiling and form unsightly stains. Ensuring proper ventilation and cleaning can help prevent this issue.
Roofing Issues: The Overhead Menace
In some cases, brown spots on the ceiling may result from roofing problems, such as damaged shingles or inadequate waterproofing. Rainwater can infiltrate through these weak points, leading to water damage on your ceiling.
Pro Tip: Schedule regular roof inspections and maintenance to identify and fix potential issues before they worsen.
Condensation: The Sneaky Intruder
If your bathroom lacks proper ventilation, excess moisture can lead to condensation on the ceiling. This moisture buildup creates a breeding ground for mold and leaves behind those dreaded brown spots.
Pro Tip: Install an exhaust fan in your bathroom to reduce condensation and keep your ceiling spot-free.
Plumbing Woes: Dripping Down
Leaky pipes or plumbing located above your ceiling can be another cause of brown spots. The water drips through the ceiling material, causing discoloration and damp patches.
Pro Tip: Regularly inspect your plumbing system and promptly fix any leaks to prevent further damage.
Age of the House: Natural Wear and Tear
Sometimes, the appearance of brown spots on the ceiling can be attributed to the natural aging process of the house. Over time, materials may degrade, and stains can develop due to various factors.
DIY Remedies: Addressing the Issue
For minor brown spots caused by smoke residue or condensation, you can try some DIY remedies. Mix equal parts of water and vinegar, and gently scrub the stain. Alternatively, you can use a mixture of baking soda and water for the same purpose. However, keep in mind that these methods may not work for more severe stains.
Seeking Professional Help
In many cases, it's best to seek professional assistance to identify and remedy the cause of brown spots on your ceiling. Professional plumbers, roofers, and mold remediation experts have the knowledge and tools to tackle the issue effectively.
Conclusion
Brown spot on ceiling can be an alarming sight for any homeowner, but they can be addressed with the right approach. Identifying the root cause, whether it's water damage, mold growth, or smoke residue, is the first step to finding an appropriate solution. While some minor stains can be treated with DIY remedies, it's crucial to enlist professional help for more complex issues. Regular maintenance, vigilance, and timely repairs are key to keeping your ceiling spotless and your home in top condition.