The interior window is an architectural feature that not only brings natural light into your home but also adds a touch of style and elegance to your living spaces. Often overlooked, interior windows are a versatile design element that can transform the ambiance of any room. In this comprehensive guide, we will explore the enchanting world of interior windows and how you can leverage their beauty to create a bright, airy, and visually appealing home. As part of our home renovation, we installed an interior window between the kitchen and living room, allowing natural light to flow through and creating an open, airy feel throughout the space.
Harnessing Natural Light of Interior Window
One of the primary benefits of incorporating interior windows into your home design is the abundant natural light they bring. These windows allow sunlight to filter through rooms, creating a warm and inviting atmosphere. By strategically placing interior windows, you can maximize the entry of natural light, reducing the need for artificial lighting during the day and saving on energy costs.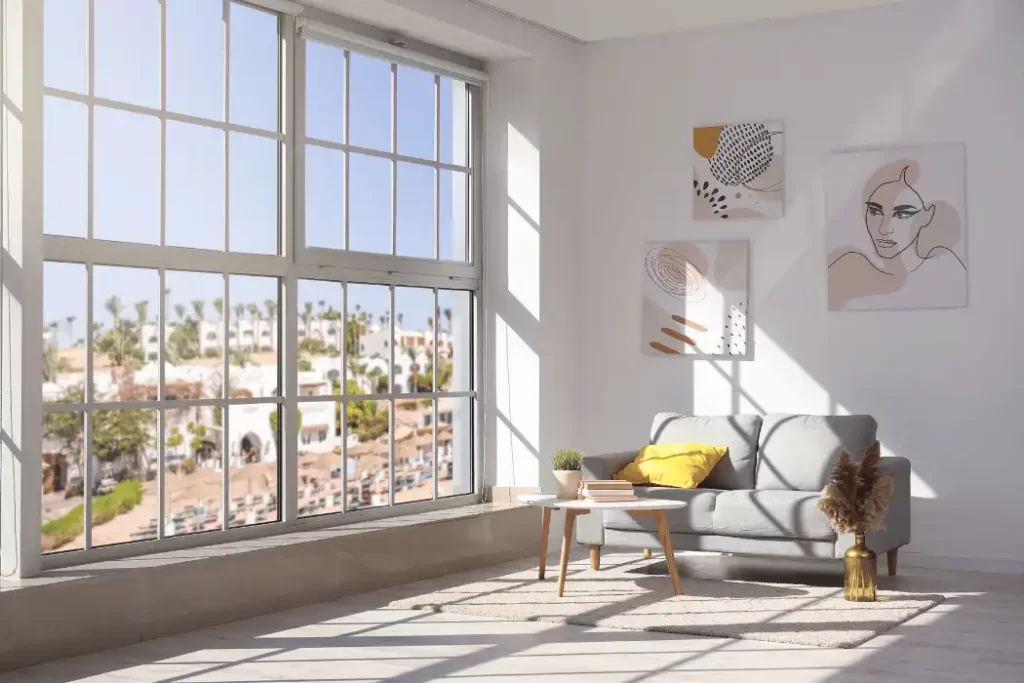 Connecting Spaces
Interior windows provide an effective way to visually connect different areas of your home. By opening up walls between rooms, you can create a seamless flow of light and energy throughout the space. This design approach is especially useful in open-concept living areas, where each section of the home feels interconnected and cohesive.
Embracing Privacy
While interior windows promote openness and connection, they can also offer a level of privacy. Frosted or textured glass can be used to maintain privacy in certain rooms while still allowing light to pass through. These privacy-enhancing interior windows are ideal for spaces such as bathrooms, home offices, or dressing rooms.
Framing Views
Interior windows can act as artistic frames, capturing picturesque views of the outdoors. Whether you have a stunning garden, a serene courtyard, or a breathtaking landscape, an interior window can turn it into a living artwork. By carefully positioning the window, you can create captivating views from different vantage points within your home.
Enhancing Architectural Details
Incorporating interior windows can enhance the architectural features of your home. They can highlight unique designs, such as exposed brick walls, elegant archways, or intricately designed ceilings. When paired with the right window treatments, such as decorative grilles or elegant curtains, these windows can elevate the overall aesthetics of your living spaces.
The Art of Placement
Strategic placement of interior windows is key to achieving the desired effect. Consider the orientation of your home, the path of the sun, and the flow of air when deciding where to install interior windows. Placing them to capture the morning sun can create a cheerful and energizing breakfast nook, while windows positioned to capture sunset views can transform your living room into a cozy haven.
Balancing Light and Shade
While natural light is essential, it's equally important to balance it with the right amount of shade. To prevent excessive heat and glare, consider incorporating window treatments such as blinds, shades, or curtains. These additions allow you to control the amount of light entering the room while adding a layer of style and functionality to your interior windows.
Styles and Designs
Interior windows come in a variety of styles and designs to suit different architectural themes and personal preferences. From classic casement windows to contemporary sliding panels, the options are endless. Choose a design that complements the overall aesthetics of your home while serving its functional purpose.
Reviving Historic Charm
If you own a historic home, interior windows can help restore its original charm and character. Researching period-appropriate window styles and materials can ensure that the interior windows align seamlessly with the heritage of your home, preserving its unique appeal for generations to come.
Customizing Your Space
The beauty of interior windows lies in their versatility. They can be customized to fit the specific needs and design vision of your home. Whether you want to create a cozy reading nook with a bay window or an elegant pass-through between the kitchen and dining area, interior windows offer endless opportunities for creativity.
Conclusion
Interior windows are much more than just openings in walls; they are design elements that can transform your home into a bright and inviting haven. By harnessing natural light, connecting spaces, and embracing privacy, interior windows bring a unique charm to your living spaces. Their ability to frame views, enhance architectural details, and balance light and shade adds to their allure.
When incorporating interior windows into your home design, remember to consider the art of placement and explore the various styles and designs available. Customizing your space with interior windows allows you to infuse your home with your personality and preferences, creating a living space that truly feels like your own.