Your driveway is an essential part of your home's exterior, and it's often one of the first things people notice when they visit. Over time, driveways can accumulate dirt, grime, oil stains, and other unsightly marks. However, with the right knowledge and tools, you can easily transform your driveway and make it look brand new again. In this article, we will share five pressure washing hacks that will help you revitalize your driveway and enhance its curb appeal.
Understanding Pressure Washing
Pressure washing is a highly effective method for cleaning various surfaces, including driveways. It involves using a high-pressure water spray to remove dirt, grime, and stains. The forceful stream of water dislodges stubborn particles and restores the original look of the surface. Pressure washing can save you time and effort compared to traditional cleaning methods. As part of your home renovation, explore these pressure washing hacks to effectively clean and rejuvenate various surfaces, saving time and effort in the process.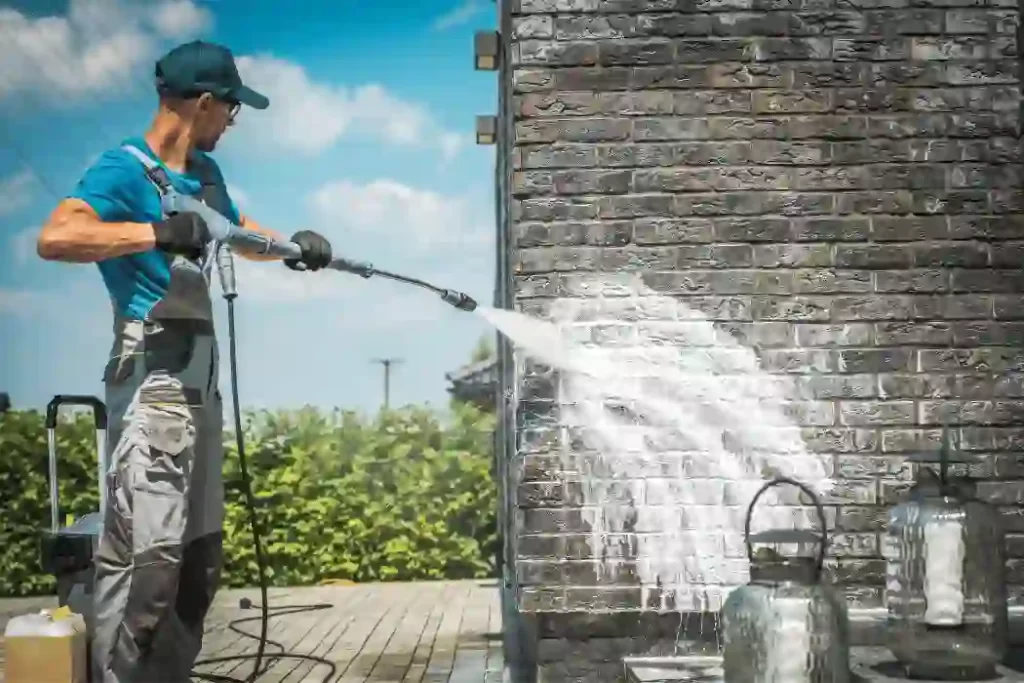 Preparing for the Task
Before you begin pressure washing your driveway, it's crucial to prepare adequately. Here are a few steps to follow:
Clear the area: Remove any obstacles such as vehicles, furniture, or potted plants from the driveway to ensure an unobstructed cleaning process.
Pre-treat stains: For particularly stubborn stains, pre-treat them with a suitable detergent or stain remover to maximize the effectiveness of the pressure washing.
Selecting the Right Pressure Washer
Choosing the right pressure washer is essential to achieve optimal results. Consider the following factors when selecting a pressure washer for your driveway:
Water pressure: Look for a pressure washer with adequate water pressure for effective cleaning. Higher pressure (measured in pounds per square inch or PSI) is generally better for removing tough stains and grime.
Water flow: The water flow rate (measured in gallons per minute or GPM) determines the speed at which the pressure washer cleans. A higher flow rate can improve efficiency.
Nozzle selection: Different nozzles produce various spray patterns, such as a narrow jet for tough stains or a wider fan for general cleaning. Choose the appropriate nozzle for your specific needs.
Cleaning Techniques and Tips
Clearing Debris
Start by removing loose debris from your driveway using a broom or leaf blower. This step prevents debris from clogging the pressure washer and ensures a more thorough cleaning.
Removing Stains
To remove stains effectively, adjust the pressure washer to a suitable setting and hold the spray nozzle about 12 inches away from the surface. Move the nozzle in a sweeping motion, focusing on one section at a time. For stubborn stains, you may need to repeat the process or use a rotating scrub brush attachment.
Handling Oil Spots
Oil spots can be challenging to remove from driveways. Before pressure washing, sprinkle an absorbent material like baking soda or cat litter on the spots to soak up the oil. Afterward, scrub the area gently with a suitable detergent or degreaser before pressure washing.
Treating Mold and Mildew
If your driveway has mold or mildew growth, it's essential to treat it properly. Use a mold and mildew cleaner or a mixture of water and bleach to eliminate the growth. Apply the solution to the affected areas, let it sit for a few minutes, and then pressure wash the surface to remove the residue.
Finishing Touches
After pressure washing your driveway, rinse the area thoroughly with clean water to remove any remaining cleaning solution. Allow the surface to dry completely before using the driveway again. You can also consider applying a sealant or concrete protector to enhance the longevity and appearance of your driveway.
Safety Precautions for Pressure Washing
When using a pressure washer, it's important to prioritize safety. Here are a few precautions to keep in mind:
Wear protective gear: Use safety goggles, gloves, and sturdy footwear to shield yourself from debris and potential accidents.
Follow manufacturer instructions: Read and understand the user manual of your pressure washer to ensure safe and proper operation.
Avoid direct contact: Never point the pressure washer spray at yourself, others, or fragile objects, as it can cause serious injuries or damage.
Conclusion
Transforming your driveway doesn't have to be a daunting task. By utilizing pressure washing hacks, you can bring new life to your driveway and enhance its overall appearance. Remember to prepare adequately, select the right pressure washer, follow proper cleaning techniques, and prioritize safety. With these tips in mind, you'll be able to achieve impressive results and enjoy a beautiful, clean driveway.