If you're looking to infuse your space with timeless style and undeniable charm, checkerboard floor tiles offer a perfect solution. These classic tiles, characterized by their alternating pattern of contrasting colors, create a visually striking and sophisticated look that transcends trends. Whether you're aiming for a traditional or contemporary design, checkerboard floor tiles can transform any room into an elegant and inviting space. In this article, we will explore the enduring appeal of checkerboard floor tiles, their versatility in various settings, and how they can add a touch of timeless elegance to your home.
Checkerboard floor tiles have a rich history and have been used for centuries to create visually captivating and elegant spaces. The alternating pattern of colors adds depth and dimension to any room, becoming a focal point that enhances the overall aesthetic. Transform your home renovation with classic elegance by installing checkerboard floor tiles, adding a timeless and visually captivating element to your living spaces.
The Timeless Appeal of Checkerboard Floor Tiles
The timeless appeal of checkerboard floor tiles lies in their ability to transcend design trends and create a sense of enduring style. Whether in a vintage-inspired setting or a contemporary space, the classic checkerboard pattern adds a touch of sophistication and refinement that never goes out of fashion.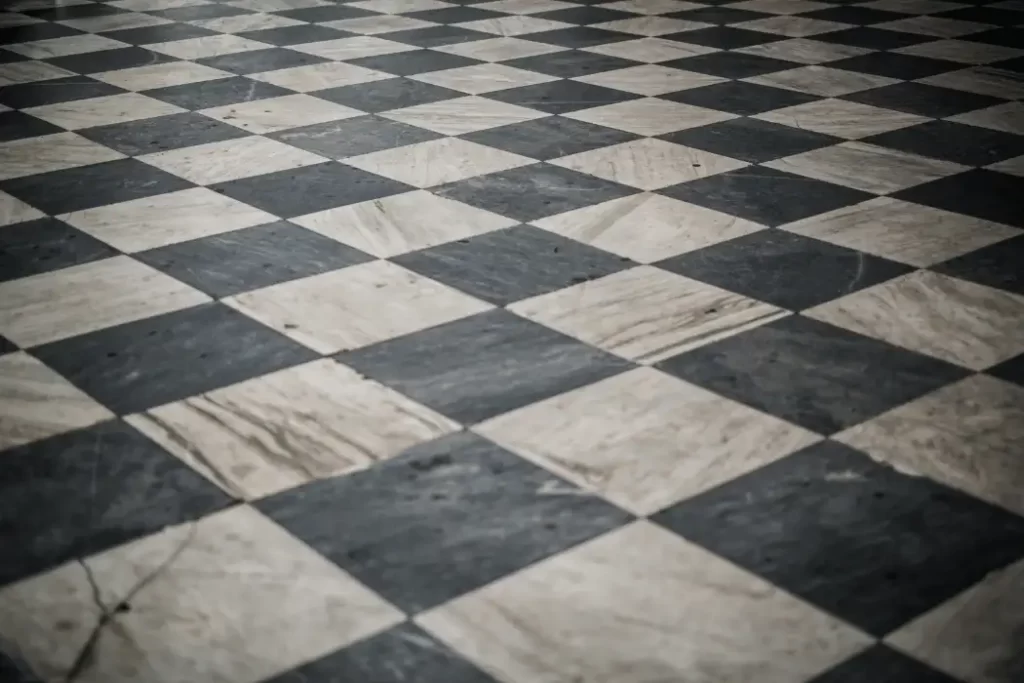 Versatility in Different Spaces
Checkerboard floor tiles can be incorporated into various spaces in your home, adding a touch of elegance and visual interest. Here are a few examples of their versatility:
Entryways: Make a grand statement by using checkerboard floor tiles in your entryway. The bold pattern creates an inviting and captivating entrance to your home.
Kitchens: Enhance your kitchen with the timeless charm of checkerboard floor tiles. They bring a sense of order and sophistication, becoming a beautiful backdrop for your culinary adventures.
Bathrooms: Create a luxurious and visually appealing bathroom with checkerboard floor tiles. The pattern adds depth and interest to the space, making it feel elegant and inviting.
Living Areas: Incorporate checkerboard floor tiles in your living room or dining area to create a sophisticated and stylish atmosphere. The pattern adds a touch of visual drama and becomes a conversation starter.
Design Options for Checkerboard Floor Tiles
Checkerboard floor tiles come in various design options to suit different aesthetics and preferences. Here are a few popular choices:
Classic Black and White: The classic combination of black and white checkerboard tiles exudes elegance and timeless appeal. It complements a wide range of design styles and creates a striking contrast.
Monochromatic Tones: Explore checkerboard floor tiles in monochromatic colors for a modern twist. Opti for shades of gray, beige, or muted pastels to create a more subtle and contemporary look.
Colorful Variations: For a bolder statement, consider checkerboard floor tiles in vibrant colors. Play with contrasting hues, such as blue and white or yellow and black, to create a dynamic and eye-catching design.
Incorporating Checkerboard Floor Tiles in Your Home
To make the most of checkerboard floor tiles and create a cohesive design, consider the following tips:
Balance with Surroundings: Ensure the rest of your space complements the checkerboard floor tiles. Choose furniture, wall colors, and accessories that harmonize with the pattern and create a cohesive visual composition.
Contrast with Wall Colors: Use contrasting wall colors to make the checkerboard pattern pop. Consider light-colored walls to create a fresh and airy ambiance or dark-colored walls for a more dramatic effect.
Accessorize Thoughtfully: Select decor and furnishings that complement the checkerboard pattern. Opt for pieces that enhance the elegance and sophistication of the tiles, such as vintage-inspired furniture or sleek and modern accents.
Consider Scale: Choose the appropriate scale for the checkerboard pattern based on the size of the room. Larger tiles work well in spacious areas, while smaller tiles can add visual interest to smaller spaces.
Advantages of Checkerboard Floor Tiles
Checkerboard floor tiles offer several advantages beyond their visual appeal:
Timeless Elegance: The checkerboard pattern has stood the test of time, remaining a symbol of sophistication and classic style. It adds a touch of timeless elegance to any room.
Versatile Design: Checkerboard floor tiles can adapt to various design aesthetics, from traditional to contemporary. Their versatility allows them to seamlessly fit into different spaces and complement different interior styles.
Visual Interest: The alternating pattern of colors creates visual interest and depth, making the floor a focal point in the room. It adds a layer of visual drama and becomes a captivating element in the overall design.
Maintenance and Care
To keep your checkerboard floor tiles looking their best, follow these maintenance tips:
Regular Cleaning: Sweep or vacuum the floor regularly to remove dirt and debris. Clean the tiles with a mild detergent and warm water, using a soft mop or cloth. Avoid abrasive cleaners that may scratch the surface.
Prompt Stain Removal: Attend spills immediately to prevent staining. Blot the affected area gently with a clean cloth and clean it with a suitable cleaning solution if necessary.
Avoid Harsh Chemicals: Use gentle cleaning products that are suitable for the type of tiles you have. Harsh chemicals or abrasive cleaners can damage the surface or affect the color of the tiles.
Conclusion
Checkerboard floor tiles bring a touch of timeless elegance and sophistication to any space. With their classic pattern and versatile design options, they have the power to transform ordinary floors into stunning works of art. Embrace the enduring appeal of checkerboard floor tiles as you embark on creating an elegant and captivating ambiance in your home.