When it comes to creating a luxurious and stylish bathroom, few fixtures can rival the elegance and charm of vintage bathtubs. These timeless treasures not only provide a relaxing and rejuvenating bathing experience but also serve as stunning centerpieces that elevate the overall aesthetic of any bathroom. With their exquisite craftsmanship, unique designs, and rich history, vintage bathtubs exude a sense of luxury and sophistication that transcends passing trends. In this article, we will explore the allure of vintage bathtubs, their timeless appeal, and how they can transform your bathing ritual into a truly indulgent experience.
Vintage bathtubs carry with them a sense of history and refinement. They transport us to an era when bathing was seen as a luxurious and indulgent experience. Whether you choose a clawfoot tub, a pedestal tub, or a freestanding tub with ornate details, vintage bathtubs add an element of timeless luxury to your bathroom. Elevate your home renovation with the luxurious allure of vintage bathtubs, creating a relaxing and stylish centerpiece for your revitalized bathroom space.
The Allure of Vintage Bathtubs
The allure of vintage bathtubs lies in their ability to evoke a sense of nostalgia and romance. These bathtubs are not just functional fixtures but works of art that reflect the craftsmanship and elegance of the past. They exude a sense of opulence and offer a unique bathing experience that is unparalleled in modern designs.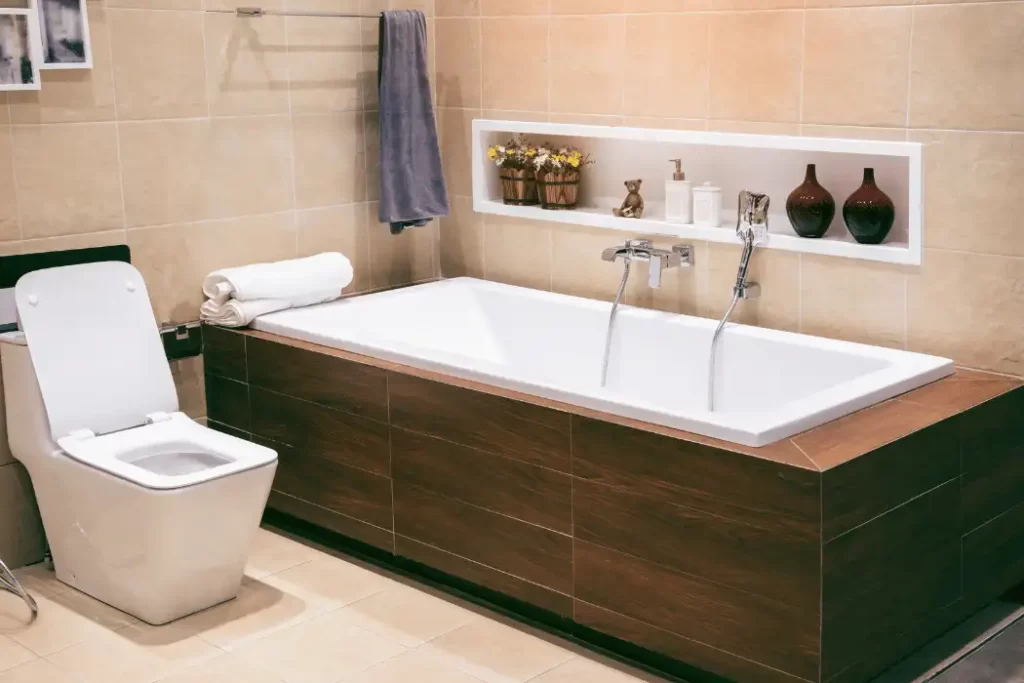 Timeless Elegance and Design
Vintage bathtubs are renowned for their timeless elegance and intricate designs. From their curved lines to the ornate feet or decorative embellishments, every detail is crafted with utmost care and precision. These bathtubs often feature high-quality materials such as cast iron, porcelain, or copper, ensuring both durability and aesthetic appeal.
Materials and Styles
Vintage bathtubs come in a variety of materials and styles, allowing you to choose the one that best suits your preferences and bathroom decor. Some popular options include:
Cast Iron: Cast iron bathtubs are known for their durability and excellent heat retention. They often have a porcelain enamel finish that adds a touch of elegance and is easy to clean.
Copper: Copper bathtubs exude a warm and inviting ambiance. They develop a beautiful patina over time, adding to their character and charm.
Clawfoot: Clawfoot bathtubs are one of the most iconic vintage designs. They feature ornate feet, often resembling claws or animal paws, which elevate the aesthetic appeal and add a touch of old-world charm.
Pedestal: Pedestal bathtubs have a sculptural and sophisticated design. They are freestanding and often have a pedestal base, creating a focal point in the bathroom.
Incorporating Vintage Bathtubs in Your Bathroom
To make the most of a vintage bathtub and create a cohesive bathroom design, consider the following tips:
Create a Statement: Let the vintage bathtub take center stage in your bathroom. Position it as a focal point and arrange the rest of the bathroom fixtures and decor around it to highlight its elegance and beauty.
Contrast with Modern Elements: Combine the vintage bathtub with modern elements to create a striking contrast. Pair it with sleek, contemporary fixtures or minimalist design elements to achieve a harmonious balance between old and new.
Consider the Space: Vintage bathtubs come in various sizes, so consider the available space in your bathroom when selecting one. Choose a tub that fits proportionally and allows for comfortable movement within the room.
Accessorize Thoughtfully: Complement the vintage bathtub with accessories that enhance its charm. Add a vintage-style faucet, luxurious bath linens, and decorative accents that evoke the same era.
Advantages of Vintage Bathtubs
Vintage bathtubs offer several advantages beyond their aesthetic appeal:
Timeless Appeal: Vintage bathtubs never go out of style. Their classic designs have stood the test of time and continue to exude elegance and sophistication.
Luxurious Bathing Experience: Vintage bathtubs offer a unique and indulgent bathing experience. Their deep, spacious interiors invite you to soak and unwind, providing a sanctuary of relaxation in your own home.
Quality Craftsmanship: Vintage bathtubs are crafted with meticulous attention to detail and made from high-quality materials. Their durability ensures they can withstand the test of time and retain their beauty for generations.
Maintenance and Care
To maintain the beauty and functionality of your vintage bathtub, follow these maintenance tips:
Regular Cleaning: Clean the bathtub regularly with mild soap or a non-abrasive cleaner. Avoid using harsh chemicals or abrasive cleaning tools that may damage the finish.
Prevent Scratches: Take care to prevent scratches by avoiding abrasive materials or sharp objects. Place a rubber mat on the bottom of the tub to protect the surface.
Address Rust or Stains: If you notice any rust or stains on the bathtub's surface, address them promptly. Use appropriate cleaning solutions or seek professional assistance if necessary.
Conclusion
Vintage bathtubs offer a timeless luxury that transforms your bathing experience into an indulgent ritual. With their exquisite designs, rich history, and superior craftsmanship, these bathtubs add a touch of elegance and sophistication to any bathroom. Embrace the allure of vintage bathtubs and create a bathing sanctuary that exudes timeless beauty and style.