There's nothing quite like the warmth and ambiance of a cozy fire on a chilly evening. However, to ensure a safe and enjoyable experience, it's essential to maintain a clean and well-functioning chimney. Over time, soot, debris, and creosote can accumulate in your chimney, posing fire hazards and affecting its efficiency. To keep your chimney in top shape and enjoy worry-free fires, it's recommended to rely on trusted chimney cleaning services. In this article, we will explore the importance of professional chimney cleaning and how it helps you maintain a safe and cozy fireplace environment.
The Significance of Chimney Cleaning
Regular chimney cleaning offers several key benefits, including:
Fire Prevention: Accumulated soot, debris, and creosote in the chimney can ignite and lead to dangerous chimney fires. Regular cleaning helps remove these flammable materials, reducing the risk of fire incidents in your home.
Improved Air Quality: A clean chimney allows for better airflow, preventing the build-up of smoke, soot, and pollutants inside your home. This leads to improved indoor air quality, creating a healthier and more comfortable environment for you and your family.
Enhanced Efficiency: Cleaning the chimney eliminates blockages and obstructions, ensuring optimal airflow and efficient combustion. This results in a more efficient fireplace, with better heat output and reduced smoke or odors.
Ensure a clean and efficient fireplace by scheduling professional chimney cleaning as part of your home renovation, creating a warm and inviting atmosphere in your updated space.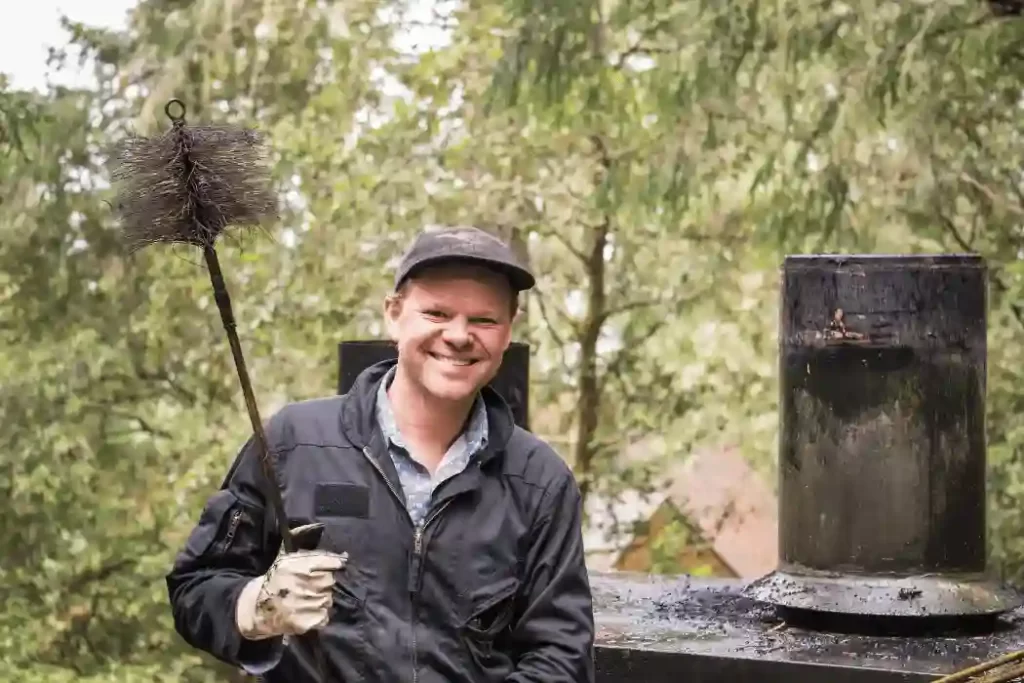 Extended Chimney Lifespan: Routine cleaning helps maintain the structural integrity of your chimney by removing corrosive substances and preventing excessive wear and tear. This can extend the lifespan of your chimney, saving you from costly repairs or replacements in the future.
The Importance of Safety
Safety is paramount when it comes to enjoying fires in your home. A clean and well-maintained chimney significantly reduces the risk of fire incidents and other hazards. Here are some safety considerations:
Preventing Chimney Fires: Accumulated creosote, a highly flammable substance, can ignite and cause chimney fires. Regular cleaning helps remove this hazard and minimizes the chances of fire outbreaks.
Avoiding Carbon Monoxide Poisoning: A blocked or poorly maintained chimney can lead to carbon monoxide buildup in your home. Regular cleaning ensures proper ventilation, reducing the risk of carbon monoxide poisoning.
Detecting Structural Issues: Professional chimney cleaners can identify potential issues during the cleaning process. This includes detecting cracks, damage, or deterioration that may compromise the safety and functionality of your chimney.
Benefits of Professional Chimney Cleaning
Engaging professional chimney cleaning services offers several advantages, including:
Thorough Cleaning: Trained professionals have the expertise and specialized tools to perform a comprehensive chimney cleaning. They ensure that all soot, creosote, and debris are removed, leaving your chimney clean and ready for use.
Safety Assurance: Professional chimney cleaners follow strict safety protocols, ensuring the protection of your property and their own well-being. They have the necessary safety equipment and knowledge to handle the cleaning process safely.
Timely Maintenance: Regular chimney cleaning by professionals allows for early detection of potential issues. They can spot signs of damage, deterioration, or blockages, enabling you to address these concerns promptly before they become major problems.
Expert Advice: Professional cleaners can provide valuable advice on chimney maintenance, usage, and safety practices. They can educate you on best practices to minimize fire hazards and ensure the longevity of your chimney.
The Process of Chimney Cleaning
Professional chimney cleaning typically involves the following steps:
Inspection: The cleaning team will thoroughly inspect the chimney, assessing its condition and identifying any issues or blockages.
Preparation: They will take necessary precautions to protect your home, such as covering furniture and flooring with drop cloths.
Cleaning the Flue: Using specialized brushes and vacuum equipment, the professionals will clean the flue, removing soot, creosote, and debris.
Cleaning the Firebox and Damper: They will also clean the firebox, damper, and other chimney components, ensuring all areas are free from build-up.
Final Inspection and Clean-Up: The team will conduct a final inspection to ensure the chimney is clean and in good condition. They will then clean up the work area, leaving your home clean and tidy.
Choosing a Trusted Chimney Cleaning Service
When selecting a chimney cleaning service, consider the following factors:
Experience and Expertise: Look for a service provider with extensive experience in chimney cleaning. They should have trained professionals who understand the nuances of chimney maintenance.
Certifications and Licensing: Ensure that the company holds appropriate certifications and licenses, demonstrating their commitment to quality and compliance with industry standards.
Customer Reviews: Read reviews and testimonials from previous customers to gauge the reputation and reliability of the chimney cleaning service.
Insurance Coverage: Verify that the service provider has proper liability insurance to protect you and your property in case of any accidents or damages during the cleaning process.
Transparent Pricing: Request a detailed estimate that outlines the scope of work and associated costs. A reputable service provider will provide transparent pricing with no hidden fees.
Customer Service: Choose a company that values customer satisfaction and offers excellent customer service. They should be responsive, professional, and willing to address any concerns or questions you may have.
Conclusion
Regular chimney cleaning by trusted professionals is essential for maintaining a safe and enjoyable fireplace experience. It helps prevent chimney fires, improves air quality, enhances the efficiency of your fireplace, and prolongs the lifespan of your chimney. Professional chimney cleaning ensures a thorough and safe process, and it allows for early detection of potential issues. When choosing a chimney cleaning service, consider their experience, certifications, customer reviews, insurance coverage, pricing transparency, and customer service. By prioritizing chimney maintenance, you can confidently enjoy cozy fires while keeping your home and loved ones safe.