A clean and well-maintained chimney plays a vital role in maintaining a healthy home environment. Chimneys are designed to safely remove smoke, toxins, and other byproducts of combustion from your home. However, over time, soot, debris, and creosote can accumulate, compromising the efficiency and safety of your chimney. To ensure a healthy living space and prevent potential hazards, it's crucial to invest in expert chimney cleaning services. In this article, we will explore the importance of professional chimney cleaning in maintaining a healthy home and the benefits it offers.
The Importance of Chimney Cleaning for a Healthy Home
Regular chimney cleaning by experts is essential for maintaining a healthy home environment due to the following reasons:
Eliminating Fire Hazards
Accumulated creosote, a highly flammable substance that forms as a result of incomplete combustion, poses a significant fire hazard. Over time, creosote deposits can build up in the chimney lining, increasing the risk of chimney fires. Professional chimney cleaning ensures the removal of creosote and other flammable materials, minimizing the chances of a fire outbreak and keeping your home and loved ones safe.
Invest in expert chimney cleaning as part of your home renovation to ensure a safe and efficient fireplace, creating a cozy and welcoming environment for your family and guests.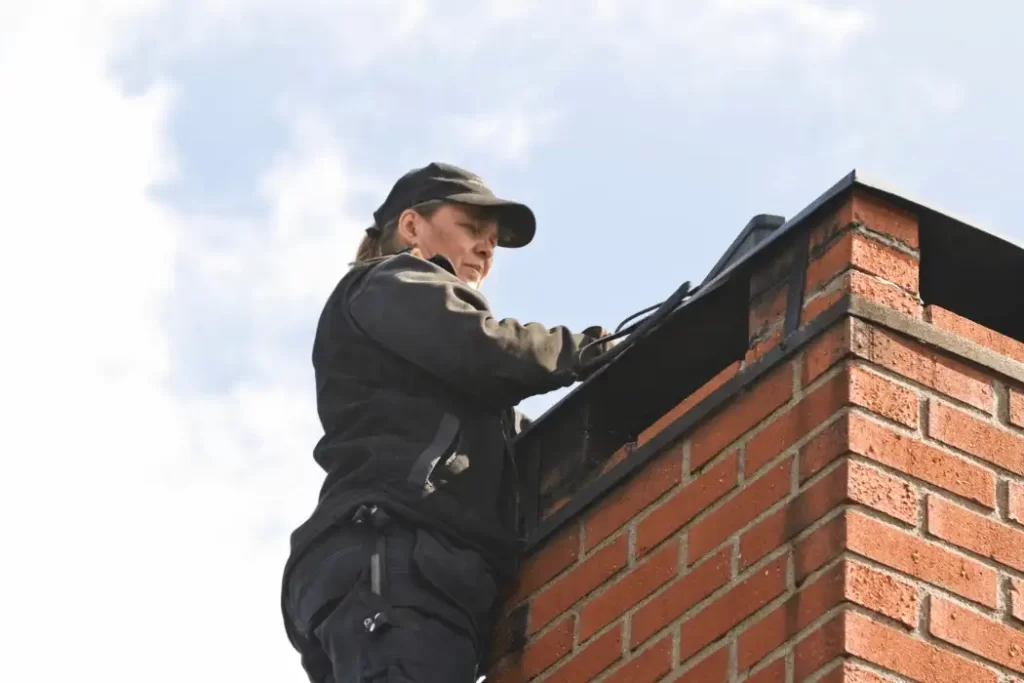 Improving Indoor Air Quality
A clean chimney promotes better indoor air quality by preventing the accumulation of soot, ash, and debris. These particles can enter your living space if the chimney is not properly maintained, leading to poor air quality and potential respiratory issues. Professional chimney cleaning removes these contaminants, allowing for cleaner and healthier air circulation within your home.
Preventing Carbon Monoxide Poisoning
A blocked or malfunctioning chimney can cause carbon monoxide (CO) to accumulate in your home. CO is a colorless and odorless gas that is highly toxic and can be life-threatening in high concentrations. Regular chimney cleaning helps ensure proper ventilation, preventing the build-up of CO and reducing the risk of carbon monoxide poisoning.
Enhancing Energy Efficiency
A clean chimney enables proper airflow and efficient combustion, resulting in improved energy efficiency. When a chimney is clogged with debris, it restricts the flow of air, causing your fireplace or heating system to work harder to achieve the desired temperature. Professional chimney cleaning helps optimize energy efficiency, reducing energy consumption and lowering utility bills.
The Process of Expert Chimney Cleaning
Professional chimney cleaning services follow a systematic process to ensure thorough and effective cleaning:
Initial Inspection: The chimney cleaning experts will conduct a visual inspection of the chimney and assess its condition, looking for any signs of damage, blockages, or structural issues.
Preparation: They will take necessary precautions to protect your home by covering furniture and floors near the fireplace. This prevents dust and debris from spreading.
Chimney Sweeping: Using specialized brushes and tools, the professionals will remove creosote, soot, debris, and any other obstructions from the chimney flue. This process ensures a clean and unrestricted passage for smoke and gasses.
Cleaning the Firebox and Damper: The experts will also clean the firebox and damper, removing ash and residue that may have accumulated.
Final Inspection: After the cleaning process, the chimney cleaning professionals will conduct a final inspection to ensure that the chimney is clean, clear, and functioning properly. They will check for any remaining debris or potential issues that require attention.
Clean-Up: The cleaning team will clean up the work area, leaving your home neat and tidy.
Choosing the Right Chimney Cleaning Service
When selecting a chimney cleaning service, consider the following factors:
Experience and Expertise: Look for a service provider with extensive experience in chimney cleaning. Trained professionals will have the knowledge and skills to handle the cleaning process efficiently and effectively.
Certifications and Credentials: Ensure that the chimney cleaning service is certified and licensed. These credentials indicate that they meet industry standards and follow best practices.
Customer Reviews and Testimonials: Read reviews and testimonials from previous customers to gauge the reputation and reliability of the chimney cleaning service. Positive feedback from satisfied customers is a good indication of their quality of work.
Insurance Coverage: Verify that the chimney cleaning service has appropriate liability insurance. This protects you and your property in the event of any accidents or damages that may occur during the cleaning process.
Transparent Pricing: Request a detailed estimate that outlines the cost of the chimney cleaning service. A reputable company will provide transparent pricing with no hidden fees.
Customer Service: Choose a chimney cleaning service that prioritizes customer satisfaction and offers excellent customer service. They should be responsive, professional, and willing to address any questions or concerns you may have.
Conclusion
Maintaining a healthy home involves ensuring the cleanliness and functionality of your chimney. Professional chimney cleaning plays a crucial role in eliminating fire hazards, improving indoor air quality, preventing carbon monoxide poisoning, and enhancing energy efficiency. By investing in expert chimney cleaning services, you can enjoy peace of mind, knowing that your home is safe and free from harmful contaminants. When choosing a chimney cleaning service, consider their experience, certifications, customer reviews, insurance coverage, transparent pricing, and customer service. Take the necessary steps to maintain a healthy home environment and enjoy the warmth and comfort of your fireplace.