In the fast-paced world we live in today, finding moments of relaxation and rejuvenation is crucial for our well-being. And what better way to unwind than indulging in the luxurious experience of a steam shower? If you have a small bathroom and are concerned about limited space, fret not! In this comprehensive guide, we will explore innovative small steam shower ideas that will transform your compact bathroom into a spa-like oasis, providing you with the ultimate pampering experience without compromising on style or comfort.
The Allure of Small Steam Shower Ideas
Revitalizing Benefits
Steam showers offer an array of health and wellness benefits. The warm and soothing steam helps relax muscles, alleviates stress, and improves circulation. Stepping into a steam shower after a long day can be a therapeutic experience, washing away the worries and fatigue.
Space-Saving Solution
For homeowners with limited bathroom space, a small steam shower can be a game-changer. Unlike traditional bathtubs or sprawling showers, compact steam showers utilize vertical space efficiently, making them a practical choice for modern living. Revitalize your bathroom during home renovation with small steam shower ideas, turning it into a relaxing oasis of comfort and luxury.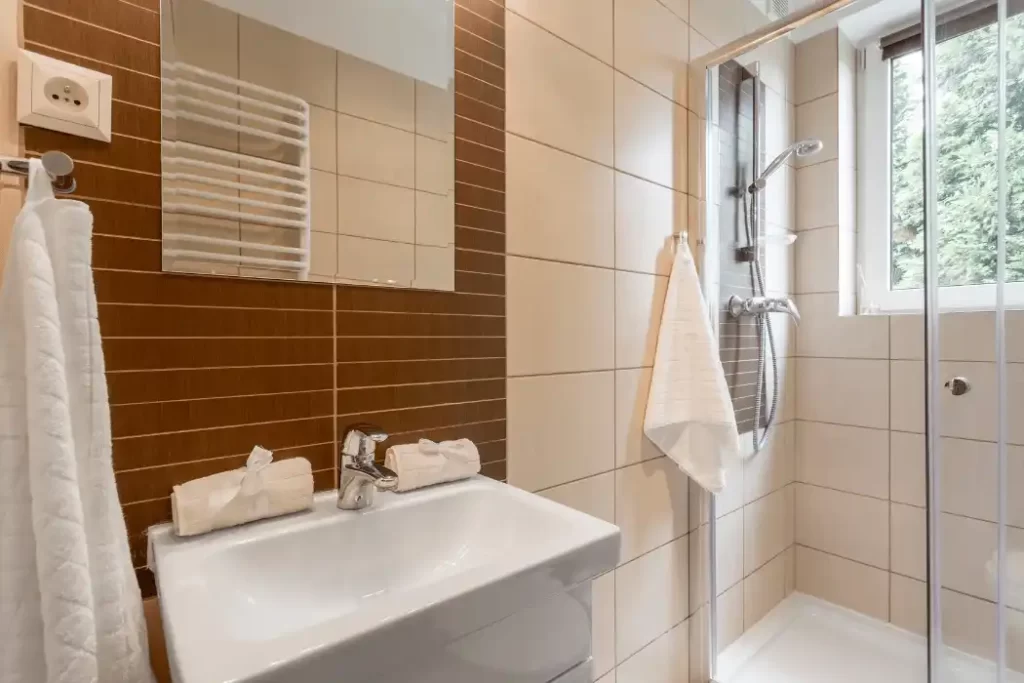 Designing Your Small Steam Shower
1. Corner Steam Shower
Utilizing the corners of your bathroom is a smart way to maximize space. A corner steam shower enclosure fits snugly into an underutilized area, leaving ample room for other bathroom essentials. Choose sleek glass enclosures to create an open and airy feel.
2. Niche Steam Shower
Consider incorporating a niche steam shower design into an existing alcove or recessed space. A well-designed niche with waterproof materials not only saves space but also adds a touch of elegance to your bathroom.
3. Glass Enclosures for Visual Expansion
Opt for glass enclosures to visually expand the space. Transparent glass creates an illusion of openness and allows natural light to flow throughout the bathroom, creating an inviting and airy ambiance.
4. Sliding Doors
Sliding doors are a space-saving alternative to traditional swinging doors. They are ideal for small bathrooms as they do not require extra clearance space for opening and closing.
5. Compact Fixtures
Choose compact fixtures and fittings to optimize space without compromising on functionality. Wall-mounted vanities, floating shelves, and corner sinks can free up valuable floor space, making your small bathroom appear more open.
Luxury Features for Small Steam Showers
1. Built-In Seating
Adding built-in seating inside your steam shower allows you to relax comfortably while enjoying the therapeutic benefits of steam. A fold-down bench is a space-efficient option for small steam showers.
2. Aromatherapy Diffusers
Enhance your steam shower experience with aromatherapy diffusers. The soothing scent of essential oils can further elevate your relaxation and rejuvenation session.
3. Chromotherapy Lighting
Chromotherapy, also known as color therapy, involves using different colored lights to influence mood and well-being. Incorporating chromotherapy lighting in your steam shower can create a spa-like atmosphere.
4. Rainfall Showerheads
Indulge in the luxury of a rainfall showerhead that provides a gentle cascade of water. Ceiling-mounted rainfall showerheads not only save space but also add a touch of opulence to your small steam shower.
Top Materials for Small Steam Showers
1. Porcelain Tiles
Porcelain tiles are an excellent choice for small steam showers as they are durable, water-resistant, and come in various sizes and designs. Large-format tiles can make your bathroom appear more spacious.
2. Glass Tiles
For a touch of elegance and sophistication, consider using glass tiles as an accent in your steam shower. Glass tiles reflect light and add a luxurious sheen to your bathroom.
3. Natural Stone
For a more organic and spa-like ambiance, natural stone tiles are an attractive option. Stone tiles bring a sense of nature indoors, creating a serene and tranquil atmosphere.
Proper Ventilation for Small Steam Showers
Ensuring proper ventilation is crucial for any steam shower, especially in a small bathroom. Proper ventilation prevents the buildup of excess moisture, which can lead to mold and mildew growth. Install a high-quality exhaust fan to maintain a dry and comfortable steam shower environment.
Conclusion
Luxury knows no boundaries, not even the confines of a small bathroom. With the right design, features, and materials, you can create a lavish steam shower experience that rivals a high-end spa. Embrace the rejuvenating benefits of steam showers, and let your compact bathroom transform into a private oasis of relaxation.
Unlock the potential of your small space with these innovative small steam shower ideas and take your bathroom to new heights of luxury. Don't compromise on comfort or style, and leave other websites behind by creating a truly lavish and tranquil haven in your home.