Having a clean and well-maintained roof is essential for the overall appearance and longevity of your home. However, keeping your roof spotless can be a challenging task, especially if you don't have the right knowledge and tools. In this article, we will reveal some roof cleaning hacks that can help you maintain a spotless roof and protect it from potential damage. From basic maintenance practices to advanced cleaning techniques, we will cover everything you need to know to keep your roof in pristine condition.
Understanding the Importance of Roof Cleaning
Maintaining a clean roof is crucial for various reasons. Firstly, it enhances the overall curb appeal of your home. A spotless roof creates a positive impression and adds value to your property. Secondly, regular cleaning prevents the growth of mold, moss, and algae, which can cause structural damage over time. Lastly, a clean roof allows for better water drainage, reducing the risk of leaks and other water-related issues. When planning your home renovation, don't miss out on learning valuable roof cleaning hacks to keep your roof looking its best and lasting longer.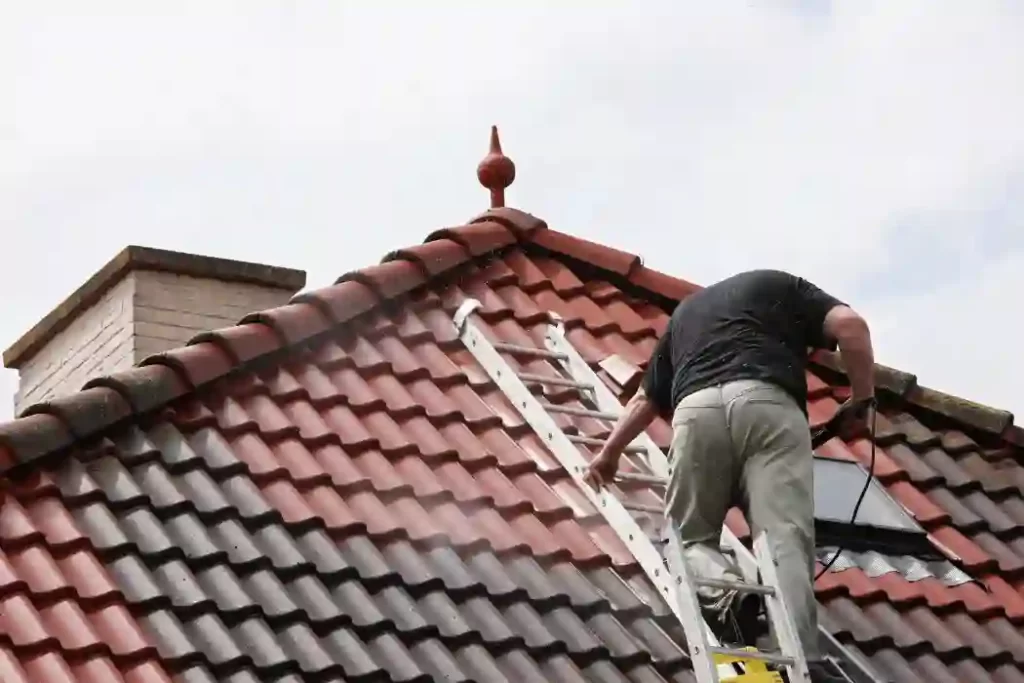 Safety Precautions Before Cleaning
Before you embark on any roof cleaning project, safety should be your top priority. Here are a few precautions to consider:
Use a sturdy ladder and have someone assist you.
Wear protective gear, including gloves, goggles, and non-slip footwear.
Check the weather forecast and choose a dry day for cleaning.
Ensure the roof is dry and free from debris before starting.
Basic Roof Maintenance Tips
Regular roof maintenance is essential to prevent the accumulation of dirt and debris. Here are some basic tips to keep your roof in good condition:
Trim overhanging branches to prevent leaves and twigs from falling onto the roof.
Clear gutters and downspouts regularly to ensure proper water flow.
Inspect for damaged shingles or tiles and replace them promptly.
Check for signs of leaks and address them immediately.
Removing Debris and Moss
Accumulated debris and moss can make your roof look untidy and lead to moisture retention. To remove them effectively, follow these steps:
Use a roof rake or a soft broom to gently remove leaves, branches, and other debris.
Create a solution of equal parts water and bleach and spray it onto moss-covered areas.
Allow the solution to sit for a while and then scrub the moss away using a soft-bristled brush.
Rinse the roof thoroughly with water to remove any residue.
Using Eco-Friendly Cleaning Solutions
If you prefer environmentally friendly options, several alternatives can effectively clean your roof without causing harm. Consider using these natural solutions:
Mix equal parts water and white vinegar to remove stains and mildew.
Use a solution of hydrogen peroxide and water to tackle tough algae growth.
Apply baking soda on stubborn stains and gently scrub with a brush.
Always test these solutions on a small, inconspicuous area before applying them widely.
Pressure Washing: Pros and Cons
Pressure washing can be an efficient method for cleaning roofs, but it should be used with caution. Here are some pros and cons to consider:
Pros:
Removes stubborn stains and grime effectively.
Saves time and effort compared to manual cleaning methods.
Cons:
High-pressure water can damage shingles and tiles if not used properly.
Improper technique may force water underneath the roof, leading to leaks.
Pressure washing requires skill and should ideally be done by professionals.
Hiring Professional Roof Cleaners
For complex or extensive roof cleaning tasks, hiring professionals is often the best approach. Professional roof cleaners have the expertise, experience, and specialized equipment to handle the job efficiently and safely. They can also provide additional services such as roof inspections and repairs, ensuring your roof remains in optimal condition.
Preventive Measures for a Spotless Roof
To maintain a spotless roof in the long term, consider implementing these preventive measures:
Install zinc or copper strips along the roof ridge to inhibit the growth of algae and moss.
Trim tree branches regularly to minimize debris accumulation.
Schedule periodic roof inspections to identify and address issues promptly.
Apply a protective roof coating to enhance durability and resistance to dirt and stains.
Cleaning Specific Roof Types
Different roof materials require specific cleaning approaches. Here are some tips for cleaning common roof types:
Asphalt Shingles: Avoid using harsh chemicals or high-pressure washing; instead, opt for gentle cleaning solutions and soft brushes.
Metal Roofs: Use non-abrasive cleaners and soft cloths to avoid scratching the surface.
Tile Roofs: Be cautious when walking on tile roofs and use a low-pressure spray or hand cleaning to prevent tile breakage.
Cedar Shakes: Apply a specialized cleaner designed for wood roofs and use gentle brushing to remove dirt and algae.
The Benefits of a Clean Roof
Maintaining a clean roof offers numerous benefits, including:
Improved energy efficiency by reflecting sunlight and reducing heat absorption.
Prolonged lifespan of the roof materials due to reduced moisture retention.
Prevention of roof leaks and water damage to the underlying structure.
Enhanced aesthetic appeal and increased property value.
Common Mistakes to Avoid
When cleaning your roof, it's essential to avoid these common mistakes:
Using a pressure washer without proper knowledge or training.
Neglecting to check for loose or damaged shingles before cleaning.
Using abrasive materials or harsh chemicals that can damage the roof surface.
Applying excessive force or scrubbing too vigorously, leading to unnecessary wear and tear.
Conclusion
A spotless roof is not only visually appealing but also crucial for the longevity and functionality of your home. By following the roof cleaning hacks and maintaining regular maintenance practices outlined in this article, you can keep your roof in pristine condition for years to come. Remember to prioritize safety, choose the right cleaning methods, and seek professional assistance when needed. With these tips in mind, you can enjoy a spotless and well-maintained roof that adds value to your property.