Maintaining a healthy home goes beyond just keeping the interiors clean and organized. It also involves taking care of external elements, such as gutters, which play a crucial role in protecting your home from water damage. Regular gutter cleaning is an essential part of home maintenance that ensures optimal functionality and prevents potential issues. In this article, we will explore the importance of professional gutter cleaning and how it helps you maintain a healthy and well-protected home.
The Significance of Clean Gutters
Clean gutters contribute to a healthy home environment in the following ways:
Water Damage Prevention: One of the primary functions of gutters is to direct rainwater away from your home's foundation. When gutters are clogged with leaves, debris, or sediment, they fail to effectively channel water, leading to potential water damage and costly repairs.
Preventing Mold and Mildew: Clogged gutters create a moist environment that promotes the growth of mold and mildew. These can not only damage your home's structure but also pose health risks to you and your family.
Preserving the Roof: When gutters are clogged, water overflows onto the roof, potentially causing rot, deterioration of shingles, and even leaks inside your home.
Avoiding Basement Flooding: Clean gutters prevent water from pooling around the foundation, minimizing the risk of basement flooding, which can damage your belongings and compromise the structural integrity of your home.
Keeping Pests at Bay: Clogged gutters provide an ideal breeding ground for pests like mosquitoes, rodents, and insects. Regular gutter cleaning helps eliminate these habitats, reducing the chances of infestation.
Gutter cleaning is an essential step in any home renovation, safeguarding your investment by ensuring proper water drainage and protecting your property from potential damage.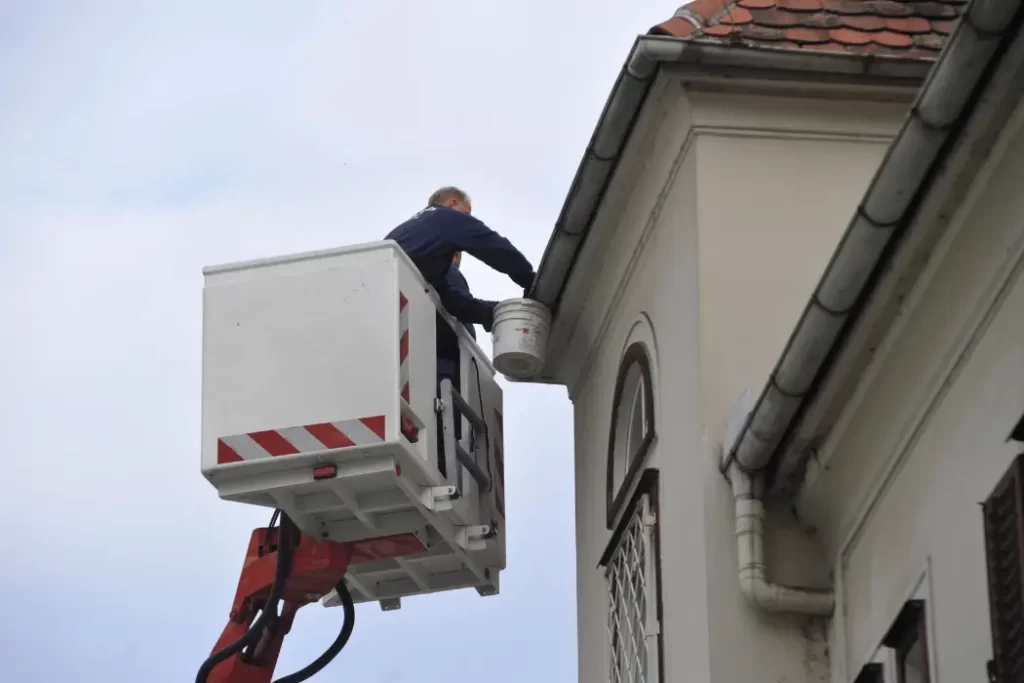 The Benefits of Professional Gutter Cleaning
Opting for professional gutter cleaning services offers several advantages:
Thorough Cleaning: Professional gutter cleaners have the knowledge, experience, and specialized equipment to effectively remove all debris and clogs from your gutters, ensuring unobstructed water flow.
Early Detection of Issues: During the cleaning process, professionals inspect your gutters for signs of damage, loose joints, or sagging sections. Identifying these issues early allows for prompt repairs, preventing further damage.
Safety and Efficiency: Gutter cleaning can be a dangerous task, especially for multi-story homes. Professional cleaners have the necessary training, safety equipment, and expertise to perform the job safely and efficiently.
Saves Time and Effort: Hiring professionals to clean your gutters saves you the time and effort required to climb ladders, navigate roofs, and deal with the mess. They handle the entire process, leaving you with clean gutters and peace of mind.
Expert Advice: Gutter cleaning professionals can provide valuable advice on maintaining the health of your gutters, such as recommending gutter guards or suggesting repairs or improvements to enhance their performance.
The Process of Professional Gutter Cleaning
Professional gutter cleaning typically involves the following steps:
Initial Assessment: The gutter cleaning team assesses the condition of your gutters, checking for clogs, damage, and any other issues that require attention.
Debris Removal: Using specialized tools and techniques, professionals remove leaves, twigs, dirt, and other debris from your gutters, ensuring optimal water flow.
Flushing and Cleaning: After debris removal, the gutters are thoroughly flushed with water to remove smaller particles and residues, leaving them clean and free from obstructions.
Inspection and Repairs: Professionals inspect the gutters for any signs of damage or wear, such as leaks, loose joints, or sagging sections. They can provide repairs or recommend further action if needed.
Final Check and Clean-Up: The gutter cleaning team performs a final check to ensure the gutters are clean, functioning properly, and ready to handle rainfall. They also clean up any debris that may have fallen during the process.
Choosing the Right Gutter Cleaning Service
When selecting a professional gutter cleaning service, consider the following factors:
Experience and Reputation: Look for a service provider with a proven track record and positive customer reviews. An experienced company is more likely to deliver satisfactory results.
Licensed and Insured: Ensure that the gutter cleaning service is licensed and carries adequate insurance. This protects you from any liability in case of accidents or damages during the cleaning process.
Transparent Pricing: Obtain detailed pricing information upfront, including any additional charges for repairs or extra services. Compare prices from different providers to find the one that offers the best value for your investment.
Customer Service: Choose a company that values customer satisfaction, promptly responds to inquiries, and demonstrates professionalism and reliability.
Guarantees and Warranties: Inquire about guarantees or warranties offered by the gutter cleaning service. A reputable company stands behind its work and provides assurances for customer peace of mind.
Conclusion
Maintaining a healthy home involves paying attention to every aspect of its well-being, including the condition of your gutters. Professional gutter cleaning services offer numerous benefits, such as preventing water damage, mold growth, and pest infestations. They ensure thorough cleaning, early detection of issues, and expert advice on maintaining gutter health. When selecting a gutter cleaning service, consider factors like experience, reputation, licensing, pricing transparency, and customer service. By investing in professional gutter cleaning, you can maintain a healthy home and protect your property from potential damages.