When it comes to enhancing the value and appeal of your property, the importance of clean and well-maintained gutters cannot be overstated. Clean gutters not only contribute to the overall aesthetic of your home but also play a crucial role in preventing water damage and maintaining the structural integrity of your property. Hiring professional gutter cleaning experts can help you achieve sparkling gutters and increase the value of your property. In this article, we will explore the benefits of expert gutter cleaning and how it can enhance the value of your property.
The Impact of Clean Gutters on Property Value
Clean and well-maintained gutters contribute to the overall value of your property in the following ways:
Curb Appeal: Clean gutters greatly enhance the visual appeal of your property. They provide a neat and well-maintained appearance that instantly grabs the attention of potential buyers or visitors.
Property Condition: Clean gutters indicate that the property has been well taken care of. It creates a positive impression and suggests that the property has been maintained properly, potentially increasing its value.
Preventing Structural Damage: By effectively channeling rainwater away from the property, clean gutters help prevent water-related damage, such as foundation cracks, basement flooding, and mold growth. Buyers value a property that is free from such issues and are willing to pay a premium for it.
Hiring a gutter cleaning expert during your home renovation is a wise decision, ensuring the proper maintenance and functionality of your gutters for a flawless exterior.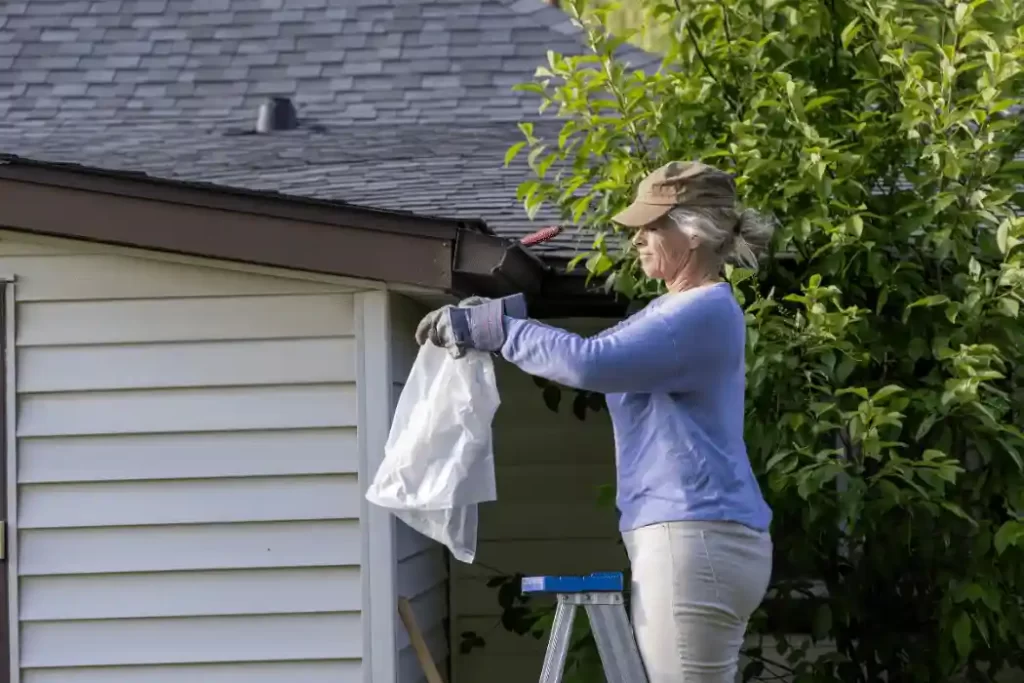 Longevity of the Roof: Clogged gutters can cause water to overflow onto the roof, leading to roof damage, leaks, and the need for costly repairs. Clean gutters extend the lifespan of the roof, which is an attractive feature for potential buyers.
Energy Efficiency: Properly functioning gutters help prevent water from seeping into the walls and insulation, improving the energy efficiency of the property. This can be an appealing factor for environmentally conscious buyers.
The Benefits of Gutter Cleaning Experts
Hiring professional gutter cleaning experts offers numerous benefits:
Thorough Cleaning: Gutter cleaning experts have the knowledge, experience, and specialized tools to ensure a thorough cleaning of your gutters. They can effectively remove all debris, leaves, twigs, and clogs, leaving your gutters spotless.
Early Detection of Issues: During the cleaning process, experts inspect the gutters for any signs of damage, sagging, or loose joints. Identifying these issues early allows for timely repairs, preventing further damage and potential decrease in property value.
Safety and Efficiency: Gutter cleaning can be a risky task, especially for multi-story buildings. Gutter cleaning experts have the necessary safety equipment and training to perform the job safely and efficiently, minimizing the risk of accidents.
Time and Effort Savings: Hiring professionals to clean your gutters saves you the time, effort, and hassle of tackling the task yourself. They handle the entire process, ensuring that your gutters are thoroughly cleaned without you having to climb ladders or deal with the mess.
Professional Advice: Gutter cleaning experts can provide valuable advice on gutter maintenance, such as recommending gutter guards or suggesting repairs or improvements to optimize gutter performance. Their expertise can help you maximize the value and longevity of your gutters.
The Process of Professional Gutter Cleaning
Professional gutter cleaning typically involves the following steps:
Initial Assessment: Gutter cleaning experts assess the condition of your gutters, identifying any issues or areas that require special attention.
Debris Removal: Using specialized tools and techniques, they remove all debris, leaves, twigs, and clogs from your gutters, ensuring unobstructed water flow.
Flushing and Cleaning: After debris removal, the experts flush the gutters with water to clean away any remaining dirt or residue, leaving your gutters clean and ready for optimal functionality.
Inspection and Repairs: Gutter cleaning experts inspect the gutters for any signs of damage, leaks, or loose joints. They can provide necessary repairs or recommend further action if needed to ensure the gutters are in optimal condition.
Final Check: The experts perform a final check to ensure that the gutters are clean, free from debris, and functioning properly.
Choosing the Right Gutter Cleaning Experts
When selecting gutter cleaning experts, consider the following factors:
Experience and Reputation: Choose a reputable gutter cleaning company with a proven track record of delivering quality services. Check online reviews and testimonials to gauge their reputation and customer satisfaction.
Certifications and Insurance: Ensure that the gutter cleaning experts are certified and carry liability insurance. This protects you from any potential accidents or damages that may occur during the cleaning process.
Range of Services: Consider additional services offered by the company, such as gutter repairs, gutter guard installation, or roof inspections. A comprehensive range of services indicates their expertise and dedication to maintaining the health of your gutters.
Transparent Pricing: Obtain detailed cost estimates from multiple gutter cleaning experts and compare them. Look for a company that offers transparent pricing, including any additional charges for repairs or extra services.
Customer Service: Choose a company that values customer satisfaction, demonstrates professionalism, and provides excellent customer service. Prompt responses to inquiries and clear communication are essential qualities to look for.
Conclusion
Investing in professional gutter cleaning services is a smart way to enhance the value of your property. Clean and well-maintained gutters not only improve curb appeal but also prevent water damage and extend the lifespan of your roof. Gutter cleaning experts offer thorough cleaning, early detection of issues, and valuable advice on gutter maintenance. When selecting gutter cleaning experts, consider their experience, reputation, certifications, range of services, pricing transparency, and customer service. By ensuring sparkling gutters with the help of professionals, you can enhance your property's value and attract potential buyers.