Water damage can be a homeowner's nightmare, leading to costly repairs and potentially compromising the structural integrity of your property. One of the most effective ways to prevent water damage is by ensuring that your gutters are clean and functioning properly. Professional gutter cleaning plays a vital role in maintaining the health of your home and safeguarding it against water-related issues. In this article, we will explore the importance of professional gutter cleaning in preventing water damage and protecting your investment.
The Significance of Well-Maintained Gutters
Well-maintained gutters are essential for the following reasons:
Rainwater Management: Gutters collect rainwater from your roof and direct it away from your home's foundation, preventing water accumulation and potential damage.
Preventing Foundation Issues: When gutters are clogged or improperly functioning, rainwater can seep into the soil around your foundation, leading to shifting, cracks, and other costly foundation problems.
Preserving the Roof: Properly functioning gutters prevent water from overflowing onto your roof, minimizing the risk of roof leaks, rot, and deterioration.
Protecting Siding and Exterior: By channeling rainwater away from your home, gutters prevent water from cascading down the walls and causing damage to the siding, windows, and exterior surfaces.
Avoiding Basement Flooding: Clogged gutters can result in water pooling around the foundation, increasing the chances of basement flooding and water intrusion.

As part of your home renovation, don't overlook the importance of gutter cleaning to maintain a pristine exterior and protect your property from water damage.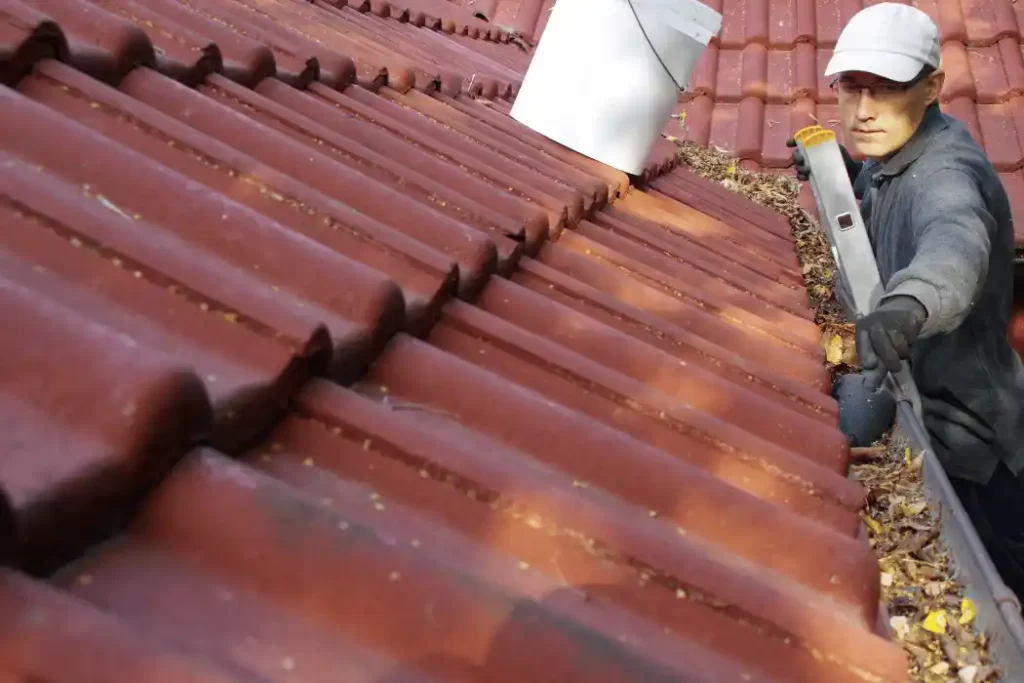 Understanding the Risks of Clogged Gutters
Clogged gutters pose significant risks to your home:
Water Overflow: When gutters are clogged with debris, water overflows from the gutters instead of being directed away from the home. This can result in water pooling around the foundation, leading to water damage and structural issues.
Foundation Damage: Excess water around the foundation can cause the soil to expand, leading to foundation shifting, cracks, and costly repairs.
Roof Leaks: Clogged gutters can cause water to back up onto the roof, leading to leaks, rot, and potential damage to the underlying structures.
Mold and Mildew Growth: Excess moisture from clogged gutters creates a conducive environment for mold and mildew to thrive, posing health risks and further damaging your home.
Pest Infestation: Standing water in clogged gutters attracts mosquitoes, termites, and other pests, increasing the risk of infestation.
How Professional Gutter Cleaning Prevents Water Damage
Professional gutter cleaning is crucial for preventing water damage and maintaining the integrity of your home:
Thorough Debris Removal: Professional gutter cleaners use specialized tools and techniques to remove all debris, leaves, and obstructions from your gutters and downspouts. This ensures unimpeded water flow and prevents overflow.
Identifying and Repairing Issues: During the cleaning process, professionals inspect your gutters for any signs of damage, leaks, or loose components. Early detection allows for timely repairs and prevents further water-related problems.
Ensuring Proper Slope and Alignment: Professionals ensure that your gutters are correctly sloped and aligned to facilitate optimal water flow and drainage.
Preventing Ice Dams: In colder climates, clogged gutters can lead to ice dams, where melting snow refreezes and causes water backup. Professional cleaning helps prevent ice dams and the resulting water damage.
Safety and Efficiency: Gutter cleaning can be a risky task, involving climbing ladders and working at heights. Professional cleaners have the necessary equipment, safety measures, and expertise to perform the job safely and efficiently.
The Process of Professional Gutter Cleaning
Professional gutter cleaning typically involves the following steps:
Assessment: The gutter cleaning team assesses the condition of your gutters, identifying any clogs, damage, or signs of wear.
Debris Removal: Using specialized tools, professionals remove leaves, twigs, dirt, and other debris from your gutters and downspouts.
Flushing and Cleaning: To ensure a thorough clean, the gutters are flushed with water, removing smaller particles and residues. High-pressure washing may be used for stubborn dirt or stains.
Inspection and Repairs: Professionals inspect the gutters for any issues such as leaks, loose joints, or sagging sections. Repairs are carried out as necessary.
Final Check: After the cleaning process, the gutter cleaning team ensures that the gutters are clean, unobstructed, and functioning properly.
Factors to Consider When Choosing Gutter Cleaning Services
When selecting professional gutter cleaning services, consider the following factors:
Experience and Expertise: Look for experienced professionals who specialize in gutter cleaning and have a good reputation in the industry. They should have the necessary knowledge and skills to handle different types of gutters.
Licensed and Insured: Ensure that the gutter cleaning company is licensed and carries liability insurance to protect you from any potential accidents or damage during the cleaning process.
Safety Measures: Inquire about the safety measures taken by the company to protect their workers and your property during the cleaning process. They should follow industry best practices and use appropriate safety equipment.
Customer Reviews and Testimonials: Read reviews and testimonials from previous customers to gauge the quality of service provided by the gutter cleaning company.
Additional Services: Some gutter cleaning services offer additional services such as gutter repairs, gutter guard installation, or roof inspections. Consider whether these additional services align with your needs.
Cost and Value: Compare quotes from different gutter cleaning companies, taking into account the level of expertise, quality of service, and additional benefits offered. Choose a service that provides the best value for your investment.
Conclusion
Preventing water damage should be a priority for homeowners, and professional gutter cleaning plays a crucial role in achieving this goal. By keeping your gutters clean and well-maintained, you can prevent water overflow, foundation damage, roof leaks, and other water-related issues. Professional gutter cleaning ensures thorough debris removal, early detection of problems, and optimal water flow. When choosing gutter cleaning services, consider the experience, safety measures, and additional services offered by the company. By investing in professional gutter cleaning, you can have peace of mind knowing that your home is protected from water damage and your investment is safeguarded.