When it comes to enhancing the aesthetics of your home, we often think about landscaping, exterior paint, or architectural features. However, one aspect that is often overlooked but plays a significant role in the overall appearance is the condition of your gutters. Clean and well-maintained gutters not only ensure the proper flow of rainwater but also contribute to the curb appeal of your home. In this article, we will explore the importance of expert gutter cleaning in improving your home's aesthetics.
The Role of Gutters in Home Aesthetics
Gutters are not just functional elements; they also have a visual impact on the overall appearance of your home. Here's why they play a role in home aesthetics:
Clean Lines: Well-maintained gutters with clean lines contribute to a neat and organized look, enhancing the visual appeal of your home's exterior.
Preventing Stains and Discoloration: Clogged gutters can lead to water overflow, causing stains and discoloration on your home's siding or exterior walls. Clean gutters prevent these unsightly marks.
Enhancing Landscaping: Properly functioning gutters ensure that water is directed away from your landscaping, preventing erosion and preserving the beauty of your plants and flowerbeds.
Completing the Look: Just like well-groomed hair completes an outfit, clean gutters complete the overall look of your home, adding a finishing touch to its exterior.
As part of your home renovation, don't overlook the importance of gutter cleaning to maintain a pristine exterior and protect your property from water damage.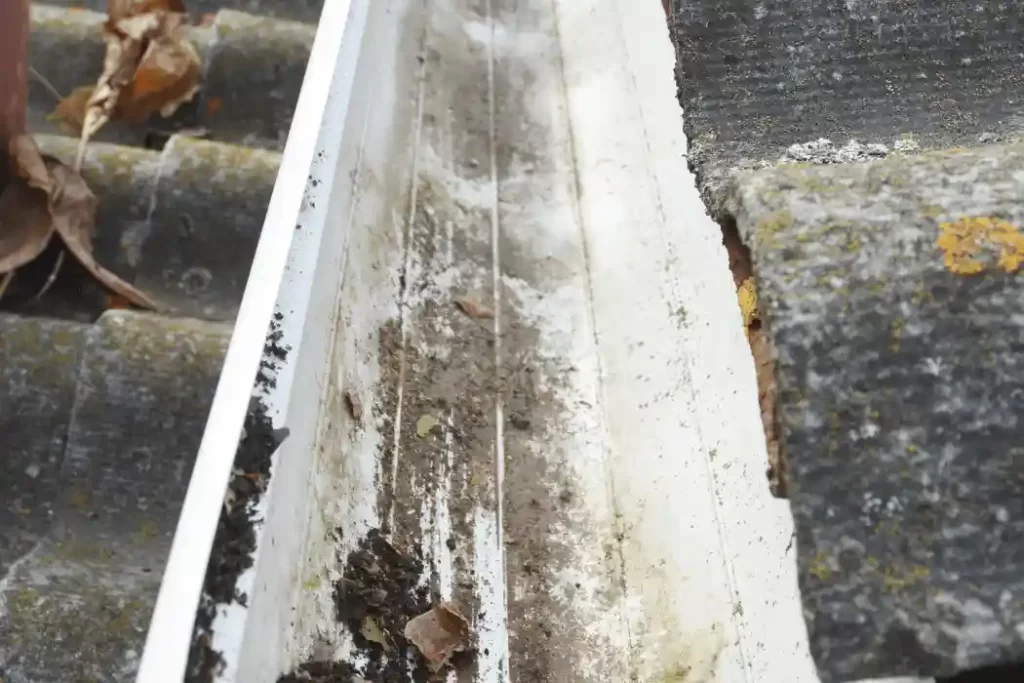 The Benefits of Expert Gutter Cleaning
Investing in expert gutter cleaning services offers several benefits for your home's aesthetics:
Spotless Appearance: Professional gutter cleaners ensure that your gutters are spotless and free from debris, leaves, and other obstructions that can detract from the visual appeal of your home.
Preventing Stains and Discoloration: By clearing clogs and blockages, expert cleaners prevent water overflow and the resulting stains or discoloration on your home's exterior walls.
Preserving Exterior Surfaces: Regular cleaning removes dirt, grime, and mold that can accumulate on your gutters and spill onto the siding or exterior surfaces. This helps maintain the original beauty of your home.
Enhancing Curb Appeal: Clean and well-maintained gutters contribute to an overall tidy and well-kept appearance, instantly boosting the curb appeal of your home.
Long-Term Savings: By keeping your gutters clean and functioning properly, you prevent potential water damage to your home's exterior and foundation, saving you from costly repairs in the long run.
The Process of Professional Gutter Cleaning
Professional gutter cleaning involves a systematic approach to ensure thorough and efficient results. Here's an overview of the process:
Assessment: The gutter cleaning team assesses the condition of your gutters, identifying any clogs, blockages, or signs of damage.
Safety Precautions: Professionals take safety precautions, such as using ladders and safety equipment, to ensure a secure and accident-free cleaning process.
Debris Removal: Using specialized tools, experts remove leaves, twigs, dirt, and other debris from your gutters and downspouts, leaving them clean and unobstructed.
Flushing and Cleaning: To ensure a complete clean, the gutters are flushed with water, removing smaller particles and residues. High-pressure washing may be used for stubborn dirt or stains.
Final Inspection: After the cleaning process, the gutter cleaning team inspects the gutters again to ensure they are clean and in optimal working condition.
Factors to Consider When Choosing Gutter Cleaning Services
When selecting gutter cleaning services for improving your home's aesthetics, consider the following factors:
Experience and Expertise: Look for professionals with experience in gutter cleaning and a proven track record. They should have the expertise to handle different types of gutters and address any specific concerns.
Professionalism and Reliability: Choose a reputable company known for its professionalism, reliability, and commitment to customer satisfaction. Read reviews and testimonials to gauge their reputation.
Safety Measures: Ensure that the company follows safety protocols and uses proper equipment to protect both their workers and your property during the cleaning process.
Additional Services: Some gutter cleaning services offer additional services such as gutter repairs, gutter guard installation, or exterior cleaning. These services can further enhance your home's aesthetics.
Affordability: Consider the cost of the service and compare it with the level of expertise and quality offered. Look for a balance between affordability and value for money.
Conclusion
Expert gutter cleaning plays a vital role in improving the aesthetics of your home. By ensuring clean, well-maintained gutters, you enhance the overall appearance and curb appeal of your property. Professional gutter cleaners remove debris, prevent stains, and preserve the beauty of your home's exterior surfaces. Additionally, by investing in expert cleaning, you protect your home from potential water damage and enjoy long-term savings. So, don't overlook the importance of gutter cleaning in improving your home's aesthetics and make it a part of your regular maintenance routine.