A sideboard, also known as a buffet or credenza, is a versatile and functional piece of furniture that often finds its place in dining rooms, living rooms, or entryways. While its primary purpose is to offer storage and display space, a well-styled sideboard can be a captivating design feature in any room. In this article, we'll explore the art of sideboard styling and discover how to unleash its full potential to create a design delight that complements your interior aesthetic. Home renovation enthusiasts are often eager to explore innovative sideboard styling ideas to elevate their living spaces with a touch of elegance and functionality.
Declutter and Organize Sideboard Styling:
Before diving into the world of sideboard styling, start by decluttering and organizing its contents. Remove any unnecessary items and only keep those that serve a decorative or functional purpose. Group similar items together and use baskets or trays to keep smaller items organized.
Find Your Focal Point:
When styling your sideboard, choose a focal point or a central item that draws the eye. This could be a large statement piece of artwork, an elegant mirror, or a beautifully framed photograph. The focal point sets the tone for the overall styling and anchors the arrangement.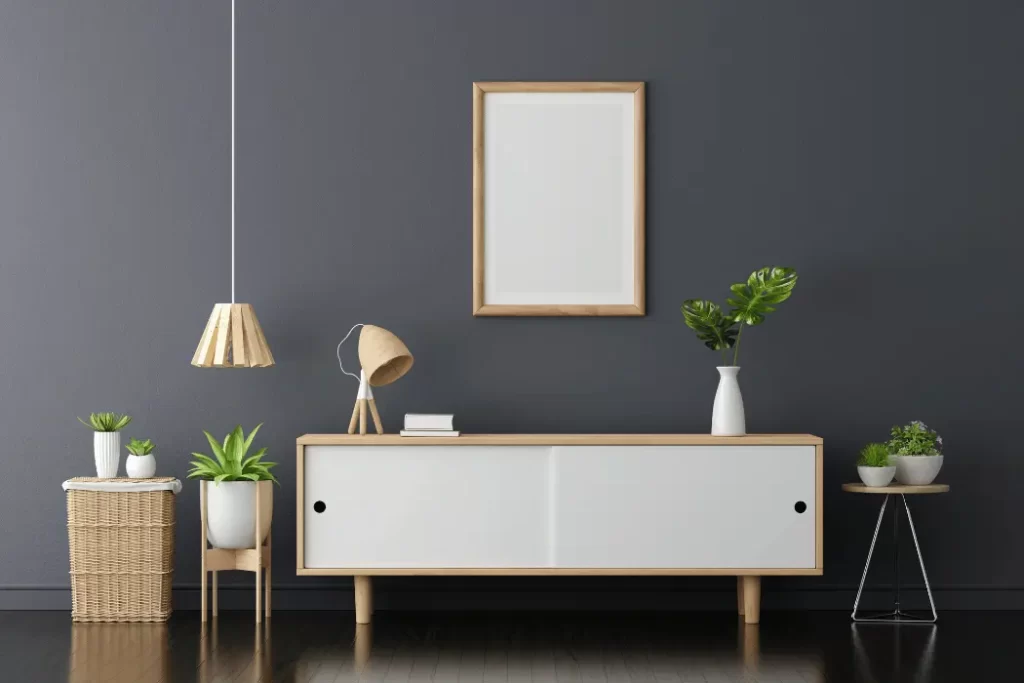 Balance and Symmetry:
Achieving balance and symmetry in your sideboard styling creates a sense of harmony and order. Place taller items on each end of the sideboard and work your way towards the center with gradually shorter items. This arrangement provides a pleasing visual flow.
Layering with Art and Mirrors:
Layering art and mirrors can add depth and dimension to your sideboard styling. Hang artwork or lean framed pieces against the wall above the sideboard. Mirrors not only reflect light and make the space feel larger but also create an elegant backdrop for your decor.
Showcase Sentimental Items:
The sideboard is an excellent place to display sentimental items or family heirlooms. Incorporate cherished objects like family photographs, vintage collectibles, or special souvenirs. These personal touches make the styling uniquely yours and add a warm, inviting touch to the space.
Greenery and Florals:
Introduce the beauty of nature to your sideboard by adding greenery and florals. Place potted plants, vases of fresh flowers, or even a terrarium to infuse life and freshness into the arrangement. The organic elements add a touch of elegance and serenity.
Books and Bookends:
Stacking books on your sideboard can add visual interest and height variation. Choose books with attractive covers that complement your decor. Place stylish bookends on each side to keep the books upright and add a touch of sophistication.
Candlelight Ambiance:
Candles are an excellent addition to your sideboard styling, especially for creating a cozy and inviting ambiance. Use decorative candle holders or lanterns to add a touch of elegance and warmth to the arrangement.
Texture and Material Mix:
Experiment with different textures and materials to add richness to your sideboard styling. Combine sleek glassware with rustic wooden elements or shiny metallic pieces. The juxtaposition of textures adds visual interest and depth.
Seasonal Switch-Ups:
Embrace the changing seasons and update your sideboard styling accordingly. For example, during the holidays, adorn it with festive decorations and ornaments. In the summer, infuse it with beachy elements like shells and beach-inspired decor.
Conclusion:
Sideboard styling is an art form that allows you to unleash your creativity and showcase your personality. By decluttering and organizing, finding a focal point, and achieving balance and symmetry, you can create a design delight that elevates the overall look of your space. Incorporate sentimental items, greenery, and art to add character and charm to the arrangement. Play with textures and materials to add depth, and don't forget to switch up the styling with the changing seasons. With these tips in mind, your sideboard will become a captivating focal point and a true testament to your design prowess.