The front door of your home sets the tone for what lies beyond, and choosing the right door can make a lasting impression. When it comes to timeless elegance and style, midcentury front doors stand out as a popular choice. These iconic doors, inspired by the design aesthetic of the mid-20th century, offer a perfect blend of sophistication, simplicity, and functionality. With their clean lines, warm wood finishes, and distinctive features, midcentury front doors add a touch of timeless elegance to any entryway. In this article, we will explore the allure of midcentury front doors, their enduring appeal, and how they can elevate the look of your home's entrance.
The front door serves as a focal point, welcoming guests into your home and making a statement about your personal style. A midcentury front door embraces a design era known for its emphasis on simplicity, clean lines, and functionality. It adds a touch of timeless elegance and sets the stage for what awaits inside. Enhance your home renovation with a touch of midcentury elegance by installing a stylish midcentury front door, elevating the curb appeal of your property.
The Allure of Midcentury Front Doors
Midcentury front doors have a captivating allure that continues to resonate with homeowners and designers alike. They capture the essence of an iconic design era and bring a sense of sophistication and charm to any home's exterior. The sleek lines and thoughtful details of these doors make them a favorite choice for those seeking a classic yet contemporary look.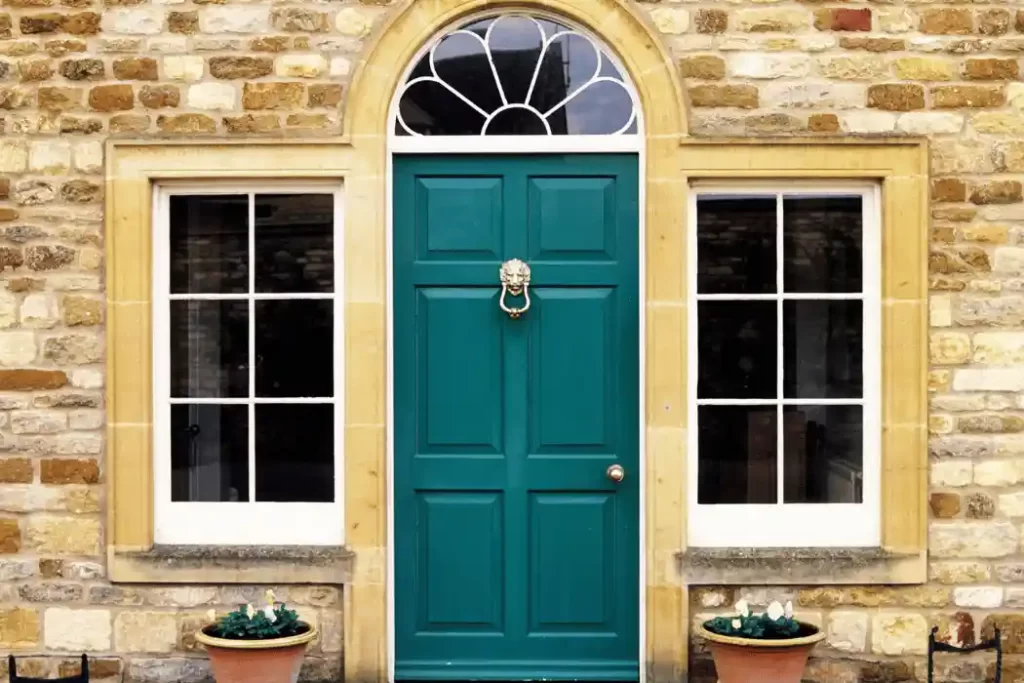 Timeless Design and Aesthetic
The design of midcentury front doors is characterized by simplicity, minimalism, and a focus on clean lines. They often feature geometric shapes, large glass panels, and a warm wood finish that adds warmth and natural beauty. This timeless design aesthetic effortlessly integrates into a variety of architectural styles, from modern to traditional.
Materials and Finishes
Midcentury front doors are typically crafted from high-quality materials that emphasize durability and style. Some popular options include:
Wood: Wood is a classic choice for midcentury front doors, offering natural beauty, warmth, and versatility. Species like teak, walnut, and mahogany are commonly used for their rich tones and durability.
Fiberglass: Fiberglass doors provide the look of wood but with added durability and resistance to the elements. They are available in a range of finishes and can mimic the appearance of different wood species.
Steel: Steel doors offer a sleek and modern look while providing excellent security and durability. They can be finished with a variety of colors and textures to suit your aesthetic preferences.
Incorporating a Midcentury Front Door in Your Home
To make the most of a midcentury front door and create a cohesive look, consider the following tips:
Complement the Architectural Style: Ensure the design of the front door complements the architectural style of your home. Midcentury front doors work well with various architectural styles, including mid century modern, ranch, and contemporary.
Consider Color Choices: Embrace the midcentury aesthetic by selecting colors that reflect the era's design sensibilities. Popular choices include warm wood tones, earthy neutrals, or bold contrasting colors that make a statement.
Choose Appropriate Hardware: Select door hardware that enhances the midcentury look. Opt for sleek and minimalistic handles, knobs, and door knockers in finishes like brushed nickel or matte black.
Add Decorative Glass Panels: Consider incorporating large glass panels into the door design. Frosted or textured glass can provide privacy while still allowing natural light to flow into the entryway.
Advantages of Midcentury Front Doors
Midcentury front doors offer several advantages beyond their timeless elegance:
Versatile Design: The clean lines and minimalistic design of midcentury front doors make them adaptable to various architectural styles and home designs.
Enhanced Curb Appeal: A midcentury front door instantly elevates the curb appeal of your home, adding a touch of sophistication and style that catches the eye.
Natural Light and Connection to the Outdoors: The incorporation of glass panels in midcentury front doors allows natural light to fill the entryway, creating a welcoming and bright atmosphere.
Maintenance and Care
To keep your midcentury front door looking its best, follow these maintenance tips:
Regular Cleaning: Clean the door regularly with a mild soap or detergent and water solution. Avoid using abrasive cleaners or tools that may damage the finish.
Sealing and Refinishing: Depending on the material, periodically inspect and reseal or refinish the door to protect it from the elements and maintain its appearance.
Hardware Maintenance: Check and tighten any loose hardware, such as hinges or handles, to ensure smooth operation and security.
Conclusion
A midcentury front door embodies timeless elegance and style, making a lasting impression on anyone who enters your home. With their clean lines, warm wood finishes, and iconic design elements, these doors add a touch of sophistication and character to your entryway. Embrace the allure of midcentury front doors and create an entrance that welcomes and captivates.