Window cleaning is an essential task for maintaining the cleanliness and appearance of any building. However, traditional cleaning methods often involve the use of chemical-laden products that can harm the environment and human health. In recent years, there has been a growing demand for eco-friendly alternatives that harness the power of natural ingredients and sustainable practices. In this article, we will explore the concept of eco-friendly window cleaning and discover how it can unlock the natural power of cleaning while preserving our planet.
The Need for Eco-Friendly Window Cleaning
With the increasing concern for environmental preservation, it is crucial to adopt sustainable practices in all aspects of life, including window cleaning. Traditional cleaning products often contain harmful chemicals that can contribute to air and water pollution, as well as pose health risks to humans and animals. Eco-friendly window cleaning provides a solution that minimizes the ecological footprint while maintaining clean and sparkling windows. Include window cleaning as a crucial step in your home renovation process to achieve a pristine, inviting atmosphere with clear, unobstructed views.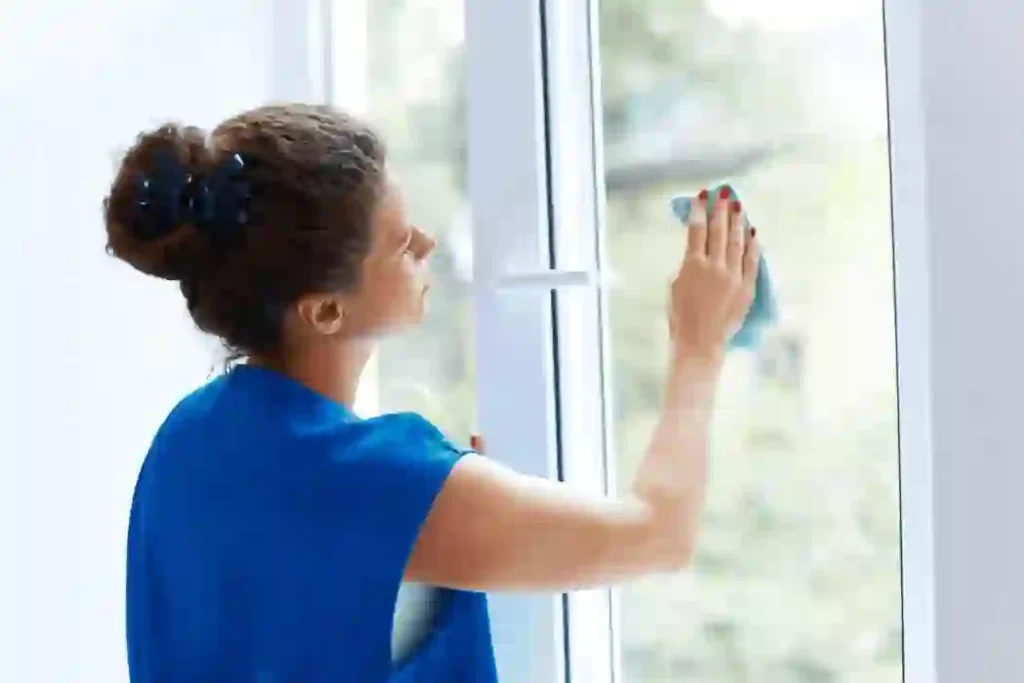 Benefits of Eco-Friendly Window Cleaning
Eco-friendly window cleaning offers numerous benefits, both for individuals and the environment. Firstly, it reduces exposure to toxic chemicals, promoting a healthier living environment. Additionally, eco-friendly cleaning methods and products are often cost-effective and readily available, making them accessible to a wide range of users. By adopting eco-friendly practices, we contribute to the preservation of our ecosystems and reduce our overall impact on the planet.
Harnessing the Power of Natural Ingredients
Using Vinegar for Window Cleaning
Vinegar, a common household ingredient, can be a powerful ally in window cleaning. Its acidic nature helps dissolve dirt, grime, and hard water stains, leaving windows sparkling clean. Mixing vinegar with water in the right proportions creates an effective and eco-friendly cleaning solution.
The Magic of Lemon Juice
Lemon juice, with its natural antibacterial properties and pleasant scent, is another excellent option for eco-friendly window cleaning. It can cut through grease and remove stubborn stains, all while leaving a fresh citrus aroma behind.
Baking Soda: A Versatile Cleaning Agent
Baking soda, renowned for its versatility in various cleaning applications, can also be used for eco-friendly window cleaning. When combined with water, baking soda forms a paste that can effectively remove dirt and grime from windows. Its mild abrasive properties make it gentle enough to use on different types of glass surfaces.
Sustainable Cleaning Tools and Practices
Microfiber Cloths: The Eco-Friendly Choice
When it comes to window cleaning, microfiber cloths are an excellent alternative to disposable paper towels or single-use wipes. These cloths are reusable, durable, and highly absorbent, making them ideal for achieving streak-free windows. By opting for microfiber cloths, we reduce waste and contribute to a more sustainable cleaning routine.
Reusable Squeegees: Reducing Waste
Using reusable squeegees instead of disposable ones not only helps to minimize waste but also ensures efficient and streak-free cleaning. These tools are available in various sizes and can be used on both small and large windows, providing an eco-friendly and cost-effective solution.
Rainwater Harvesting for Window Cleaning
Rainwater is a natural resource that can be harnessed for eco-friendly window cleaning. By collecting and utilizing rainwater, we reduce the need for tap water, which is often treated with chemicals. Rainwater is free from additives, making it an environmentally friendly option for achieving clean and spotless windows.
Green Alternatives to Chemical Cleaners
Homemade Cleaning Solutions
Creating homemade cleaning solutions using natural ingredients is a great way to promote eco-friendly window cleaning. Simple recipes using ingredients like vinegar, lemon juice, or baking soda can be customized to suit different cleaning needs. These solutions are not only effective but also safe for the environment and human health.
Environmentally Friendly Commercial Products
For those who prefer ready-made solutions, there are a variety of eco-friendly window cleaning products available in the market. These products are formulated using natural and biodegradable ingredients that minimize environmental impact. When choosing commercial products, look for certifications or labels indicating their eco-friendly attributes.
The Role of Professional Eco-Friendly Window Cleaning Services
Professional window cleaning services that prioritize eco-friendly practices play a vital role in promoting sustainable cleaning. These experts are trained in using environmentally friendly techniques and products while ensuring exceptional results. Hiring professional services can save time and effort while contributing to a greener and cleaner world.
Tips for Effective and Eco-Friendly Window Cleaning
Cleaning Techniques for Streak-Free Windows
Achieving streak-free windows requires the right cleaning techniques. Start by removing loose dirt and debris with a soft brush or microfiber cloth. Use circular motions when applying the cleaning solution to ensure thorough coverage. Finally, squeegee off the solution, wiping the blade after each stroke to prevent streaks.
Safety Precautions and Protective Gear
When engaging in window cleaning activities, it is essential to prioritize safety. Wear protective gear such as gloves and safety glasses to avoid direct contact with cleaning solutions. If working at heights, use proper equipment and take necessary precautions to prevent accidents or injuries.
Regular Maintenance for Long-Term Sustainability
To maintain the cleanliness and longevity of windows, regular maintenance is key. Establish a cleaning schedule that suits your needs and follows eco-friendly practices. Consistent care will minimize the accumulation of dirt and grime, reducing the effort required for future cleaning tasks.
Conclusion
Eco-friendly window cleaning allows us to unlock the natural power of cleaning while minimizing our impact on the environment. By harnessing the potential of natural ingredients, embracing sustainable tools and practices, and making conscious choices, we can achieve sparkling clean windows without compromising the well-being of our planet. Let's embrace eco-friendly window cleaning and contribute to a greener and healthier future.