Are you looking to give your kitchen a stunning makeover? One of the most impactful ways to transform your kitchen is by upgrading your countertops. A beautifully designed countertop can not only enhance the aesthetics of your kitchen but also improve functionality and increase the value of your home. In this article, we will explore ten jaw-dropping countertop designs that will elevate your kitchen's style and make it the heart of your home.
The kitchen is the heart of any home, and the countertop serves as its centerpiece. With the right countertop design, you can create a space that not only meets your functional needs but also expresses your personal style. Let's explore ten stunning countertop designs that will transform your kitchen into a breathtaking culinary haven.
Marble Elegance: Timeless Beauty for Your Kitchen
Marble countertops are synonymous with luxury and elegance. The natural veining and unique patterns make each marble slab a work of art. Whether you prefer Carrara, Calacatta, or Statuario marble, the smooth and cool surface adds a touch of sophistication to any kitchen.
Quartz Versatility: Modern and Durable
Quartz countertops offer a perfect blend of style and durability. Engineered quartz is made from natural quartz combined with resin, resulting in a non-porous and stain-resistant surface. With a wide range of colors and patterns to choose from, quartz can effortlessly complement any kitchen design. Upgrade your kitchen with a stunning countertop as part of your home renovation, adding both style and functionality to your space.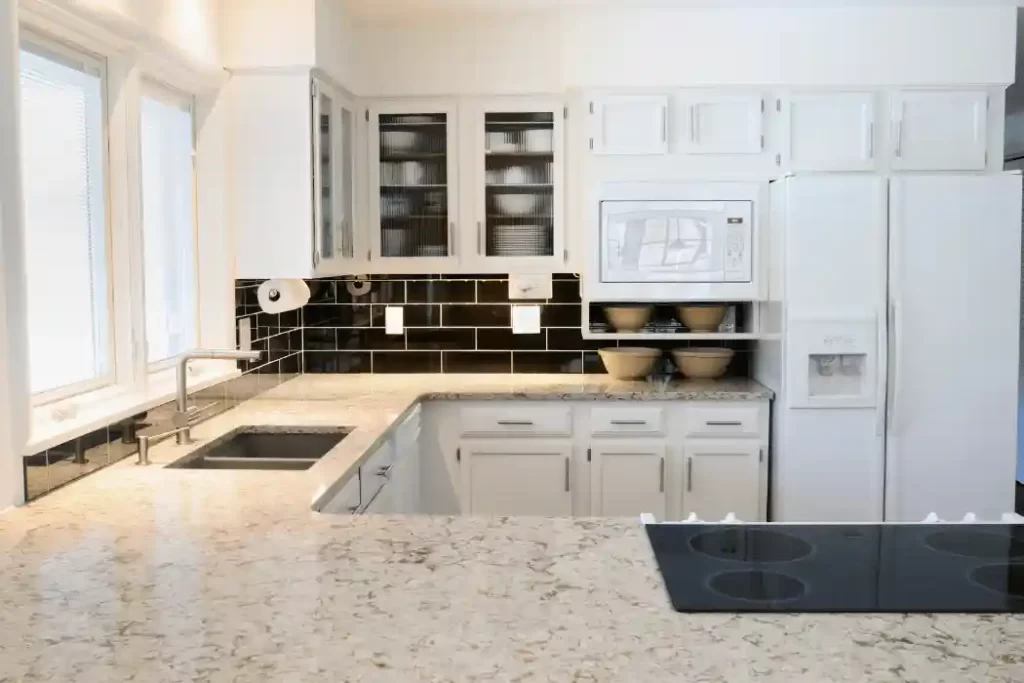 Granite Sophistication: Nature's Finest
Granite countertops have long been a popular choice for kitchen transformations. Each slab of granite is unique, showcasing the beauty of natural stone. With its durability and heat resistance, granite is an excellent option for both traditional and contemporary kitchen styles.
Concrete Chic: Industrial Appeal
For those seeking an edgy and industrial look, concrete countertops are a fantastic choice. Concrete can be customized to fit any kitchen layout and offers a sleek and minimalist aesthetic. The versatility of concrete allows for various finishes, including polished, textured, or even acid-stained surfaces.
Butcher Block Warmth: Rustic Charm
Butcher block countertops bring warmth and rustic charm to your kitchen. Made from thick strips of hardwood, such as maple or oak, these countertops offer a natural and organic feel. Butcher block is not only visually appealing but also durable and perfect for food preparation.
Stainless Steel: Sleek and Contemporary
If you're aiming for a sleek and contemporary kitchen design, stainless steel countertops are an excellent choice. Popular in professional kitchens, stainless steel offers a hygienic and easy-to-clean surface. It's resistant to heat, stains, and bacteria, making it a top choice for both residential and commercial kitchens.
Glass Glamour: Unique and Reflective
For a truly unique and eye-catching countertop design, consider glass countertops. With their reflective properties, glass countertops create a sense of spaciousness and elegance. They are available in various colors and can be backlit to create a stunning visual effect.
Ceramic Tiles: Colorful and Easy to Maintain
Ceramic tile countertops provide a colorful and vibrant option for kitchen transformations. With endless design possibilities, ceramic tiles allow you to create a personalized and artistic countertop. They are resistant to heat and stains, making them a practical choice for busy kitchens.
Solid Surface Simplicity: Seamless and Hygienic
Solid surface countertops offer a seamless and hygienic solution for modern kitchens. Made from acrylic or polyester, these countertops are non-porous, making them resistant to stains and bacteria. They can be seamlessly integrated with sinks and backsplashes, creating a sleek and easy-to-clean surface.
Conclusion
Transforming your kitchen with a jaw-dropping countertop design can breathe new life into the heart of your home. Whether you prefer the timeless elegance of marble, the modern versatility of quartz, or the rustic charm of butcher block, there's a countertop design to suit every style and preference. Choose wisely, and watch your kitchen become a captivating space that reflects your personal taste and enhances your culinary experience.