When it comes to bathroom design, one often envisions cool tiles and sleek surfaces. However, a growing trend is challenging this notion by introducing a touch of warmth and luxury to bathrooms through the use of carpeting. Carpet bathrooms offer a unique and inviting experience, providing a soft and comfortable surface underfoot. In this article, we will explore the allure of carpet bathrooms, discussing their benefits, suitable carpet types, maintenance tips, addressing concerns, and recommending stylish bathroom styles to create an indulgent retreat. Discover the perfect blend of comfort and style for your home renovation with luxurious carpet bathrooms.
The Benefits of Carpet Bathrooms
Increased Comfort
Stepping onto a plush carpet in the bathroom offers a delightful sensation that can transform the space into a cozy oasis. Unlike cold tiles, carpets provide a soft and warm surface, making the bathroom experience more comfortable, especially during colder seasons.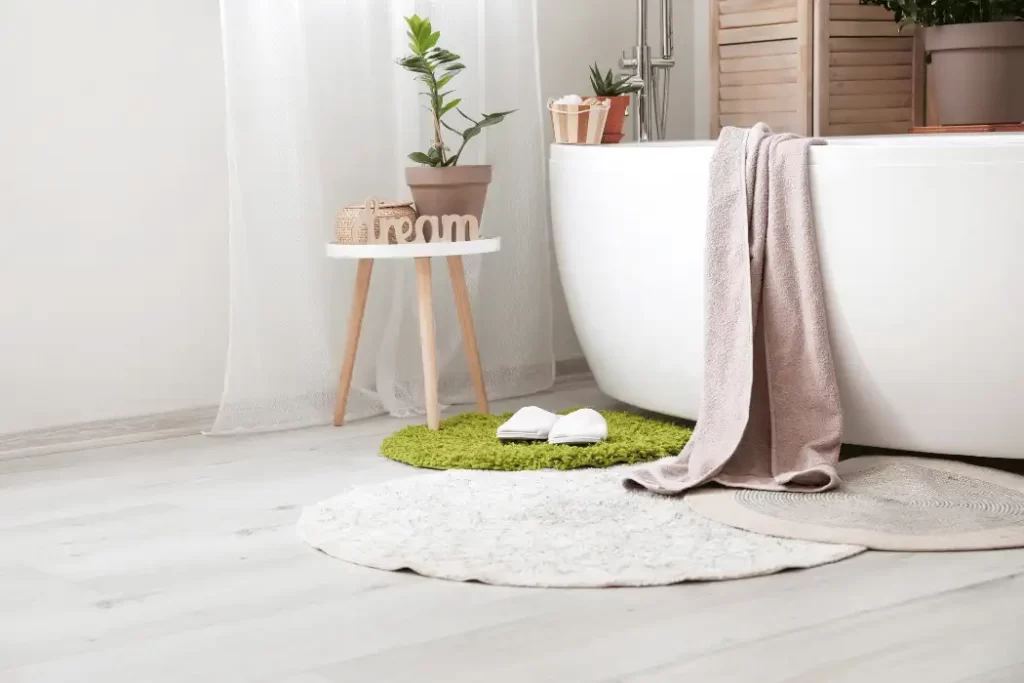 Enhanced Safety
Carpet bathrooms can help prevent slip and fall accidents. The textured surface of the carpet provides additional grip and traction, reducing the risk of slipping on wet floors. This feature is particularly beneficial for households with children, the elderly, or individuals with mobility challenges.
Improved Acoustic Insulation
Bathrooms are often spaces filled with hard surfaces, resulting in echoes and increased noise levels. Carpeting helps absorb sound and reduces the reverberation, creating a quieter and more peaceful environment. This can be especially appreciated in homes with multiple bathrooms or shared living spaces.
Stylish Aesthetics
Carpet bathrooms can elevate the overall design aesthetic of the space. With a wide range of carpet styles, patterns, and colors available, you can easily customize the look and feel of your bathroom. Whether you prefer a luxurious spa-like retreat or a contemporary and elegant design, carpeting offers endless possibilities.
Carpet Types for Bathrooms
When choosing carpeting for your bathroom, it's essential to consider the specific requirements of the space. Here are three types of carpets that are suitable for bathrooms:
Synthetic Fiber Carpets
Synthetic carpets, such as nylon or polyester, are a popular choice for bathroom use. They are highly durable, stain-resistant, and moisture-resistant, making them ideal for environments with high humidity levels. Additionally, synthetic carpets are easy to clean and maintain.
Natural Fiber Carpets
If you prefer an eco-friendly option, natural fiber carpets like sisal or wool can add a touch of sophistication to your bathroom. These carpets are known for their durability, luxurious texture, and ability to regulate indoor humidity. However, it's important to note that natural fiber carpets may require more maintenance and are generally not as moisture-resistant as their synthetic counterparts.
Waterproof Carpets
For maximum moisture resistance, waterproof carpets are designed explicitly for bathroom use. These carpets are made from materials that repel water, ensuring they remain dry and resistant to mold and mildew. Waterproof carpets offer a practical solution for those seeking a worry-free and low-maintenance carpeted bathroom.
Maintenance Tips for Carpet Bathrooms
To keep your carpeted bathroom looking its best and maintaining its longevity, follow these essential maintenance tips:
Regular Vacuuming
Frequent vacuuming helps remove dirt, debris, and dust particles that accumulate in the carpet fibers. Use a vacuum cleaner with a brush attachment to ensure thorough cleaning and maintain the carpet's appearance.
Prompt Spill Clean-up
In the event of spills or accidents, it's crucial to clean them up promptly to prevent staining and potential damage to the carpet. Blot the affected area gently with a clean cloth or paper towel, and avoid rubbing, as it may spread the spill or push it deeper into the fibers.
Professional Deep Cleaning
Periodically, it's recommended to schedule professional deep cleaning for your carpeted bathroom. Professional cleaners have the expertise and specialized equipment to remove deep-seated dirt and grime, restoring the carpet's freshness and appearance.
Ensuring Proper Ventilation
Proper ventilation in the bathroom is crucial for maintaining the overall condition of your carpet. Use exhaust fans or open windows to reduce moisture levels and prevent the buildup of mold and mildew. Good ventilation will also aid in drying the carpet more efficiently after use.
Addressing Concerns
While the allure of carpet bathrooms is undeniable, some concerns arise when considering this design choice. Let's address these concerns to provide a more comprehensive perspective:
Moisture and Mold Resistance
With the right carpet selection and proper maintenance, carpet bathrooms can be moisture-resistant and withstand the humid bathroom environment. Opt for moisture-resistant or waterproof carpets, ensure good ventilation, and promptly address any water spills to minimize the risk of mold and mildew growth.
Hygiene and Cleanliness
Maintaining cleanliness and hygiene in carpet bathrooms is achievable with regular cleaning and maintenance. Vacuuming and prompt spill clean-up are essential for preventing the accumulation of dirt and bacteria. Additionally, professional deep cleaning helps remove any deep-seated contaminants and allergens.
Durability and Longevity
Carpet bathrooms can be durable and long-lasting when proper care is taken. Selecting high-quality carpets designed for bathrooms, following maintenance guidelines, and periodically scheduling professional cleaning will help preserve the carpet's appearance and extend its lifespan.
Recommended Carpet Bathroom Styles
To inspire your carpeted bathroom design, here are three recommended styles that exude luxury and comfort:
Luxurious Spa Retreat
Create a spa-like oasis by combining a plush, neutral-colored carpet with natural stone accents. Add soft lighting, potted plants, and luxurious towels to evoke a serene and relaxing ambiance.
Coastal Escape
Embrace a beachy vibe by selecting a blue or turquoise carpet reminiscent of the ocean. Pair it with whitewashed walls, seashell decorations, and wicker baskets for a coastal-inspired retreat.
Modern Elegance
Achieve a contemporary look by choosing a sleek and patterned carpet in bold colors. Complement it with minimalist fixtures, geometric accessories, and sleek countertops for a modern and sophisticated bathroom.
Conclusion
Carpet bathrooms offer a unique and inviting experience, combining comfort, safety, and style. With the benefits of increased comfort, enhanced safety, improved acoustic insulation, and versatile design options, carpeting can transform your bathroom into a luxurious retreat. By choosing suitable carpet types, following proper maintenance practices, and addressing common concerns, you can enjoy the allure of a carpeted bathroom for years to come.