Imagine stepping into a room and being greeted by a dazzling cascade of shimmering beads, each one catching the light and adding a touch of elegance to the space. Beaded curtains have made a triumphant return to the world of interior design, captivating homeowners and interior enthusiasts alike. In this article, we will explore the latest home decor trend of beaded curtains, discussing their history, versatility, and how you can incorporate them into your own space. Get ready to discover the enchanting world of beaded curtains and unlock a new level of style for your home.
Beaded curtains have emerged as one of the hottest trends in the world of home décor. They offer a unique and stylish way to transform any room, adding a touch of glamor and intrigue. Whether you're looking to create a cozy corner in your living room or add a bohemian vibe to your bedroom, beaded curtains provide a captivating visual element that instantly elevates the ambiance of any space. During the home renovation, we decided to add a touch of bohemian flair to our living room with beaded curtains.
The History of Beaded Curtains
Beaded curtains have a rich history that dates back centuries. They were initially used in various cultures as a decorative element, symbolizing wealth, status, and spirituality. In ancient Egypt, beaded curtains adorned the entrances of temples and palaces, while in Asia, they were incorporated into ceremonial rituals and traditional events.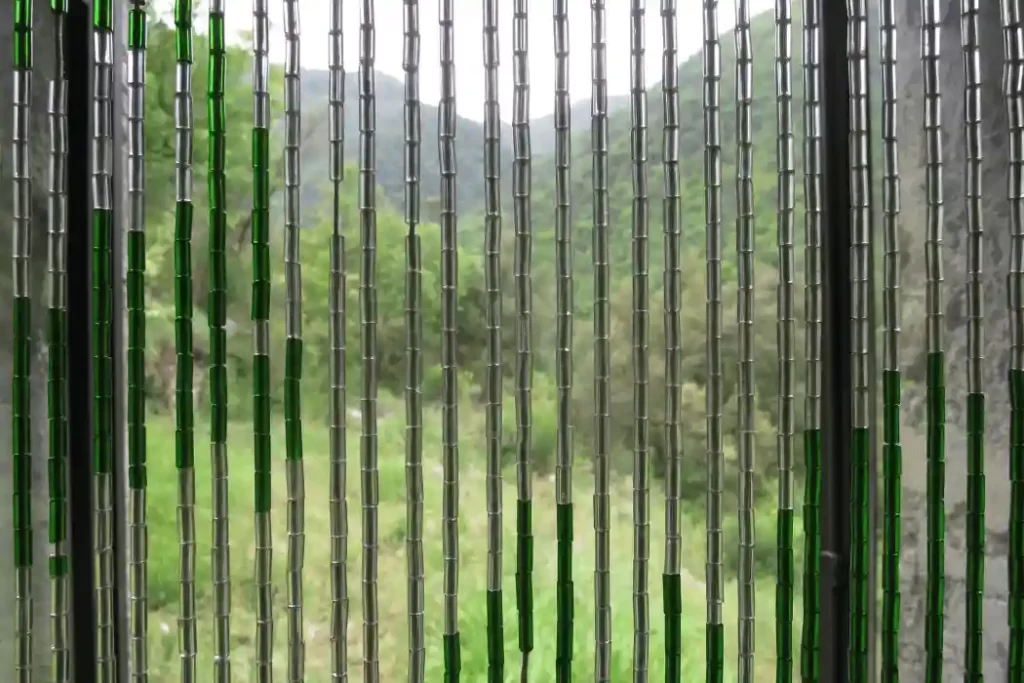 The Versatility of Beaded Curtains
One of the most remarkable aspects of beaded curtains is their versatility. They come in a wide array of colors, styles, and materials, allowing you to choose the perfect option to suit your personal taste and the overall aesthetic of your home. Whether you prefer a minimalist design with sleek metal beads or a whimsical look with vibrant glass beads, there's a beaded curtain to match every decor theme.
Choosing the Right Beaded Curtains for Your Space
When selecting beaded curtains for your space, consider the existing color palette, furniture, and overall theme of the room. If you have a neutral-toned room, opt for beaded curtains that add a pop of color and create a focal point. On the other hand, if you have a vibrant and eclectic space, choose beaded curtains that complement the existing color scheme and patterns.
Installing Beaded Curtains
Installing beaded curtains is a straightforward process that can be done without professional assistance. Most beaded curtains come with a rod or hooks for easy installation. Simply follow the manufacturer's instructions, and you'll have your beaded curtains hanging beautifully in no time. Remember to measure your doorway or window accurately to ensure a perfect fit.
Styling Ideas with Beaded Curtains
Beaded curtains offer endless styling possibilities. Here are a few ideas to inspire you:
Bohemian Retreat: Create a cozy and inviting space by hanging beaded curtains in warm earth tones. Pair them with floor cushions, tapestries, and plants to complete the bohemian look.
Glamorous Entrance: Make a grand statement by using beaded curtains to decorate the entrance of your home. Choose crystal or metallic beads for a touch of opulence.
Whimsical Bedroom: Transform your bedroom into a whimsical wonderland by draping beaded curtains over your bed frame or using them as a room divider.
Beaded Curtains for Different Rooms
Beaded curtains can be utilized in various rooms throughout your home. Consider the following options:
Living Room: Add a touch of elegance to your living room by hanging beaded curtains as a stylish room divider or as a backdrop for your favorite artwork.
Dining Area: Create an intimate dining experience by using beaded curtains to separate your dining area from the rest of the space. Opt for beaded curtains with a subtle shimmer for a refined touch.
Home Office: Enhance the aesthetics of your home office by incorporating beaded curtains as a unique and visually appealing backdrop.
Maintenance and Care
To keep your beaded curtains looking their best, regular maintenance is essential. Use a soft brush or cloth to remove any dust or debris from the beads. Avoid using harsh chemicals or abrasive materials that could damage the beads or their finish. If your beaded curtains are made of delicate materials, such as glass or crystal, handle them with care to prevent breakage.
Beaded Curtains: A Budget-Friendly Option
Beaded curtains offer an affordable way to transform your living space without breaking the bank. Compared to other window treatments or room dividers, beaded curtains are often more cost-effective while still providing a stunning visual impact. With a range of options available at different price points, you can find beaded curtains that suit your budget and style preferences.
Beaded Curtains: A Sustainable Choice
In a world increasingly conscious of sustainability, beaded curtains offer an eco-friendly alternative to traditional window treatments. Many beaded curtains are made from recycled materials, reducing waste and promoting a more sustainable lifestyle. By choosing beaded curtains for your home, you can embrace a greener approach to interior design without compromising on style.
The Psychological Impact of Beaded Curtains
Beaded curtains have a significant psychological impact on the ambiance of a room. The rhythmic movement of the beads and the interplay of light create a soothing and calming effect. They can help reduce stress, promote relaxation, and create a serene atmosphere in your home.
Conclusion
Beaded curtains have reemerged as a captivating home decor trend, offering a mesmerizing combination of beauty and functionality. Their versatility, affordability, and sustainability make them an excellent choice for anyone looking to add a touch of glamor to their living space. Whether you opt for a bohemian retreat, a glamorous entrance, or a whimsical bedroom, beaded curtains are sure to transform your home into a haven of style and sophistication.
Unlock the enchantment of beaded curtains and embark on a journey of interior design exploration today!