The bathroom is a space where functionality and style go hand in hand. One essential element that combines both aspects seamlessly is the bathroom mirrors with storage. These innovative and stylish mirrors not only serve their primary purpose of reflection but also offer clever storage solutions to keep your bathroom organized and clutter-free. In this guide, we'll explore the world of stylish bathroom mirrors with storage, showcasing their versatility and practicality, and helping you transform your bathroom into an organized and sophisticated oasis. Upgrade your bathroom's functionality and style during your home renovation with innovative Bathroom Mirrors with Storage, providing a perfect blend of form and function.
The Dual Purpose Mirror
Gone are the days of plain and simple mirrors. The modern bathroom mirrors with storage is a multitasking marvel. It combines a sleek and elegant mirror surface with hidden storage compartments behind it. These compartments can be accessed through sliding panels, hinged doors, or even magnetic closures. The dual-purpose mirror serves as both a practical storage solution and a stunning focal point for your bathroom.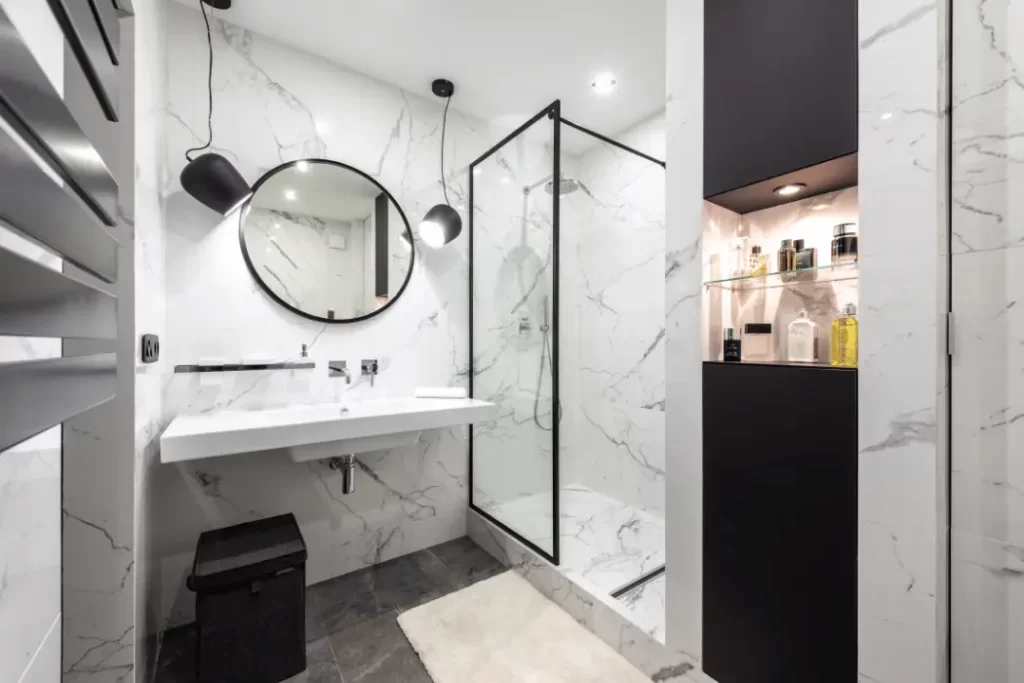 Medicine Cabinets Reimagined
Medicine cabinets have come a long way from their traditional and mundane designs. Today's medicine cabinets are stylishly reimagined, featuring elegant frames, built-in LED lighting, and adjustable shelves. They provide ample space to store toiletries, medications, and other bathroom essentials while keeping them easily accessible and neatly organized.
Floating Shelves with Reflective Surfaces
For a contemporary and minimalist look, consider floating shelves with reflective surfaces. These shelves provide storage without adding visual bulk to the bathroom. They can be installed above the sink or vanity area, offering a perfect spot to store everyday essentials like toothbrushes, skincare products, or decorative items. The reflective surface adds a touch of modern elegance and amplifies the sense of space in the bathroom.
Vanity Mirrors with Drawers
Upgrade your bathroom vanity with a mirror that comes with integrated drawers. These vanity mirrors with storage drawers offer a seamless and sophisticated storage solution. You can keep makeup, hair accessories, and grooming tools within arm's reach, keeping your vanity area clutter-free and organized. The drawers can be thoughtfully designed with dividers to accommodate different items neatly.
Classic Elegance: Mirror Cabinets
Mirror cabinets are a timeless and practical choice for bathroom storage. These cabinets feature mirrored doors that blend seamlessly into the bathroom decor. Behind the mirror doors, you'll find adjustable shelves or compartments to accommodate towels, toiletries, and more. Mirror cabinets add a touch of classic elegance while providing discrete storage that keeps your bathroom essentials out of sight.
Framed Mirrors with Hidden Storage
Framed mirrors with hidden storage are an excellent option for those who prefer a traditional or rustic look. These mirrors come with a frame that conceals compartments or shelves, making them a discreet yet stylish storage solution. The framed mirrors can be customized to match your bathroom's decor, adding a personal touch to your storage space.
Backlit Mirrors with Cabinets
For a touch of modern luxury, consider backlit mirrors with cabinets. These mirrors feature built-in LED lighting around the edges, providing soft and flattering illumination. The cabinets beneath the mirror offer ample storage for various bathroom items. The combination of sleek design and practicality creates a contemporary and spa-like ambiance in your bathroom.
Mirror Shelves with Hooks
Make the most of your bathroom wall space with mirror shelves that come with hooks. These mirrors offer both reflection and storage, with hooks beneath the mirror surface for hanging towels, robes, or other accessories. The mirror shelves with hooks are ideal for smaller bathrooms or powder rooms where space optimization is crucial.
Space-Saving Corner Mirrors
If you have a compact bathroom, consider utilizing the corners with storage mirrors. These specially designed mirrors fit snugly into corners, providing storage shelves or cabinets without taking up valuable wall space. Space-saving corner mirrors are a smart solution to declutter your bathroom while maximizing every inch of available space.
Customizable Mirror Wall Units
For the ultimate storage solution, consider customizable mirror wall units. These units combine multiple mirrors, cabinets, and shelves into a cohesive and space-efficient ensemble. The customizable nature allows you to design the storage to suit your specific needs and bathroom layout. With a mirror wall unit, you can achieve a harmonious blend of functionality and style.
Conclusion
Stylish bathroom mirrors with storage are a game-changer for any bathroom, offering a seamless integration of reflection and organization. Whether it's the dual-purpose mirror, reimagined medicine cabinets, or floating shelves with reflective surfaces, these mirrors add practicality and sophistication to your bathroom. Upgrade your vanity area with mirrors that come with integrated drawers or opt for the classic elegance of mirror cabinets.
Consider framed mirrors with hidden storage or indulge in the luxury of backlit mirrors with cabinets. Make the most of your bathroom wall space with mirror shelves that come with hooks or utilize the corners with space-saving corner mirrors. For the ultimate storage solution, choose customizable mirror wall units that perfectly align with your bathroom needs.