An awkward living room layout ideas can pose a real design challenge, leaving you scratching your head about how to make the most of the space. However, don't be discouraged; instead, see it as an opportunity to unlock your creative potential. With the right ideas and strategies, you can transform your awkward living room into a stylish, functional, and inviting space. In this guide, we'll explore clever and innovative ideas to tackle those pesky layout dilemmas, allowing you to create a living room that not only works but also wows. During a home renovation, exploring "Awkward Living Room Layout Ideas" can offer brilliant solutions to optimize your space and enhance its functionality.
Awkward Living Room layout Ideas
When dealing with awkward living room layout ideas, creating symmetry can work wonders. Balance out the room by placing identical furniture pieces on each side. For example, if you have an off-center fireplace, flank it with two matching armchairs or bookshelves to create a sense of harmony. Symmetry adds a touch of elegance and organization, making the room appear more cohesive and balanced.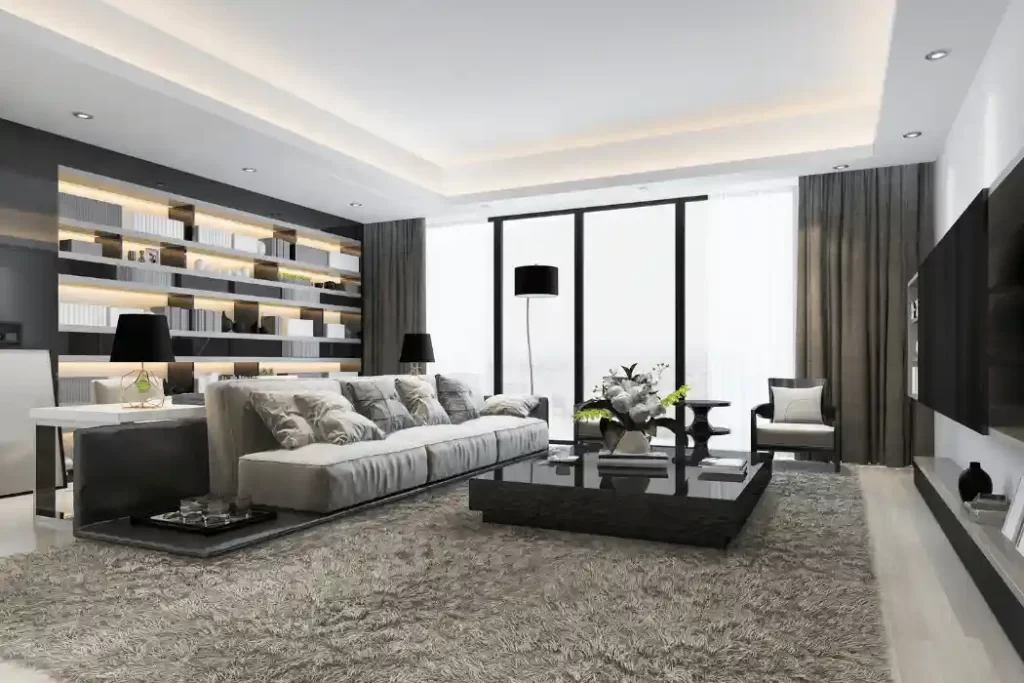 Divide and Conquer
Transforming an open floor plan into distinct zones can help define the living room's purpose and functionality. Use area rugs, furniture arrangement, or even room dividers to create separate spaces for lounging, dining, and entertainment. Dividing the room strategically not only addresses the awkwardness but also adds a sense of intimacy and coziness to each area.
Utilize Corner Spaces
Awkward corners can become hidden gems with a bit of creativity. Instead of leaving them bare, consider adding corner shelves, plants, or accent chairs to maximize their potential. Corner shelves provide additional storage and display space for books or decorative items, while a cozy reading nook in the corner can become a delightful retreat.
Opt for Multi-Functional Furniture
In a small or oddly shaped living room, multi-functional furniture can be a game-changer. Look for pieces that serve more than one purpose, such as a sofa bed, storage ottoman, or a coffee table with built-in storage. These versatile pieces not only save space but also offer practical solutions to storage and seating dilemmas.
Play with Lighting
Clever lighting can work wonders in transforming an awkward living room. Use a combination of ambient, task, and accent lighting to create a well-lit and inviting space. Wall sconces or floor lamps can add dimension to neglected corners, while pendant lights or chandeliers can draw attention to the room's focal points.
Emphasize Vertical Space
In rooms with limited floor area, make the most of vertical space to maximize storage and display options. Install floating shelves or wall-mounted cabinets to keep the floor clear and create a visually appealing display for books, art, or decorative items. Vertical storage solutions not only optimize space but also draw the eyes upward, making the room feel more expansive.
Curate a Gallery Wall
Gallery walls are a fantastic way to add personality and visual interest to an awkward living room. Create a collage of framed artwork, photographs, or mirrors on a focal wall to infuse character and charm into the space. The eclectic mix of frames and artworks will not only distract from the awkward living room layout ideas but also become a conversation starter for guests.
Add Mirrors for Illusion
Strategically placing mirrors in an awkward living room can work wonders in creating an illusion of more space and light. Mirrors reflect light, making the room appear brighter and more open. Additionally, they can visually expand the room by giving the impression of an extended area. Place a large mirror on the wall opposite a window or entryway to maximize the reflective effect.
Embrace Mobile Furniture
Mobile furniture, such as rolling carts or movable side tables, adds flexibility to your awkward living room layout ideas. You can easily reposition these pieces to accommodate different needs or rearrange the space for various activities. Mobile furniture is especially useful in small living rooms where adaptability is key to making the most of the available space.
Go Green with Indoor Plants
Indoor plants are not only great for purifying the air but also for bringing life and freshness to an awkward living room. Place potted plants or hanging planters strategically to soften sharp corners or draw attention away from the room's layout challenges. Lush greenery can add a sense of calm and serenity to the space, making it more inviting and visually appealing.
Conclusion
An awkward living room layout ideas should be seen as an exciting opportunity to unleash your creativity and ingenuity. By embracing symmetry, dividing the space, utilizing corners, and incorporating multi-functional furniture, you can transform an uncomfortable room into a stylish and functional haven. Play with lighting, emphasize vertical space, curate a gallery wall, and use mirrors for illusion to add depth and character to the room. Embrace mobile furniture for adaptability and go green with indoor plants to bring life and freshness.
With these innovative ideas, your awkward living room layout ideas will become a showcase of your creative potential and a space you can truly be proud of.