When it comes to flooring options, 3D epoxy flooring stands in a league of its own, elevating the concept of ordinary floors to an extraordinary art form. This innovative and visually stunning technique has taken the world of interior design by storm, captivating homeowners and businesses alike with its artistic appeal and practical advantages. Enhance your home renovation with stunning 3D Epoxy Flooring, adding a touch of modernity and elegance to your living spaces.
An Introduction to 3D Epoxy Flooring
3D epoxy flooring is a unique flooring solution that uses a combination of epoxy resin and specially crafted 3D designs to create an illusion of depth and dimension. The result is a floor that appears to be three-dimensional, with striking visual effects that can mimic anything from cascading waterfalls to breathtaking landscapes. This flooring technique can transform any space into an enchanting work of art.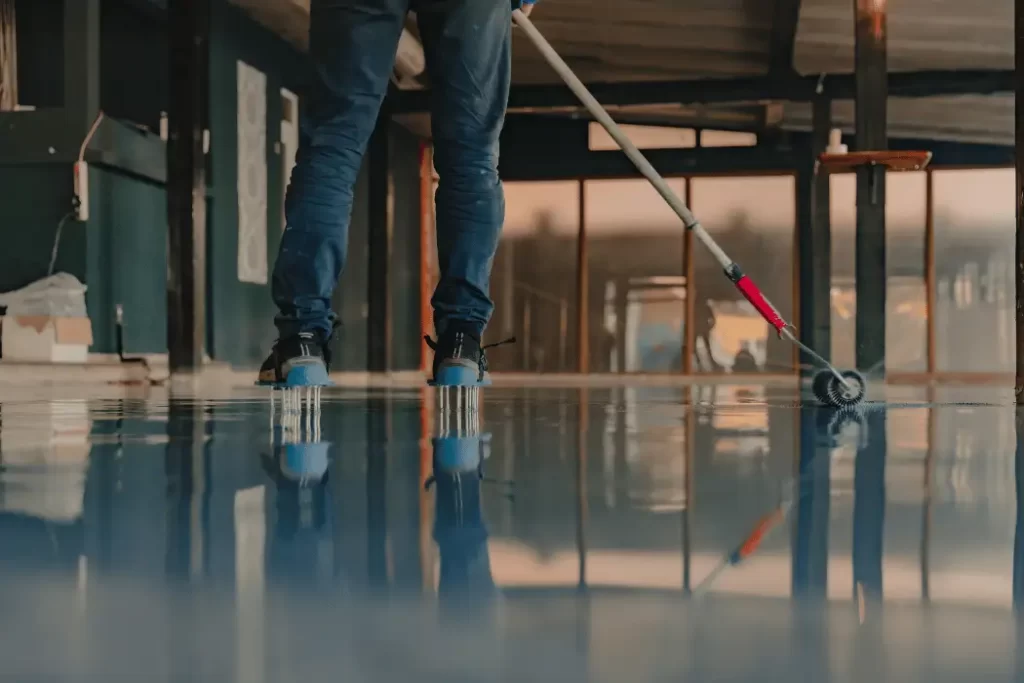 The Process Behind the Magic
The artistry of 3D epoxy flooring lies in the meticulous process that goes into its creation. Skilled artisans and technicians work together to apply layers of epoxy resin mixed with specialized dyes and pigments. The 3D designs are then carefully installed on top of the base layer, giving birth to the mesmerizing effect of depth and realism. Each floor is a labor of love, with attention to detail and precision being the cornerstones of its creation.
The Advantages of 3D Epoxy Flooring
Beyond its artistic charm, 3D epoxy flooring offers numerous advantages that set it apart from conventional flooring options:
a. Durability and Longevity
Epoxy flooring is known for its exceptional durability and resistance to wear and tear. Its seamless surface makes it easy to clean and maintain, ensuring a long-lasting and beautiful floor for years to come.
b. Versatility in Design
With 3D epoxy flooring, the design possibilities are virtually limitless. From abstract art to realistic images, homeowners and businesses can customize their floors to suit their unique preferences and branding.
c. Enhanced Safety
3D epoxy floors can be designed with anti-slip properties, making them a safe and practical option for spaces where slip and fall accidents are a concern.
d. High-Performance Properties
Apart from its aesthetic appeal, 3D epoxy flooring is also known for its chemical resistance, making it an excellent choice for areas prone to spills and chemical exposure.
e. Improved Light Reflection
The glossy finish of epoxy flooring enhances light reflection, brightening up the space and creating an inviting atmosphere.
Applications of 3D Epoxy Flooring
The versatility of 3D epoxy flooring allows it to be used in a wide range of spaces, including:
a. Residential Spaces
In homes, 3D epoxy flooring can be applied to living rooms, bedrooms, kitchens, and even bathrooms, adding a touch of artistic elegance to the interior.
b. Commercial Establishments
Businesses can utilize 3D epoxy flooring to create stunning entrances, hotel lobbies, restaurants, retail spaces, and more, leaving a lasting impression on customers and clients.
c. Recreational Areas
Public places like museums, galleries, and recreational centers can benefit from the captivating allure of 3D epoxy floors to enhance visitor experiences.
d. Industrial Facilities
In industrial settings, 3D epoxy flooring can be employed to transform factory floors and warehouses into visually appealing and efficient spaces.
Care and Maintenance
To ensure the longevity and beauty of 3D epoxy flooring, regular maintenance is essential. Simple cleaning with mild detergents and water, along with prompt cleaning of spills, will preserve its luster for years to come.
The Future of Flooring
As technology and design continue to evolve, the future of 3D epoxy flooring holds even greater promise. Advancements in materials and techniques will push the boundaries of artistic expression and provide more options for homeowners and businesses to create truly unique and immersive spaces.
Conclusion
The artistry of 3D epoxy flooring has redefined the concept of conventional floors, transforming them into awe-inspiring masterpieces that enchant and captivate. With its remarkable advantages and boundless design possibilities, this flooring technique offers more than just a functional surface—it grants spaces a touch of magic and splendor.
Embrace the world of 3D epoxy flooring and elevate your interior to new heights of artistry and creativity. Whether it's a residential space, commercial establishment, or recreational area, the charm of 3D epoxy floors will leave a lasting impression on all who step foot on its mesmerizing surface.