Your roof plays a vital role in protecting your home from the elements, but over time, it can become dirty and lose its luster. Roof cleaning is an essential maintenance task that not only enhances the appearance of your home but also extends the lifespan of your roof. In this article, we will explore the art of roof cleaning, from understanding its importance to choosing the right methods and ensuring safety during the process.
Understanding the Importance of Roof Cleaning
Regular roof cleaning is crucial for maintaining the structural integrity of your roof. The accumulation of dirt, leaves, debris, algae, and mold can lead to various problems such as water damage, roof leaks, and reduced energy efficiency. Additionally, a dirty roof can negatively impact the curb appeal of your home, affecting its overall value. Including roof cleaning as part of your home renovation ensures a fresh and pristine look, adding value and enhancing the overall appeal of your property.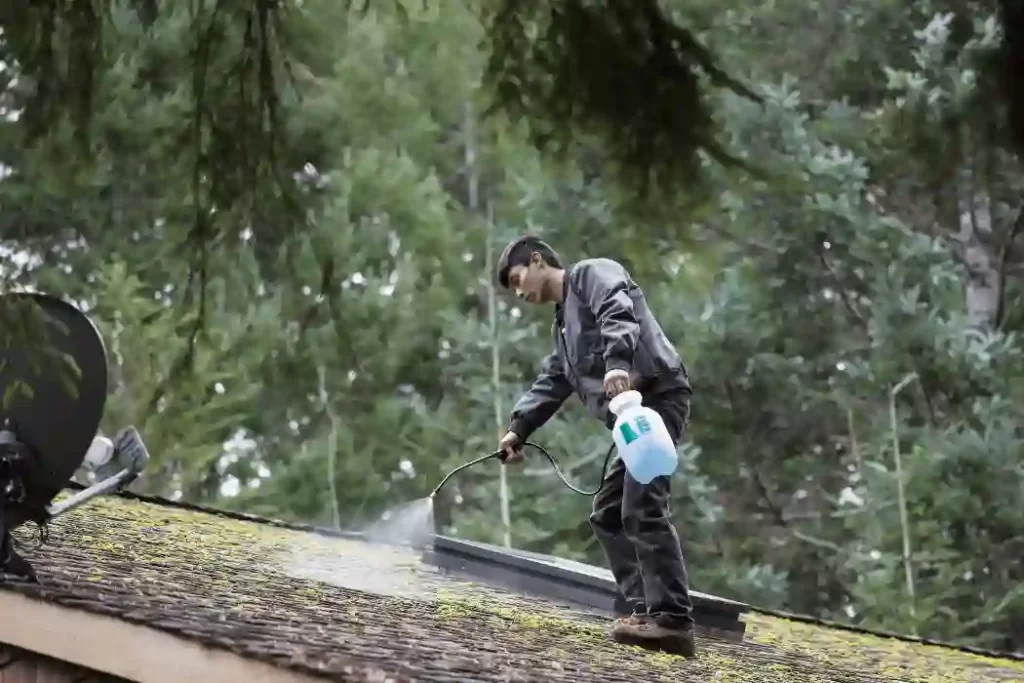 Common Roof Problems
Before delving into the art of roof cleaning, it's important to familiarize yourself with some common roof problems. These include:
Algae and mold growth
Stains and discoloration
Clogged gutters and downspouts
Debris accumulation
Damaged shingles
The Art of Roof Cleaning
Cleaning your roof involves a systematic approach to ensure thorough cleaning and proper maintenance. Here are the steps to follow:
Inspecting the Roof
Before starting the cleaning process, carefully inspect your roof for any signs of damage or structural issues. Look for loose or missing shingles, cracks, or leaks. It's important to address these problems before proceeding with the cleaning.
Removing Debris and Leaves
Begin by removing any debris, leaves, and branches from the roof surface. Use a broom or a leaf blower to clear the area effectively. This step helps prevent clogged gutters and facilitates a more efficient cleaning process.
Treating Algae and Mold
Algae and mold growth are common issues on roofs, especially in humid environments. To treat these problems, use a roof cleaning solution specifically designed to remove algae and mold. Apply the solution evenly and let it sit for the recommended duration before rinsing it off.
Addressing Stains and Discoloration
Stains and discoloration can make your roof appear dull and unappealing. Depending on the type of stains, you can use different cleaning methods or specialized products. Follow the instructions provided with the cleaning solution or consult a professional for guidance.
Cleaning Gutters and Downspouts
Cleaning the gutters and downspouts is an essential part of roof maintenance. Remove any leaves, debris, or blockages to ensure proper water drainage. Clogged gutters can lead to water backup, which can damage your roof and cause leaks.
Professional Roof Cleaning Services
While the above steps can be performed as DIY projects, hiring professional roof cleaning services can provide exceptional results. Professional cleaners have the expertise, specialized equipment, and knowledge of various cleaning techniques to restore the beauty of your roof effectively.
DIY vs. Professional Roof Cleaning
Deciding between DIY roof cleaning and hiring professionals depends on various factors such as your comfort level, time availability, and the condition of your roof. DIY cleaning can be cost-effective, but it requires careful research, proper safety measures, and the right equipment. On the other hand, professional cleaners offer convenience, expertise, and guaranteed results, albeit at a higher cost.
Choosing the Right Roof Cleaning Methods
When it comes to roof cleaning, different methods can be employed based on the type of roof and the cleaning requirements. The two common methods are:
Soft Washing
Soft washing is a low-pressure cleaning method that utilizes specialized cleaning solutions to remove dirt, algae, and stains from the roof surface. This method is ideal for delicate roofs or those with shingles or tiles that may get damaged under high-pressure washing.
Pressure Washing
Pressure washing involves the use of high-pressure water to clean and remove stubborn stains, dirt, and debris. It is suitable for more robust roof materials like metal or concrete. However, caution must be exercised to prevent damage to the roof or underlying structure.
Safety Considerations during Roof Cleaning
Roof cleaning can be potentially hazardous if proper safety precautions are not taken. Here are some essential safety considerations:
Use safety harnesses and secure yourself when working at heights.
Wear protective gear, including gloves, goggles, and non-slip footwear.
Ensure stability on the roof by using roof brackets or platforms.
Avoid working on the roof during unfavorable weather conditions.
If you're unsure about your abilities or safety, it's best to hire professional cleaners.
Benefits of Regular Roof Cleaning
Regular roof cleaning offers several benefits, including:
Improved curb appeal and overall aesthetics of your home
Prevention of structural damage and roof leaks
Increased energy efficiency by removing debris that may block ventilation
Extended lifespan of your roof, reducing the need for costly repairs or replacements
Conclusion
Roof cleaning is an essential part of maintaining the beauty, functionality, and longevity of your roof. By following the proper steps, whether through DIY efforts or professional services, you can transform a dirty roof into a dazzling one. Regular roof cleaning not only enhances the aesthetics of your home but also protects it from potential damage and ensures a healthier living environment.