Ductless air conditioning systems, also known as mini-split systems, have gained popularity in recent years due to their flexibility and energy efficiency. These systems provide cooling and heating solutions for homes and businesses without the need for traditional ductwork. In this article, we will explore the pros and cons of ductless air conditioning systems to help you make an informed decision for your cooling needs.
Pros of Ductless Air Conditioning Systems
Energy efficiency
Ductless air conditioning systems are highly energy-efficient compared to traditional central air conditioning systems. Since the cooled or heated air is directly delivered to individual rooms or zones, there is no energy loss through ductwork. This targeted approach allows for better temperature control and reduces energy consumption, leading to lower utility bills.
Flexible installation options
One of the major advantages of ductless systems is their flexibility in installation. These systems consist of an outdoor unit connected to one or more indoor units, allowing for customized cooling solutions. The indoor units can be mounted on walls, ceilings, or even recessed into the ceiling to blend seamlessly with the décor. This flexibility makes ductless systems suitable for both new constructions and retrofitting older homes. Upgrade your home renovation with a state-of-the-art air conditioning system, providing superior comfort and climate control for your living space.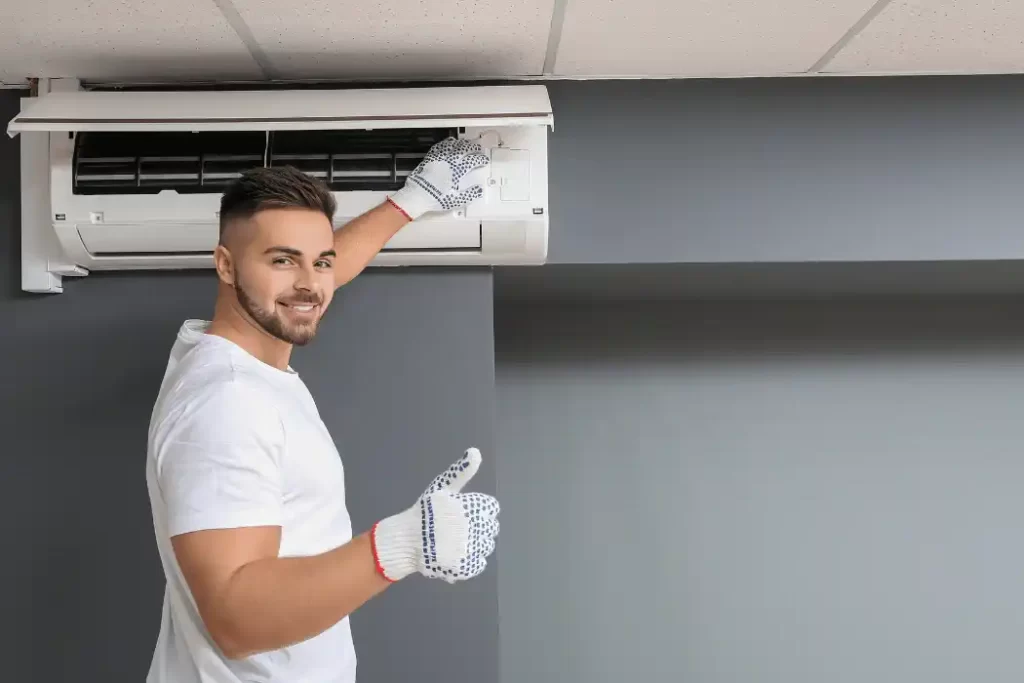 Zoning capabilities
Ductless air conditioning systems offer zoning capabilities, which means you can set different temperatures in each room or zone. This feature allows for personalized comfort and eliminates the need to cool or heat unoccupied areas, further enhancing energy efficiency. Each indoor unit operates independently, giving you complete control over the temperature settings throughout your space.
Improved indoor air quality
Traditional central air conditioning systems can accumulate dust, allergens, and other contaminants within the ductwork. Ductless systems, on the other hand, do not require ducts, reducing the potential for indoor air pollution. Additionally, many ductless models come with advanced filtration systems that can effectively remove airborne particles, improving the indoor air quality and creating a healthier living environment.
Cost savings
While ductless air conditioning systems may have higher upfront costs compared to traditional systems, they can offer long-term cost savings. The energy efficiency, zoning capabilities, and targeted cooling or heating provided by ductless systems can result in significant energy savings over time. Additionally, some regions offer rebates or incentives for installing energy-efficient HVAC systems, further reducing the overall cost.
Cons of Ductless Air Conditioning Systems
Higher upfront costs
One of the main drawbacks of ductless systems is their higher upfront costs. The cost of purchasing and installing multiple indoor units and an outdoor unit can be higher compared to a centralized air conditioning system. However, it's important to consider the long-term energy savings and potential rebates or incentives when evaluating the overall cost-effectiveness.
Aesthetics
While ductless systems offer flexibility in installation, some people may find the appearance of indoor units less appealing compared to traditional vents or grilles. However, manufacturers have introduced sleek and stylish designs to minimize the visual impact of indoor units, making them more aesthetically pleasing.
Limited cooling capacity
Ductless air conditioning systems may have limited cooling capacity, especially for larger spaces or multi-story buildings. It's important to consider the cooling requirements of your space and consult with an HVAC professional to ensure that a ductless system can adequately cool your entire home or business.
Noise level
Although modern ductless systems are designed to operate quietly, some indoor units may produce a noticeable amount of noise. This can be a concern, especially for bedrooms or quiet spaces where noise can be disruptive. However, advancements in technology have led to quieter operation, and many manufacturers offer models with low-noise features.
Maintenance requirements
Ductless air conditioning systems require regular maintenance to ensure optimal performance and longevity. Filters need to be cleaned or replaced periodically, and the outdoor unit should be inspected for any debris or obstructions. While maintenance requirements are relatively straightforward, it's essential to factor in these tasks when considering the overall convenience of a ductless system.
Conclusion
Ductless air conditioning systems offer numerous benefits, including energy efficiency, flexible installation options, zoning capabilities, improved indoor air quality, and potential cost savings. However, they also come with some drawbacks, such as higher upfront costs, aesthetics, limited cooling capacity, noise level, and maintenance requirements. By weighing the pros and cons, you can determine whether a ductless system is the right choice for your cooling needs.