When it comes to keeping your windows sparkling clean, traditional methods might not always give you the desired results. However, with a few clever window cleaning hacks, you can achieve streak-free, crystal-clear windows that enhance the overall appearance of your home. In this article, we will explore some of the ultimate window cleaning hacks that you can try today. From using everyday household items to adopting smart techniques, these tips will make your window cleaning tasks more efficient and effective.
The Importance of Clean Windows
Clean windows not only allow natural light to illuminate your space but also provide an unobstructed view of the outside world. They enhance the aesthetic appeal of your home or office, making it feel fresh and inviting. Regular window cleaning also helps to extend the lifespan of your windows by preventing the buildup of dirt and grime that can lead to corrosion or damage. As part of your home renovation project, don't overlook the importance of professional window cleaning to enhance the overall aesthetic and bring a fresh sparkle to your space.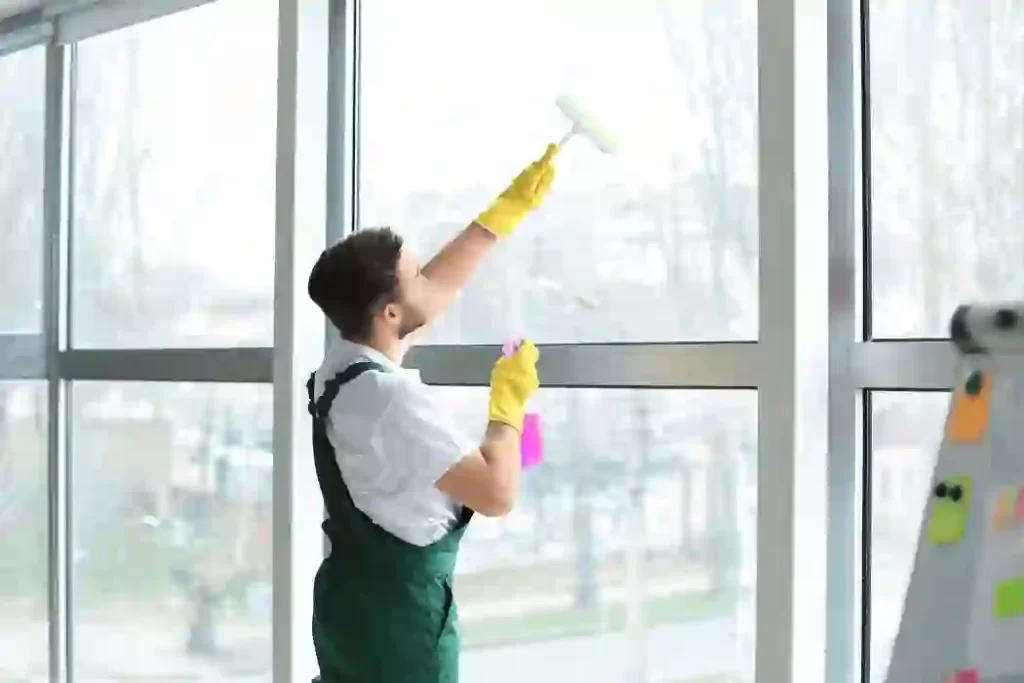 Gathering the Essential Cleaning Supplies
Before diving into the window cleaning process, it's important to gather the necessary cleaning supplies. Here are some items you will need:
Microfiber cloths
Squeegee
Bucket
Spray bottle
Window cleaning solution (store-bought or homemade)
Extension pole (for hard-to-reach windows)
Newspaper (for an alternative cleaning method)
Preparing the Cleaning Solution
The cleaning solution plays a crucial role in achieving sparkling clean windows. You can either purchase a ready-made window cleaning solution or create your own using common household ingredients. Homemade solutions are not only cost-effective but also eco-friendly. They are free from harsh chemicals that can be harmful to your health and the environment.
The Power of Vinegar and Water
One of the most popular and effective window cleaning solutions is a mixture of vinegar and water. This simple yet powerful combination cuts through grease, removes dirt, and leaves your windows spotless.
Step-by-Step Guide
To create the vinegar and water cleaning solution, follow these steps:
Fill a spray bottle with equal parts vinegar and water.
Shake the bottle gently to ensure proper mixing.
Spray the solution onto the window surface.
Use a microfiber cloth or squeegee to wipe away the solution, starting from the top and working your way down.
Repeat the process for each window until they are all clean and streak-free.
Precautions and Tips
Avoid using vinegar on marble or stone surfaces, as it can cause damage.
If the smell of vinegar bothers you, add a few drops of essential oil to the cleaning solution.
Test the solution on a small, inconspicuous area of the window before applying it to the entire surface.
Newspaper Magic
Believe it or not, newspapers can be an excellent tool for achieving streak-free shine on your windows. The ink and texture of newspapers help to absorb moisture and leave your windows sparkling clean.
Using Newspapers for Streak-Free Shine
After cleaning the window with your preferred cleaning solution, crumple up a sheet of newspaper into a ball.
Rub the newspaper gently across the window surface, using circular motions.
Continue until all streaks and smudges have disappeared.
Additional Tips for Using Newspapers
Use black and white newspapers instead of colored ones to avoid the risk of ink transfer.
Wear gloves or wash your hands thoroughly after using newspapers, as the ink can stain your skin.
DIY Window Cleaning Solution
Creating your own window cleaning solution is not only economical but also gives you full control over the ingredients you use. Here's a simple DIY recipe:
Ingredients and Instructions
2 cups of water
1/4 cup of vinegar
1/2 teaspoon of dish soap
Mix all the ingredients in a spray bottle.
Shake well to ensure proper blending.
Spray the solution onto the window surface and wipe it clean using a microfiber cloth or squeegee.
Benefits of Homemade Window Cleaner
Cost-effective alternative to store-bought solutions
Environmentally friendly, as it avoids harsh chemicals
Customizable with different scents by adding essential oils
The Magic of Microfiber
Microfiber cloths are a window cleaner's best friend. Their unique properties make them highly effective in capturing dirt, dust, and grime without leaving lint or streaks behind.
Choosing and Using Microfiber Cloths
Look for high-quality microfiber cloths with a dense weave.
Avoid using fabric softener when washing microfiber cloths, as it can reduce their effectiveness.
Use separate microfiber cloths for cleaning the window frames and the glass to prevent cross-contamination.
The Benefits of Microfiber for Window Cleaning
Highly absorbent, allowing you to clean larger areas without frequent wringing or re-soaking.
Lint-free and streak-free cleaning, leaving your windows crystal clear.
Durable and reusable, making them an eco-friendly choice.
Let the Sun Help
Timing your window cleaning with the power of the sun can make the drying process faster and more efficient.
Timing your Window Cleaning
Choose a day when the weather is warm and sunny. Avoid cleaning windows on hot, sunny days as the cleaning solution may dry too quickly, leaving streaks behind.
Maximizing the Sun's Drying Power
Start cleaning your windows early in the morning to take advantage of the cooler temperatures.
Work in sections, cleaning and drying one window at a time to prevent the solution from drying too quickly.
Open the windows after cleaning to allow fresh air to circulate and speed up the drying process.
The Importance of Proper Technique
Using the right technique while cleaning your windows can make a significant difference in the final result. Here are some essential tips to keep in mind:
Top-to-Bottom Cleaning
Always clean your windows from top to bottom. This ensures that any drips or streaks from the cleaning solution won't affect the already cleaned areas.
Avoiding Common Mistakes
Avoid using excessive pressure when cleaning windows, as it can lead to streaks and damage.
Don't clean windows under direct sunlight, as the cleaning solution may dry too quickly, leaving streaks behind.
Replace dirty water or cleaning solution regularly to prevent reintroducing dirt onto the window surface.
Hacks for Hard-to-Reach Windows
Cleaning windows that are difficult to access can be a challenging task. However, with the right tools and techniques, you can make it easier and more efficient.
Using Extension Poles
Invest in an extension pole with a squeegee or a microfiber cloth attachment.
Adjust the pole to the desired length to reach high windows or windows in tight corners.
Follow the same cleaning technique as mentioned earlier, starting from the top and working your way down.
Outdoor Window Cleaning Tips
Use a garden hose with a sprayer attachment to remove loose dirt and debris from outdoor windows.
For stubborn stains or grime, mix a solution of water and mild detergent, and scrub the windows using a soft brush or sponge.
Rinse thoroughly with clean water to remove any residue.
Dealing with Stubborn Stains and Marks
Sometimes, windows can accumulate stubborn stains and marks that require a little extra effort to remove. Here's how you can tackle them:
Removing Grease and Grime
Apply a small amount of dish soap directly to the stained area.
Use a soft brush or sponge to scrub the stain gently.
Rinse the area thoroughly with clean water and wipe it dry.
Tackling Paint Splatters and Stickers
Soak a cloth in warm water and place it over the paint spatter or sticker for a few minutes.
Gently scrape off the paint or sticker using a plastic scraper or a credit card.
Clean the area with a window cleaning solution and wipe it dry.
Maintaining Clean Windows
Regular maintenance is essential to keep your windows looking clean and beautiful. Here are some tips for maintaining spotless windows:
Regular Cleaning Schedule
Set a cleaning schedule to ensure your windows receive regular attention.
Consider cleaning your windows at least twice a year or more frequently if you live in an area with heavy pollution or during seasons with excessive dirt and pollen.
Quick Touch-Ups for Busy Days
Keep a microfiber cloth or a squeegee handy for quick touch-ups on days when you don't have time for a full cleaning.
Wipe away fingerprints or smudges as soon as you notice them to prevent them from becoming more difficult to remove later.
Conclusion
By implementing these ultimate window cleaning hacks, you can achieve sparkling clean windows that enhance the beauty and brightness of your living space. Whether you opt for vinegar and water solutions, newspaper tricks, DIY cleaners, or microfiber cloths, these techniques will help you achieve streak-free results. Remember to clean your windows using the proper technique and take advantage of natural sunlight for faster drying. With regular maintenance and the right tools, you can enjoy crystal-clear windows year-round.