Upholstery and reupholstery are two terms that are often used interchangeably when it comes to furniture. However, there is a significant difference between the two, and it is essential to understand it to make the right decision for your furniture. In this article, we will explore the difference between upholstery and reupholstery and help you decide which one is the right choice for your furniture.
What is Upholstery?
Upholstery is the process of covering furniture with padding, springs, webbing, and fabric or leather to create a comfortable and visually appealing piece of furniture. Upholstered furniture is typically made up of several layers, including a base layer of springs or webbing for support, padding for comfort, and a top layer of fabric or leather for aesthetics.
Upholstery is a critical aspect of furniture design and plays a crucial role in determining the comfort and style of a piece. The right upholstery can transform a basic piece of furniture into a luxurious and comfortable one, while the wrong upholstery can make even the most beautiful piece of furniture look unattractive and uncomfortable.
To get advice and tips for home renovation here.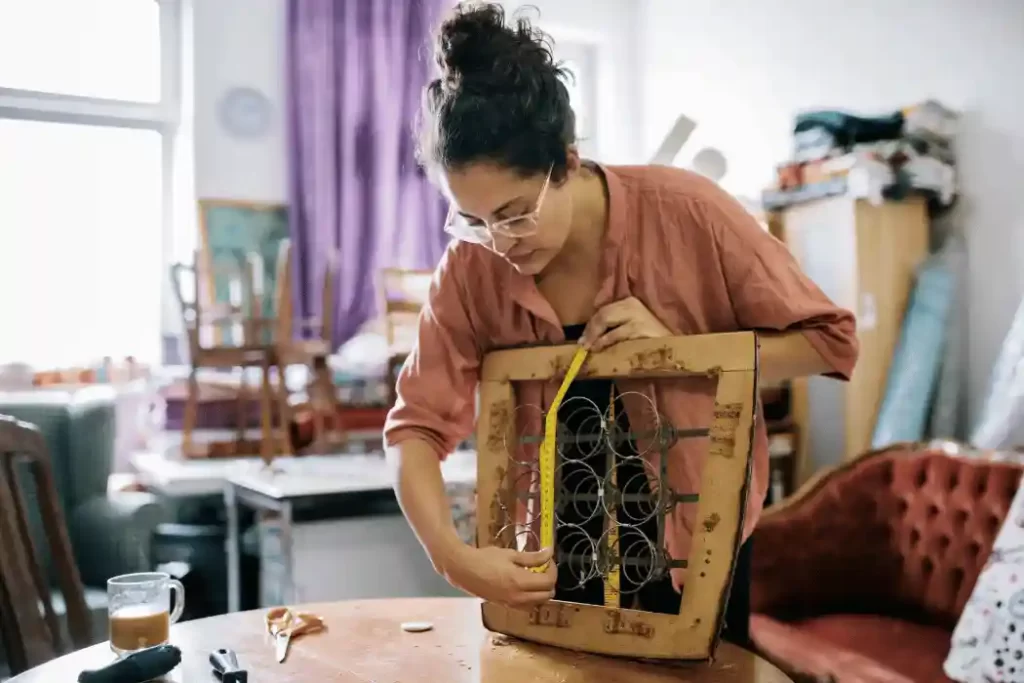 When to Choose Upholstery?
If you have a piece of furniture that is structurally sound but needs a new look or feel, upholstery is the right choice. Upholstery is an excellent option for updating the style of your furniture, adding more comfort, or repairing minor damage to the existing upholstery.
Upholstery is also a great way to preserve antique or vintage furniture pieces. By reupholstering an old piece of furniture, you can keep its unique style while updating it with modern fabrics or materials.
What is Reupholstery?
Reupholstery, on the other hand, is the process of completely removing the old fabric or leather from a piece of furniture and replacing it with new materials. Reupholstering involves removing the existing upholstery, repairing any damage to the frame or padding, adding new padding or springs, and finally, covering the furniture with new fabric or leather.
Reupholstering is a more involved and time-consuming process than upholstery, but it is often the best choice for furniture that has significant damage, such as torn or worn-out fabric, damaged padding or springs, or broken frames.
When to Choose Reupholstery?
If you have a piece of furniture that is in good structural condition but has significant damage to the existing upholstery or padding, reupholstery is the right choice. Reupholstering is also an excellent option for furniture with sentimental value or that is a family heirloom.
Reupholstering can help preserve the furniture's original style and character while updating it with new materials that will make it more comfortable and visually appealing. Additionally, reupholstering is often more cost-effective than replacing the furniture altogether, especially if the piece has a high-quality frame or structure.
Upholstery vs. Reupholstery: Which is the Right Choice for Your Furniture?
The decision to choose upholstery or reupholstery ultimately depends on the condition of your furniture and your desired outcome. Here are some factors to consider when making your decision:
Condition of the Furniture
The first thing to consider when deciding between upholstery and reupholstery is the condition of your furniture. If the frame or structure of the furniture is damaged or broken, reupholstering may not be a viable option. On the other hand, if the frame or structure is intact, but the fabric or padding is damaged, upholstery or reupholstery may be a good option.
Cost
Another important factor to consider is the cost. Reupholstering is generally more expensive than upholstery because it involves more labor and materials. If you have a tight budget, upholstery may be the better choice.
However, it is important to consider the long-term cost as well. Reupholstering can be more cost-effective in the long run if you have a high-quality piece of furniture that you want to keep for years to come. Replacing furniture frequently can add up to a much higher cost than investing in reupholstery once every decade or so.
Style and Design
The style and design of your furniture should also play a role in your decision. Upholstery is an excellent option for updating the style of your furniture without changing its overall look or character. However, if you want to completely transform the look of your furniture, reupholstery may be a better choice.
Upholstery allows you to change the color, texture, or pattern of the fabric, but reupholstery gives you complete control over the design and look of the furniture. You can choose new materials that complement your home decor and create a completely new aesthetic.
Time and Labor
Finally, you should consider the time and labor involved in both upholstery and reupholstery. Upholstery is a quicker and less labor-intensive process, but reupholstering can take several weeks or even months, depending on the complexity of the project.
Reupholstering also requires more specialized skills and knowledge, so it is essential to choose an experienced professional who can ensure that the job is done correctly.
Conclusion
Choosing between upholstery and reupholstery depends on the condition of your furniture, your budget, your desired outcome, and your style preferences. If your furniture is in good structural condition and only needs a new look or feel, upholstery is a great choice. However, if your furniture has significant damage or sentimental value, reupholstery may be the best option.
It is also essential to choose an experienced professional who can provide you with high-quality materials, excellent workmanship, and personalized service. With the right expertise and materials, both upholstery and reupholstery can transform your furniture and give it a new lease of life.