Maintaining a clean and well-maintained roof is essential for the overall aesthetics and longevity of your home. Over time, dirt, stains, moss, and debris can accumulate on your roof, compromising its appearance and potentially causing damage. In this ultimate roof cleaning guide, we will provide you with effective techniques, tips, and precautions to help you say goodbye to dirt and stains, restoring your roof's pristine condition.
Why Roof Cleaning is Important
Your roof is exposed to various environmental elements, including dirt, debris, algae, moss, and stains. Regular roof cleaning is crucial to prevent the accumulation of these substances, as they can lead to discoloration, premature deterioration, and potential damage to the roof structure. By keeping your roof clean, you enhance its appearance, maintain its functionality, and extend its lifespan. As part of your home renovation, don't forget the importance of roof cleaning to revitalize the appearance and maintain the integrity of your property.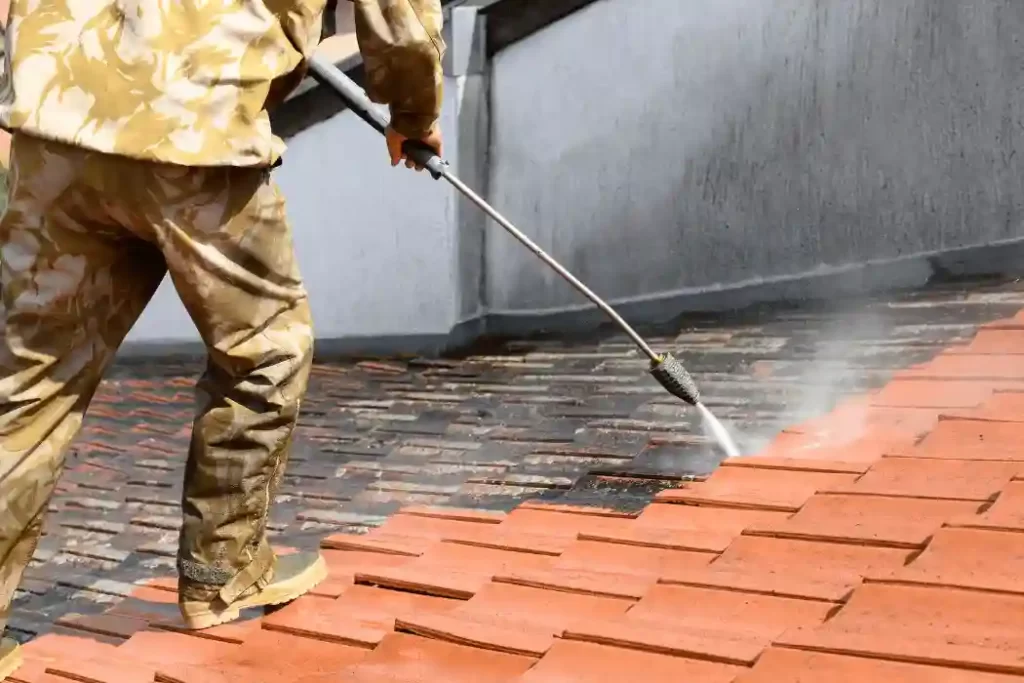 Safety Precautions and Gear
Before starting any roof cleaning activity, it's important to prioritize safety. Here are some essential safety precautions and gear to consider:
Use protective gear such as goggles, gloves, and non-slip shoes.
Secure a sturdy ladder and have someone assist you during the cleaning process.
Check the weather forecast and avoid cleaning the roof during unfavorable conditions like rain or strong winds.
Be cautious of electrical wires and other potential hazards on the roof.
Assessing the Roof's Condition
Begin by carefully inspecting your roof's condition. Look for any signs of damage, loose shingles, or areas that require repair. It's important to address these issues before proceeding with the cleaning process. If you're unsure about the extent of the damage, consider consulting a professional roofer for an assessment.
Removing Debris and Loose Dirt
Clearing debris and loose dirt from your roof is an essential step in the cleaning process. Use a sturdy broom or leaf blower to remove leaves, branches, and other debris. Be gentle to avoid damaging the roof's surface. Pay close attention to the gutters and downspouts, ensuring they are clear of any blockages.
Cleaning Solutions for Different Roof Types
Different roof materials require specific cleaning solutions to prevent damage. Here are some common roof types and suitable cleaning solutions:
Asphalt Shingles: Use a solution of water and mild detergent or specialized roof cleaning products.
Metal Roofs: Avoid abrasive cleaners and opt for mild detergents or specialized metal roof cleaning solutions.
Tile Roofs: Consult with a professional or use a mild detergent solution specifically formulated for tile roofs.
Always follow the manufacturer's recommendations and test the cleaning solution on a small, inconspicuous area before applying it to the entire roof.
Pressure Washing Techniques
Pressure washing can be an effective method for removing stubborn dirt and stains from your roof. However, it requires caution and proper technique to prevent damage. Follow these guidelines when using a pressure washer:
Use a low-pressure setting to avoid dislodging shingles or tiles.
Stand at a safe distance from the roof surface to prevent accidental injury or damage.
Direct the pressure washer downward to avoid water seeping under the shingles or tiles.
Treating Moss and Algae Growth
Moss and algae growth can be common issues on roofs, especially in humid environments. Here's how you can treat these problems effectively:
Apply a commercially available moss or algae treatment solution to the affected areas.
Let the solution sit for the recommended time before rinsing it off with water.
Use a soft brush or broom to gently scrub away any remaining moss or algae.
Stain Removal Methods
Stains on your roof can be unsightly and stubborn. Depending on the type of stain, you can use specific stain removal methods:
Organic Stains: Mix equal parts water and hydrogen peroxide, apply it to the stained area, and let it sit for a few minutes before rinsing.
Rust Stains: Use a mild oxalic acid solution or a commercial rust stain remover designed for roofs.
Grease or Oil Stains: Use a degreaser or a specialized roof cleaning product to remove these stains.
Always follow the instructions provided by the manufacturer when using stain removal products.
Gutter Cleaning and Maintenance
Clean gutters are essential for proper water drainage and roof maintenance. Regularly clean your gutters to prevent clogs and water backup, which can lead to roof leaks and damage. Remove leaves, debris, and other obstructions, and ensure that the downspouts are clear and functioning properly.
Protecting and Maintaining Your Clean Roof
Once you have completed the roof cleaning process, consider implementing these measures to protect and maintain your clean roof:
Install zinc or copper strips along the roof ridge to prevent the growth of moss and algae.
Trim overhanging tree branches to minimize debris accumulation on the roof.
Schedule regular inspections and maintenance to address any potential issues promptly.
Conclusion
A clean and well-maintained roof not only enhances the curb appeal of your home but also protects it from potential damage. By following the techniques and tips outlined in this ultimate roof cleaning guide, you can say goodbye to dirt and stains, ensuring your roof remains in excellent condition for years to come.