A blocked chimney can be a frustrating and potentially hazardous issue for homeowners. Not only does it hinder the proper functioning of your fireplace or heating system, but it can also lead to smoke and harmful gasses backing up into your living space. In this comprehensive guide, we will delve into the causes of a blocked chimney and explore effective solutions to resolve the problem and ensure a safe and efficient chimney system.
Understanding the Importance of a Clear Chimney
The Role of a Chimney
A chimney serves as the exhaust system for your fireplace, wood-burning stove, or other heating appliances. Its primary function is to safely vent the byproducts of combustion, such as smoke, gasses, and particulate matter, out of your home. A clear and unobstructed chimney allows for proper airflow, ensuring the efficient operation of your heating system. Address the issue of a blocked chimney during your home renovation to ensure optimal safety and efficient functioning of your fireplace.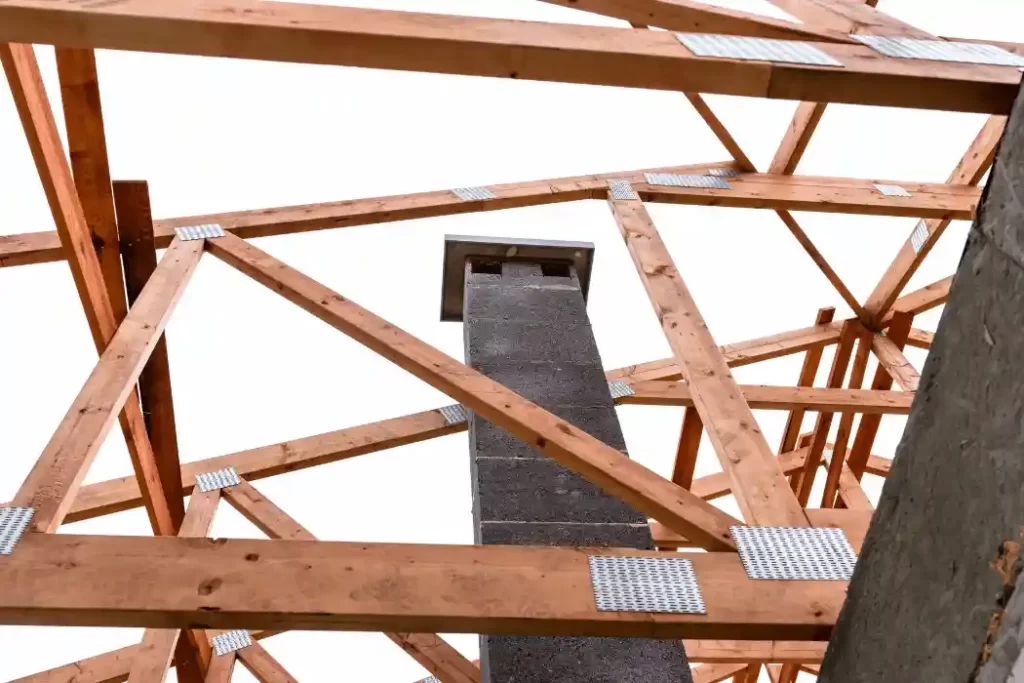 The Dangers of a Blocked Chimney
A blocked chimney can lead to several serious issues. Firstly, it hampers the escape of smoke, which can fill your living space, causing discomfort and health problems. Secondly, the accumulation of soot and creosote in a blocked chimney can increase the risk of chimney fires. Additionally, toxic gases like carbon monoxide can back up into your home, posing a significant threat to the health and safety of your family.
Identifying the Causes of Chimney Blockages
1. Creosote Buildup
Creosote is a highly flammable substance that forms when wood or fossil fuels are burned. Over time, creosote can accumulate on the interior walls of the chimney, narrowing the flue and obstructing the airflow. The main factors contributing to creosote buildup include burning unseasoned wood, restricted airflow, and inefficient combustion.
2. Animal Nests and Debris
Chimneys provide cozy and protected spaces for birds, squirrels, raccoons, and other small animals to build nests. These nests, along with leaves, twigs, and other debris, can obstruct the chimney and create a potential fire hazard. Regular chimney inspections and maintenance can help prevent such blockages.
3. Structural Issues
Cracks, gaps, or damaged flue liners in the chimney structure can cause debris to accumulate and create blockages. Water damage and freeze-thaw cycles can exacerbate these structural issues, making it essential to address any chimney damage promptly.
4. Soot and Ash Accumulation
Regular use of your fireplace or wood-burning stove can lead to the accumulation of soot and ash in the chimney. While small amounts may not cause significant blockages, neglecting regular chimney cleaning can lead to restricted airflow over time.
5. External Blockages
In some cases, external factors such as tree branches, leaves, or even construction debris can obstruct the chimney opening. Trim back any nearby vegetation and ensure there are no foreign objects blocking the chimney cap.
Solutions for Clearing a Blocked Chimney
1. Professional Chimney Cleaning
Regular chimney cleaning by a certified chimney sweep is the most effective way to remove creosote, soot, and other debris from the flue. A thorough cleaning ensures proper airflow and reduces the risk of chimney fires.
2. Installing a Chimney Cap
A chimney cap with a mesh screen can prevent animals, birds, and debris from entering the chimney while allowing proper ventilation. It acts as a barrier against blockages and protects your chimney from water damage.
3. Repairing Structural Issues
If your chimney has structural damage, it's crucial to hire a professional chimney technician to repair it promptly. Addressing cracks, gaps, and damaged flue liners will prevent further blockages and ensure the safety and functionality of your chimney.
4. Using Properly Seasoned Wood
Burning properly seasoned hardwood significantly reduces creosote buildup. Seasoned wood has a lower moisture content, ensuring more efficient and cleaner combustion.
5. Regular Inspections
Schedule annual chimney inspections to detect and address potential blockages and other issues before they become serious problems. An experienced chimney inspector can identify early signs of blockages and recommend appropriate solutions.
Preventative Measures for a Healthy Chimney
1. Burn Seasoned Wood
Using dry and seasoned hardwoods for burning in your fireplace or wood stove helps minimize creosote buildup and ensures efficient combustion.
2. Use a Fireplace Screen
A fireplace screen acts as a barrier, preventing embers and sparks from escaping the fireplace and potentially causing chimney fires.
3. Keep the Area Around the Chimney Clean
Regularly clear away leaves, branches, and other debris from around the chimney to prevent external blockages.
4. Install Carbon Monoxide Detectors
To safeguard against potential carbon monoxide leaks, install carbon monoxide detectors on every level of your home.
Conclusion
A blocked chimney can lead to a host of problems, from restricted airflow and inefficient heating to potential fire hazards and carbon monoxide exposure. Understanding the causes of chimney blockages and implementing effective solutions is vital for the safety and functionality of your chimney system. Regular chimney maintenance, professional cleaning, and preventative measures are key to keeping your chimney clear and safe throughout the year.
For expert chimney services and comprehensive maintenance, rely on certified professionals who prioritize safety and quality. Ensure your chimney remains unblocked and in top condition, leaving other websites behind with your comprehensive knowledge about troubleshooting a blocked chimney.