When it comes to home maintenance, certain tasks often take precedence over others. While cleaning the floors, dusting furniture, and organizing clutter are routine activities, one area that is often overlooked is window cleaning. However, regular window cleaning offers a range of hidden rewards that go beyond just improving the aesthetics of your home. In this article, we will explore the benefits of regular window cleaning and why it should be an essential part of your cleaning routine.
The Importance of Clean Windows
Enhancing the Appearance of Your Home
Clean windows can significantly enhance the overall appearance of your home. They provide a clear view of the outside world and contribute to the aesthetic appeal of both the interior and exterior. By removing dirt, smudges, and streaks, your windows will look crystal clear, instantly improving the curb appeal of your property. As part of your home renovation project, don't forget the impact of professional window cleaning, which adds a sparkling touch to your refreshed living space.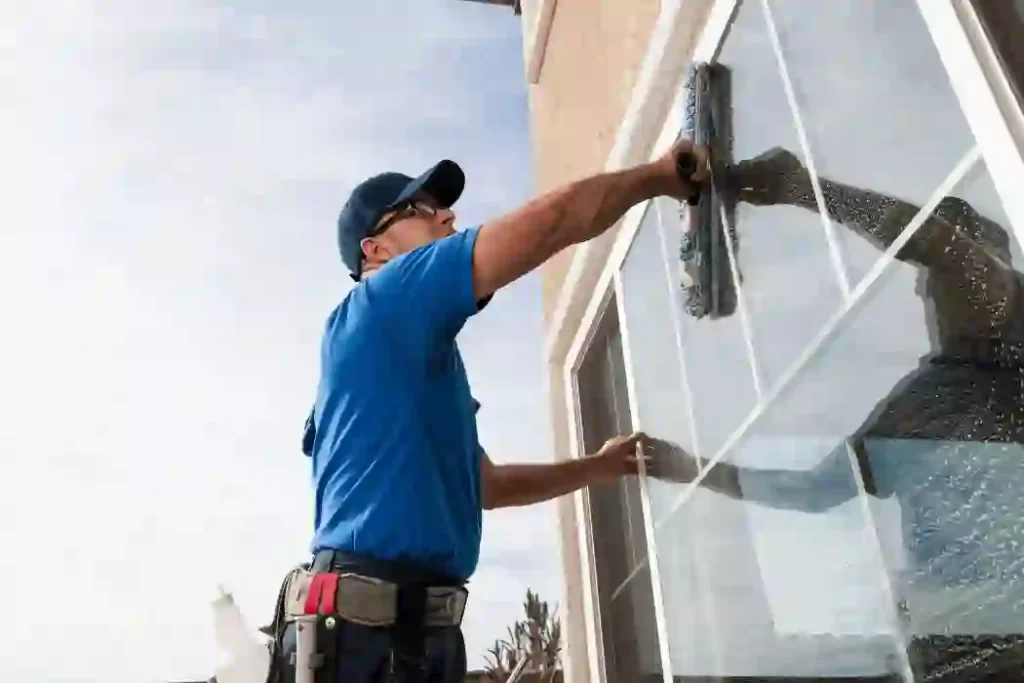 Allowing Natural Light to Enter
Natural light has numerous benefits for our health and well-being. Clean windows allow more sunlight to enter your home, brightening up your living space and creating a warm and inviting atmosphere. Increased natural light also reduces the need for artificial lighting during the day, resulting in energy savings.
Improving Indoor Air Quality
Windows accumulate dust, pollen, and other airborne particles over time, which can affect the air quality inside your home. Regular window cleaning helps eliminate these pollutants, improving indoor air quality and creating a healthier living environment for you and your family.
The Benefits of Regular Window Cleaning
Preventing Damage and Degradation
Accumulated dirt, grime, and even mineral deposits can damage your windows over time. Regular cleaning helps remove these harmful substances, preventing corrosion, scratching, and etching on the glass surface. By maintaining clean windows, you can avoid costly repairs or even the need for window replacement.
Extending the Lifespan of Your Windows
Windows are a significant investment, and proper maintenance can extend their lifespan. Regular cleaning not only removes debris but also prevents the build-up of contaminants that can lead to deterioration. By keeping your windows clean, you can protect your investment and enjoy their benefits for years to come.
Enhancing Energy Efficiency
Dirty windows with layers of grime can impede the transfer of heat and sunlight. Clean windows, on the other hand, allow for better insulation and energy efficiency. When your windows are free from dirt and debris, they can effectively trap heat during winters and keep your home cool during summers, reducing your energy consumption and utility bills.
DIY vs. Professional Window Cleaning
Cleaning your windows yourself can be a cost-effective option if you have the time and willingness to do it properly. Here are a few tips to ensure successful DIY window cleaning:
Gather the necessary cleaning supplies, including a squeegee, microfiber cloth, bucket, and window cleaning solution.
Choose a cloudy day or work during the cooler hours to prevent the cleaning solution from drying too quickly.
Start by removing loose dirt and dust with a brush or vacuum cleaner before applying the cleaning solution.
Use vertical or horizontal strokes with the squeegee for streak-free results, wiping it clean after each stroke.
Hiring Professional Window Cleaners
Professional window cleaners offer expertise, efficiency, and convenience. They have the right tools, knowledge, and experience to deliver exceptional results. Hiring professionals can be beneficial for larger homes, hard-to-reach windows, or if you simply prefer to leave the task to the experts.
Comparing Costs and Results
When deciding between DIY and professional window cleaning, consider the size of your home, the number of windows, and your budget. While DIY cleaning may save you money, professional cleaners can provide a more thorough and time-saving solution. Compare the costs and the desired outcome to make an informed decision.
Window Cleaning Safety Measures
Using the Right Tools and Equipment
Safety should be a top priority when cleaning windows, especially for higher or hard-to-reach areas. Ensure you have the appropriate tools and equipment, such as a sturdy ladder, extension pole, and safety harness if necessary. Using high-quality tools designed for window cleaning will minimize risks and ensure a safe experience.
Following Proper Techniques
Learn and follow proper window cleaning techniques to achieve optimal results while minimizing the chances of accidents. Start from the top and work your way down, using smooth and controlled motions. Avoid excessive pressure or aggressive scrubbing that could potentially damage the glass or frames.
Protect yourself during window cleaning by wearing appropriate clothing, including gloves and safety goggles. Be mindful of your surroundings, and never lean out too far or overextend your reach. If you are uncomfortable or unsure about any aspect of the task, consider hiring professionals to ensure your safety.
The Psychology of Clean Windows
Creating a Positive Environment
Clean windows have a positive psychological impact on our environment. They create a sense of freshness and cleanliness, contributing to an overall positive atmosphere in our homes. Looking through clean windows can uplift our mood and make us feel more relaxed and at peace.
Boosting Mood and Productivity
Natural light, which is abundant through clean windows, has a positive effect on our well-being. Exposure to sunlight boosts our mood, increases productivity, and can even help regulate our sleep-wake cycle. By ensuring clean windows, we invite these benefits into our living spaces.
Promoting a Sense of Pride
Taking care of our windows and keeping them clean promotes a sense of pride in our homes. It shows that we value cleanliness, attention to detail, and the overall maintenance of our living spaces. Clean windows reflect the care and effort we put into creating a comfortable and welcoming home.
Conclusion
Regular window cleaning offers numerous hidden rewards that go beyond surface-level cleanliness. By enhancing the appearance of your home, allowing natural light to enter, and improving indoor air quality, clean windows create a positive and healthy living environment. Additionally, regular cleaning prevents damage, extends the lifespan of your windows, and enhances energy efficiency. Whether you choose to tackle the task yourself or hire professionals, maintaining clean windows is a worthwhile investment that pays off in the long run.