In the fast-paced urban lifestyle, finding ways to connect with nature and create a serene oasis within our living spaces has become a priority. An open terrace design is the perfect solution to bridge the gap between the indoors and outdoors, allowing us to immerse ourselves in the beauty of nature while enjoying the comfort of our homes. In this article, we will explore a plethora of open terrace design concepts that seamlessly integrate nature into our daily lives, making the terrace a delightful retreat for relaxation, entertainment, and connection with the great outdoors. Embrace the beauty of the outdoors and elevate your home renovation with these inspiring open terrace design concepts, creating a perfect harmony between your living space and the wonders of nature.
The Allure of Open Terrace Design Concepts
Open terrace designs offer an invitation to the outside world, embracing the beauty of nature and the elements. These designs create an extension of living spaces, blurring the lines between indoors and outdoors, and providing an expansive ambiance that elevates the overall appeal of any residence.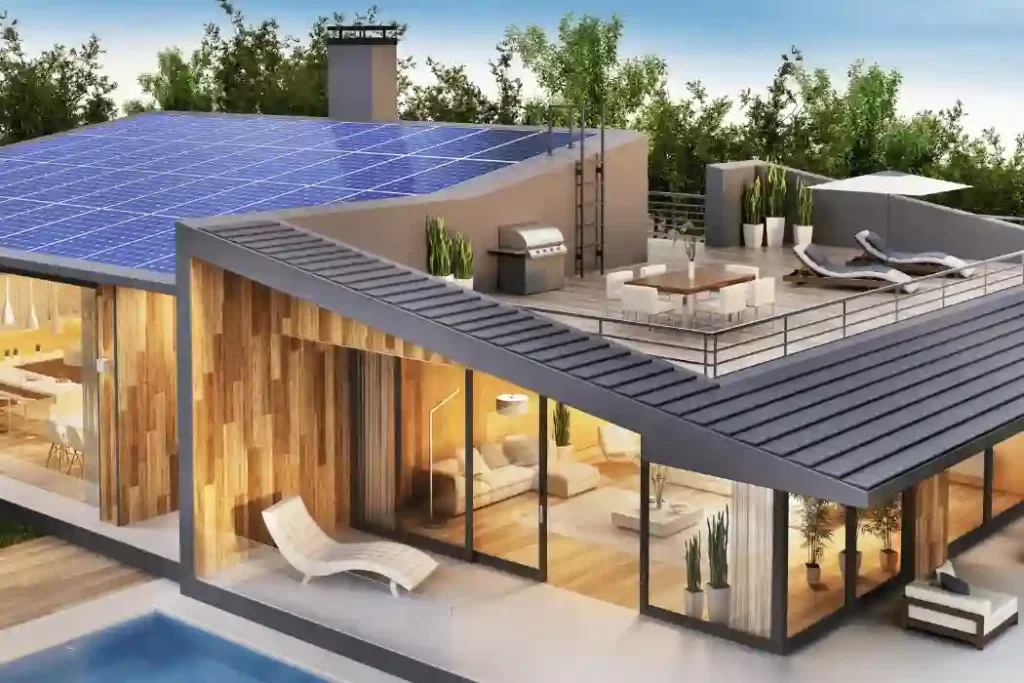 Embracing Greenery
One of the most captivating aspects of an open terrace design is the opportunity to bring greenery and plant life into our living environment. By incorporating potted plants, vertical gardens, and lush foliage, the terrace transforms into a natural sanctuary, enhancing air quality and creating a soothing atmosphere.
Creating a Garden Oasis
For those with a passion for gardening, the open terrace becomes a canvas for a beautiful garden oasis. From flower beds to herb gardens and even small fruit trees, the terrace offers a blank slate to indulge in our love for horticulture, fostering a sense of fulfillment and relaxation.
Al Fresco Dining Delight
Open terrace designs present a wonderful setting for al fresco dining experiences. Set up a stylish dining area with comfortable seating, a rustic wooden table, and ambient lighting to savor meals amidst the pleasant breeze and scenic views, adding a touch of elegance and romance to every gathering.
Lounge in Comfort
Create a cozy lounge area on the open terrace, complete with plush outdoor sofas, cushions, and soft throws. The space becomes a tranquil haven for unwinding, reading, or simply enjoying the peace and tranquility of being surrounded by nature.
Inviting Water Elements
The sound of running water has a calming effect on the mind. Integrate water elements like fountains, small ponds, or cascading water features into the open terrace design to enhance the sensory experience and create a soothing ambiance.
Celestial Retreat
Stargazing becomes an enchanting experience on an open terrace. Set up a comfortable seating area with reclining chairs or floor cushions, and enjoy the wonder of the night sky, free from city lights and distractions.
Multi-Functional Spaces
Open terrace designs can be versatile and multi-functional. Incorporate retractable awnings or pergolas to provide shade during hot days and shelter during rainy seasons, making the terrace usable throughout the year.
Work and Play Al Fresco
Transform the terrace into a productive space by setting up an outdoor workstation or studio. Whether you're working remotely, pursuing a hobby, or engaging in art and craft, the terrace becomes an inspiring and refreshing environment.
Wellness and Yoga Haven
An open terrace design can be transformed into a wellness haven, where yoga, meditation, and mindfulness practices take center stage. The serenity of the terrace promotes holistic well-being, helping us connect with our inner selves and find balance in our busy lives.
A Private Getaway
For those seeking solitude and seclusion, an open terrace design offers a private escape. Set up a hammock, cocoon chair, or a cozy corner with soft cushions, and unwind in your personal sanctuary away from the hustle and bustle of everyday life.
Enhancing Architectural Aesthetics
In addition to the myriad of functional benefits, open terrace designs contribute to the architectural aesthetics of a building. They add depth and character to the façade while providing a seamless transition between indoor and outdoor spaces.
Children's Play Area
Families with young children can transform the open terrace into a safe and enjoyable play area. Add play equipment, interactive games, and creative spaces to foster the little ones' imagination and encourage outdoor play.
Sustainable and Eco-Friendly Design
Open terrace designs align perfectly with eco-friendly and sustainable living. Opt for recycled materials, energy-efficient lighting, and rainwater harvesting systems to reduce the ecological footprint of the terrace.
A Canvas for Art and Creativity
For artists and creative souls, an open terrace design becomes a blank canvas to explore artistic pursuits. Use the terrace to paint, sketch, sculpt, or engage in any creative endeavor while being inspired by the beauty of the surroundings.
Conclusion
Open terrace designs provide a gateway to connect with nature, inviting us to create a harmonious and peaceful living space that reflects our personal taste and lifestyle. From lush gardens to al fresco dining and wellness retreats, an open terrace allows us to embrace the serenity of the outdoors without leaving the comfort of our homes. By integrating nature into our living environment, we foster a sense of well-being, rejuvenation, and joy that comes from connecting with the natural world.
Whether you live in a bustling city or a serene countryside, an open terrace design brings us closer to nature and enhances our quality of life in ways that nurture the mind, body, and soul.