The entrance of a mansion is more than just a doorway; it is a statement of grandeur and opulence. A modern mansion entrance should leave visitors in awe, setting the tone for the luxurious and inviting space that lies beyond. In this article, we will explore how to create a grand and inviting modern mansion entrance that will impress guests from the moment they arrive. From elegant landscaping to exquisite architectural details, we've got you covered with inspiring ideas to elevate your mansion's first impression.
Embracing Modern Mansion Entrance
Striking Entryway Design
The key to a grand entrance is a striking entryway design. Consider an oversized front door with intricate carvings or a sleek, minimalist design with high-gloss finishes. Dramatic entryways featuring double doors or grand arches will leave a lasting impression on anyone who approaches your mansion. During the home renovation, we transformed the entrance of our mansion into a striking and inviting modern space, impressing guests with its grandeur and contemporary design.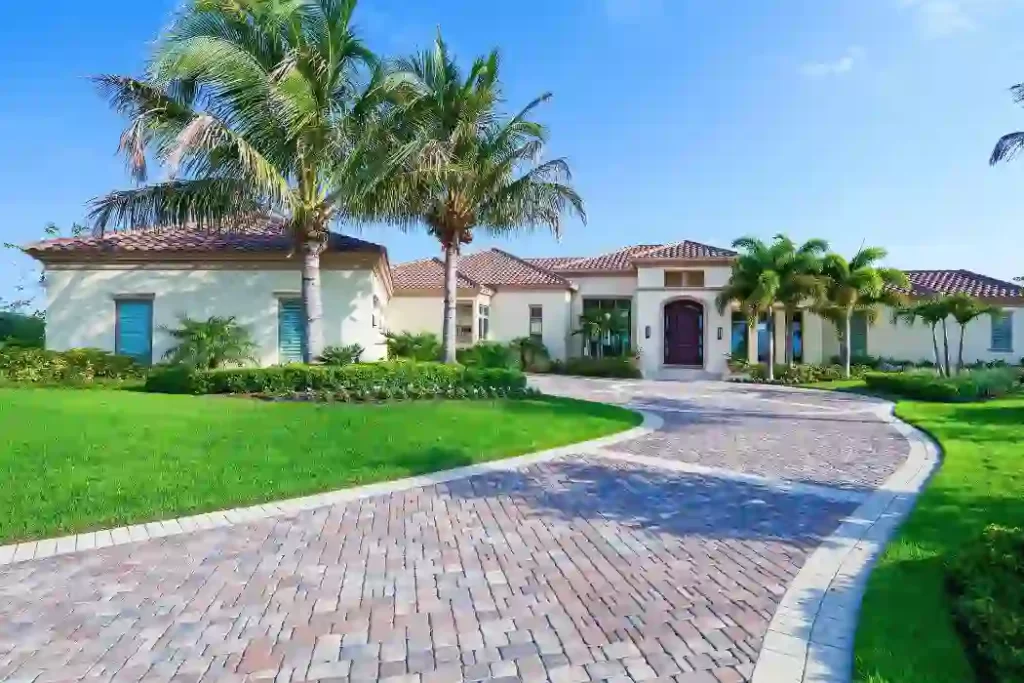 Statement Staircase
A sweeping and grand staircase is a hallmark of a luxurious mansion entrance. Choose from various materials like marble, wrought iron, or glass balustrades to create a stunning focal point. An elegantly curved staircase with plush carpets adds a touch of sophistication to the entryway.
Magnificent Landscaping
Manicured Gardens
Create a sense of enchantment with manicured gardens leading up to the entrance. Arrange symmetrical flower beds, perfectly trimmed hedges, and sculpted topiaries to add a touch of elegance. Seasonal blooms in vibrant colors will add a pop of color and vibrancy to the landscape.
Impressive Water Features
Incorporate impressive water features like fountains or reflecting pools to add a sense of tranquility and opulence. The sound of trickling water and the reflection of your mansion in the pool will create a captivating visual and auditory experience for your visitors.
Striking Lighting Fixtures
Grand Chandeliers
Hang a grand chandelier in the entrance hall to make a bold statement. A dazzling crystal chandelier or a modern artistic piece will not only illuminate the space but also become a stunning centerpiece that exudes luxury.
Dramatic Exterior Lighting
Illuminate the exterior of your mansion with dramatic lighting fixtures. Use uplights to accentuate architectural features, such as columns or arches. Subtle downlights can be placed along the driveway and pathways to create a magical ambiance.
Welcoming Outdoor Seating
Courtyard Seating
If your mansion has a courtyard or a spacious front porch, provide outdoor seating to create a welcoming space. Luxurious outdoor furniture with plush cushions and elegant coffee tables will invite guests to relax and take in the grandeur of your mansion.
Cozy Fire Pit Area
For colder climates, consider adding a cozy fire pit area near the entrance. This outdoor space allows guests to gather around the warmth of the fire, creating an inviting atmosphere for gatherings and conversations.
Sophisticated Art Installations
Sculptures and Artwork
Incorporate sophisticated sculptures and artwork in your mansion's entrance to add a touch of artistry and culture. Sculptures made from bronze, stone, or other high-quality materials can become captivating focal points.
Artistic Foyer Decor
Design the foyer with carefully curated artwork, such as paintings or photography. These pieces can reflect your personal taste and style, adding a unique and artistic touch to the entrance.
Conclusion
A grand and inviting modern mansion entrance is a reflection of your lifestyle and taste. By embracing modern architectural elements, creating magnificent landscaping, incorporating striking lighting fixtures, offering welcoming outdoor seating, and showcasing sophisticated art installations, you can create an entrance that will impress and awe your guests.
Your mansion's entrance is the first glimpse of the luxury and elegance that awaits inside. With careful attention to detail and a focus on creating a memorable experience, you can elevate your modern mansion's entrance to a grand statement of opulence and sophistication.