Welcome to the world of enchantment and relaxation! In this article, we will delve into the art of crafting a moody bedroom that exudes warmth, coziness, and mystery. A moody bedroom is all about embracing dark hues, soft textures, and captivating design elements that transport you to a realm of tranquility and charm. Join us as we explore the secrets to transforming your bedroom into a captivating haven that leaves other spaces behind.
Understanding the Allure of a Moody Bedroom
What Makes a Bedroom Moody?
A moody bedroom is a reflection of intimacy and charm. It utilizes a rich and dark color palette, incorporating deep shades of blues, purples, grays, and even blacks. These hues evoke a sense of mystery and calmness, creating an atmosphere of solitude and relaxation. The play of light and shadow in a moody bedroom adds depth and allure, making it an ideal sanctuary for unwinding after a long day. During our recent home renovation, we transformed our old, gloomy bedroom into a cozy and inviting space, now fondly referred to as the Moody Bedroom.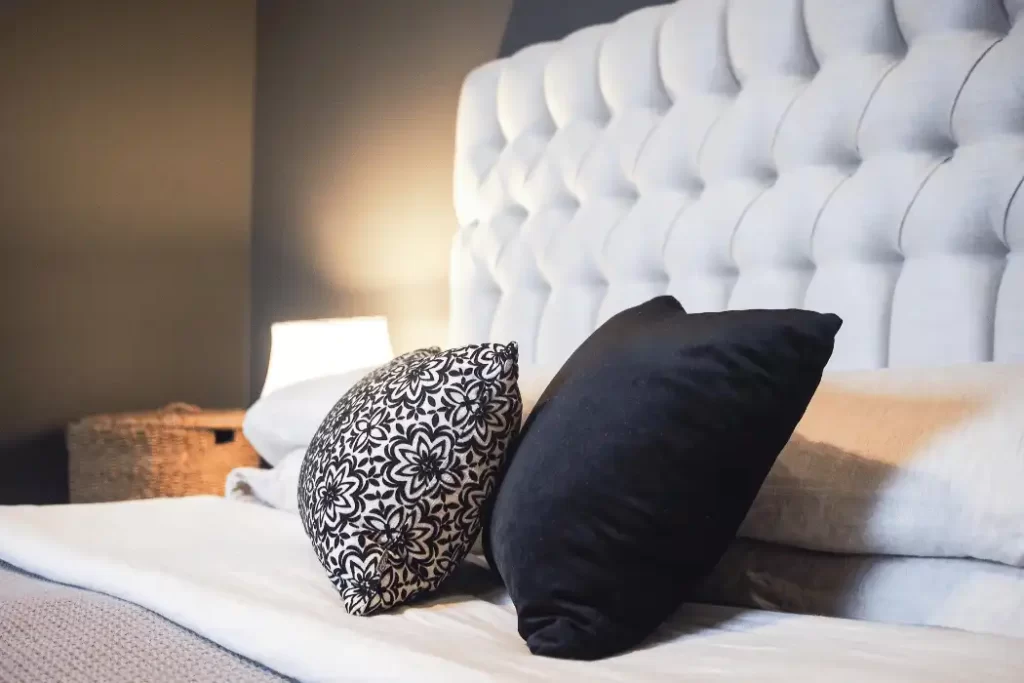 The Cozy Appeal
A moody bedroom is not only about darkness; it is also synonymous with coziness. Soft, plush fabrics, such as velvet and faux fur, along with layered bedding, add to the comfort factor. The combination of warm lighting and textured elements contributes to a snug ambiance, inviting you to sink into the depths of relaxation.
Designing a Moody Bedroom: Step by Step
1. Choosing the Right Color Scheme
The foundation of a moody bedroom lies in its color palette. Opt for deep, rich colors that resonate with your personality and evoke a sense of tranquility. Consider shades of indigo, deep plum, or charcoal gray. These colors form the canvas upon which the rest of your design will unfold.
2. Setting the Stage with Furniture
Select furniture that complements the mood you wish to create. Dark, wooden pieces can add an element of sophistication, while plush upholstered headboards or chairs enhance comfort. Introduce antique or vintage items for a touch of mystery and character.
3. Layered Textures for Luxury
To achieve a cozy and inviting atmosphere, focus on layering textures throughout your bedroom. Add throw pillows with intricate designs, a chunky knit blanket, and a soft area rug underfoot. These elements not only elevate the comfort level but also contribute to the room's overall allure.
4. Illuminating the Darkness
Lighting plays a pivotal role in a moody bedroom. Create a harmonious blend of soft, ambient lighting and accent lighting to add depth and dimension. Dimmer switches are an excellent addition, allowing you to adjust the intensity of the light as per your mood.
5. Embracing Nature
Incorporate elements of nature to add a touch of serenity to your moody bedroom. Potted plants, fresh flowers, or a nature-inspired wallpaper can infuse life into the space. These natural elements counterbalance the darkness, creating a well-balanced and calming environment.
6. Personalized Accents
To make your moody bedroom truly your own, incorporate personalized accents that reflect your interests and passions. Showcase artwork, photographs, or cherished mementos that evoke fond memories and create a strong emotional connection with the space.
The Benefits of a Moody Bedroom
1. Enhanced Sleep Quality
The serene and tranquil atmosphere of a moody bedroom promotes better sleep quality. The subdued lighting and cozy ambiance help relax the mind and body, enabling you to slip into a restful slumber.
2. Stress Reduction
A moody bedroom's calming design elements can reduce stress and anxiety levels. After a hectic day, stepping into this oasis of tranquility will instantly soothe your senses and help you unwind.
3. Creativity and Inspiration
The mysterious and alluring nature of a moody bedroom can spark creativity and imagination. It serves as a canvas for introspection and encourages moments of inspiration and deep thought.
4. A Space for Intimacy
With its intimate and warm atmosphere, a moody bedroom is an ideal setting for cultivating deeper connections with your partner. The cozy ambiance fosters closeness and romance.
Conclusion: Embrace the Magic
In conclusion, the allure of a moody bedroom lies in its ability to transport you to a world of enchantment and comfort. By skillfully incorporating rich colors, layered textures, and personalized accents, you can create a captivating haven that leaves other bedrooms behind. The cozy and mysterious atmosphere will not only enhance your sleep quality but also contribute to your overall well-being.
Embrace the magic of a moody bedroom and unlock the secrets to blissful relaxation. So, take the first step towards creating your own enchanting haven with a touch of mystery and start your journey towards a peaceful and indulgent slumber.
Remember, it's not just about a bedroom; it's about crafting an experience that rejuvenates your soul and leaves you longing for the comfort it brings. Discover the charm of a moody bedroom, and you'll understand why it's more than just a trend—it's a lifestyle that you'll cherish forever.