A clean and shiny countertop can enhance the overall appearance of your kitchen or bathroom. However, keeping countertops sparkling clean requires regular maintenance and the use of appropriate cleaning techniques. In this article, we will share expert tips to help you achieve spotless countertops that make a lasting impression.
Choosing the Right Cleaning Products
Using the right cleaning products is crucial to maintaining the beauty of your countertops. Different materials may require specific cleaning solutions. Here are some tips to help you choose the appropriate products:
Understanding Your Countertop Material
Different countertop materials have unique properties, which influence the type of cleaning products suitable for them. Whether you have granite, quartz, laminate, or other surfaces, make sure to understand their specific care requirements. Home renovation just got more exciting with our stunning selection of countertop options that will elevate the style and functionality of your space.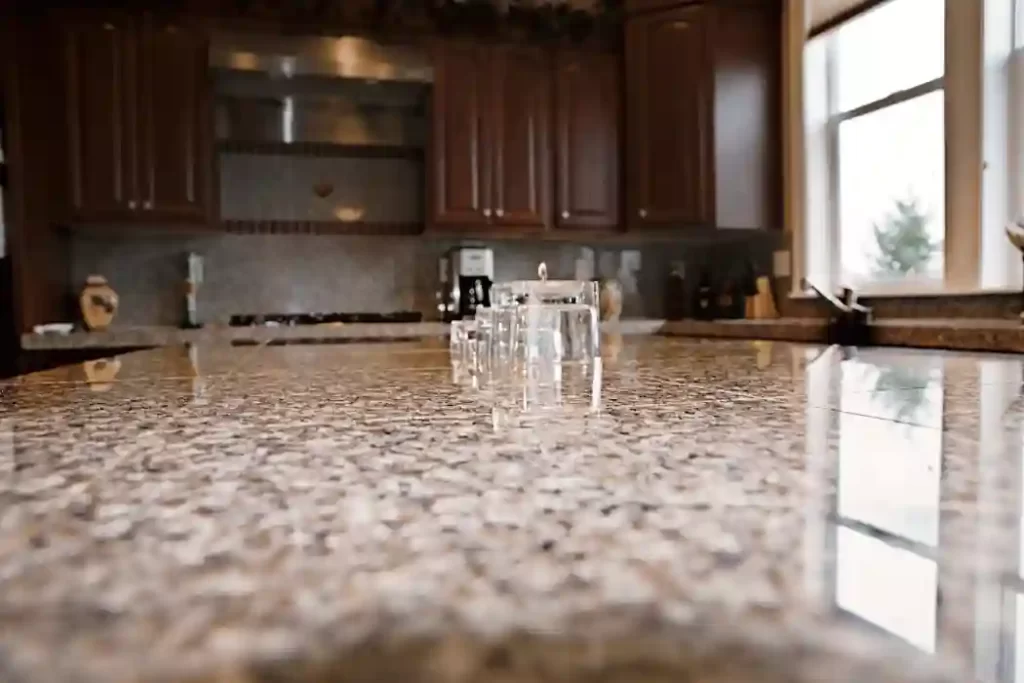 Researching Recommended Cleaning Products
Consult the manufacturer's recommendations or conduct research to identify cleaning products that are safe and effective for your specific countertop material. Avoid using harsh chemicals or abrasive cleaners that can cause damage.
Regular Maintenance
Prevention is key when it comes to keeping countertops clean. By implementing regular maintenance practices, you can minimize the accumulation of dirt, grime, and stains. Consider the following tips:
Daily Wiping
Make it a habit to wipe down your countertops daily using a soft cloth or sponge. This helps to remove any spills, crumbs, or other surface debris. Regular wiping prevents the buildup of dirt and keeps your countertops looking fresh.
Immediate Spill Cleanup
Address spills promptly to prevent staining. Blot liquids with a clean cloth, and use a gentle cleaning solution if necessary. Avoid scrubbing aggressively, as this can damage the surface.
Proper Cleaning Techniques
To achieve a sparkling clean countertop, it's essential to follow proper cleaning techniques. Here are some guidelines to keep in mind:
Gentle Scrubbing
For most countertops, a gentle scrubbing action is sufficient. Use a non-abrasive sponge or cloth and apply mild cleaning solutions in circular motions. This method effectively removes dirt without causing scratches or damage.
Rinse and Dry Thoroughly
After cleaning, rinse the countertop thoroughly to remove any residue from the cleaning solution. Dry the surface with a clean cloth to prevent water spots or streaks.
Natural Alternatives for Cleaning Countertops
If you prefer natural cleaning alternatives, several household items can effectively clean countertops without harsh chemicals. Consider the following options:
Vinegar Solution
A mixture of vinegar and water can be used as a natural cleaning solution for various countertop materials. Dilute vinegar with equal parts of water, apply it to the surface, and wipe it clean.
Baking Soda Paste
Baking soda mixed with water creates a paste that can remove stains and grime. Apply the paste to the countertop, let it sit for a few minutes, and then gently scrub it off with a sponge or cloth.
Dealing with Stubborn Stains
Despite regular maintenance, countertops may encounter stubborn stains that require extra attention. Follow these tips to tackle tough stains effectively:
Identifying the Stain Type
Different stains require different treatments. Determine the type of stain (e.g., coffee, wine, oil) to choose the appropriate cleaning method. Refer to the manufacturer's guidelines for stain removal recommendations.
Targeted Stain Removal Techniques
There are various stain removal techniques, including using specialized stain removers or creating homemade solutions. Always test any cleaning product or solution in an inconspicuous area before applying it to the stained surface.
Avoiding Common Mistakes
When cleaning countertops, it's important to avoid common mistakes that can damage the surface or compromise its cleanliness. Stay clear of the following errors:
Using Abrasive Scrubbers
Avoid using abrasive scrubbers, such as steel wool or rough scouring pads, as they can scratch or dull the countertop's finish. Opt for non-abrasive cleaning tools instead.
Neglecting Sealed Countertops
If your countertop is sealed, make sure to periodically check the sealant's condition. Reseal it as recommended by the manufacturer to maintain its protective barrier against stains and moisture.
Tips for Specific Countertop Materials
Different countertop materials have unique characteristics and require specific care. Consider the following tips tailored to different surfaces:
Granite Countertops
To maintain the shine of granite countertops, avoid acidic or abrasive cleaners. Clean them with mild soap and warm water, and use a soft cloth for drying.
Quartz Countertops
Quartz countertops are non-porous and resistant to staining. Clean them with non-abrasive cleaners or mild dish soap. Avoid excessive scrubbing or using bleach-based products.
Laminate Countertops
Laminate countertops are susceptible to scratches and heat damage. Clean them with a gentle cleaner and a non-abrasive sponge. Avoid cutting directly on the surface or placing hot pans without a trivet.
Preventative Measures
Taking preventative measures can significantly reduce the effort required to keep countertops clean. Here are some additional tips to consider:
Using Cutting Boards and Trivets
Protect your countertops by using cutting boards when preparing food and trivets when placing hot items. This prevents scratches, burns, and stains caused by direct contact.
Regularly Removing Clutter
Keep countertops clutter-free to minimize the accumulation of dirt and dust. Store kitchen utensils, appliances, and other items in designated areas to maintain a clean and organized surface.
Conclusion
Maintaining sparkling clean countertops is achievable with the right cleaning products, regular maintenance, and proper techniques. By following the expert tips outlined in this article, you can ensure your countertops remain pristine and visually appealing for years to come.