When it comes to maintaining a clean and presentable home or office, one area that often gets overlooked is the windows. Dirty windows not only affect the overall aesthetic appeal of a space but also hinder natural light from streaming in. In this article, we will unveil professional secrets that will bid farewell to dirty windows, leaving them sparkling and streak-free.
Importance of Clean Windows
Clean windows not only enhance the overall appearance of your space but also have several practical benefits. Firstly, they allow maximum natural light to enter, brightening up your rooms and reducing the need for artificial lighting during the day. Additionally, clean windows provide clear and unobstructed views of the outside world, making your space feel more open and inviting. Lastly, regular window cleaning prevents the buildup of grime and pollutants, which can deteriorate the window's lifespan. Don't let dirty windows dampen your home renovation progress. Restore clarity and brightness by including professional cleaning in your plans.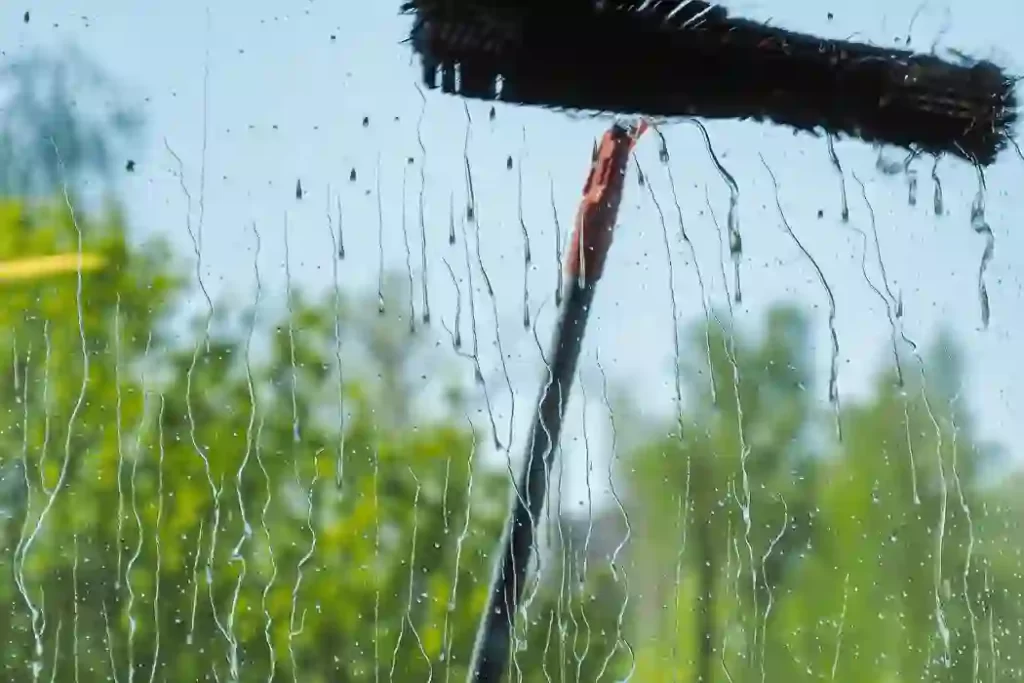 Tools and Materials Needed
Before diving into the window cleaning process, it's essential to gather the necessary tools and materials. Here's a list of items you'll need:
Squeegee
Microfiber or lint-free cloth
Window cleaning solution (commercial or DIY)
Bucket
Scraper (for stubborn stains)
Extension pole (for high windows)
Newspaper or coffee filters (optional)
Preparing for Window Cleaning
Start by preparing the area around the windows. Remove any curtains, blinds, or decorations that might obstruct the cleaning process. It's also a good idea to protect the surrounding surfaces with towels or drop cloths to catch any drips or splashes.
Step-by-Step Window Cleaning Process
Removing Dust and Debris: Begin by using a soft brush or vacuum cleaner with a brush attachment to remove loose dirt, cobwebs, and debris from the window surfaces and frames.
Preparing the Cleaning Solution: Mix a few drops of mild dish soap or a specialized window cleaning solution with water in a bucket. Avoid using harsh chemicals that may damage the windows or harm the environment.
Washing the Windows: Dip a squeegee or a sponge into the cleaning solution and apply it to the window glass in a systematic manner. Start from the top and work your way down, ensuring complete coverage. Use horizontal or vertical strokes for consistent results.
Drying and Polishing: After washing each section, wipe the window with a squeegee or a lint-free cloth to remove the cleaning solution and any dirt. Follow up with a dry cloth or microfiber towel to polish the glass, eliminating any remaining streaks.
Tips for Achieving Streak-Free Windows
Clean windows on a cloudy day or during cooler hours to prevent the cleaning solution from drying too quickly.
Avoid using excessive amounts of cleaning solution to minimize the chances of streaks.
Use a squeegee in a continuous motion, overlapping each stroke to achieve a seamless finish.
Wipe the edges and corners of the window with a cloth or sponge to ensure no residue is left behind.
Dealing with Stubborn Stains
For stubborn stains like bird droppings or dried sap, gently scrape them off using a scraper. Be cautious not to scratch the glass surface. If necessary, use a specialized window cleaning product designed to remove tough stains.
Cleaning Window Frames and Sills
Don't forget to clean the window frames and sills. Use a soft brush or cloth to remove dirt and grime. For stubborn buildup, a mixture of vinegar and water can be effective. Wipe the frames and sills thoroughly and dry them afterward to prevent water damage.
Maintaining Clean Windows
To keep your windows looking pristine for longer, follow these maintenance tips:
Regularly dust the window sills and frames.
Clean your windows at least twice a year, or more frequently if you live in a dusty or polluted area.
Address any stains or marks as soon as they appear to prevent them from becoming more challenging to remove.
Consider applying a window treatment or film that repels dust and water, making cleaning easier.
Safety Precautions
When cleaning windows, prioritize your safety by following these precautions:
Use a sturdy ladder or extension pole when reaching high windows. Ensure it is properly secured and balanced.
Wear protective gloves to shield your hands from cleaning solutions and potential sharp edges.
Avoid leaning out too far from the window, especially if you're on an upper floor. If necessary, consider hiring a professional for hard-to-reach windows.
Conclusion
With the insights and techniques shared in this article, you now possess the professional secrets to bid farewell to dirty windows. By dedicating a little time and effort, you can achieve streak-free, crystal-clear windows that enhance the beauty and functionality of your living or working space.