Windows play a crucial role in the overall aesthetics and functionality of our homes. They provide natural light, ventilation, and a connection to the outside world. However, over time, windows can accumulate dirt, grime, and smudges, diminishing their beauty and obstructing the view. If you're looking to transform your windows from grime to shine, this article is here to help. We have compiled a list of expert tips and techniques that will leave your windows sparkling clean, allowing you to enjoy the clear view and the beauty they bring to your living space.
The Importance of Clean Windows
Clean windows enhance the overall appearance of your home, both from the inside and outside. They allow natural light to illuminate your space, creating a bright and inviting atmosphere. Additionally, clean windows provide an unobstructed view, allowing you to enjoy the surrounding scenery to the fullest. Neglected windows, on the other hand, accumulate dust, grime, and smudges, which can affect the aesthetics of your home and impede the amount of sunlight entering your rooms. As part of your home renovation project, ensure a pristine finish by incorporating professional window cleaning services for a truly refreshed and polished look.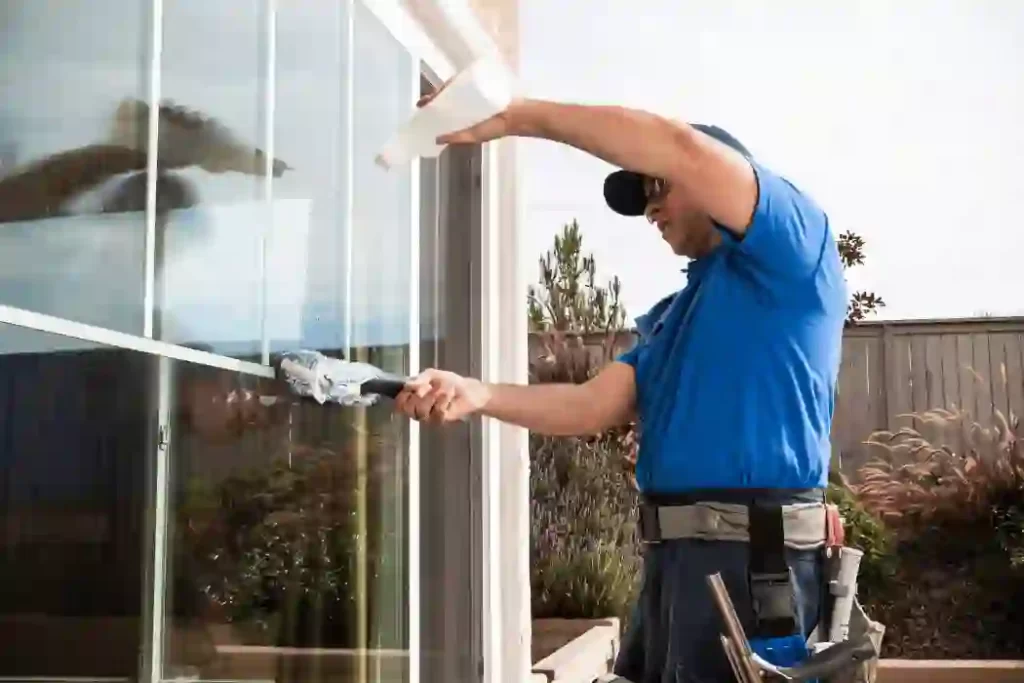 Gathering the Right Tools and Supplies
To effectively clean your windows, it's essential to gather the necessary tools and supplies. Here are some items you'll need:
Microfiber cloths or lint-free paper towels
Squeegee
Window cleaning solution (either store-bought or homemade)
Bucket or spray bottle
Scrub brush or sponge
Extension pole (for hard-to-reach windows)
Razor blade (for removing stubborn residue)
Preparing the Windows
Before diving into the cleaning process, it's important to prepare your windows properly. Here's what you need to do:
Remove any curtains, blinds, or window treatments that may obstruct access to the windows.
Open the windows to allow easy cleaning of both sides.
Dust off the window frames, sills, and tracks using a soft brush or a vacuum cleaner.
Cleaning the Window Frames and Sills
Window frames and sills also require attention during the cleaning process. Follow these steps to clean them effectively:
Fill a bucket with warm water and add a small amount of mild dish soap or all-purpose cleaner.
Dip a sponge or scrub brush into the soapy water and scrub the frames and sills gently.
Pay attention to corners, crevices, and areas with built-up grime.
Rinse the frames and sills with clean water and wipe them dry with a cloth.
Removing Stubborn Stains and Spots
Sometimes, windows may have stubborn stains or spots that require additional care. Here's how to tackle them:
Moisten a cloth or paper towel with a mild cleaning solution or a mixture of vinegar and water.
Gently rub the stained areas in a circular motion.
For more stubborn stains, use a razor blade at a 45-degree angle to scrape off the residue.

Caution: Be careful when using a razor blade to avoid scratching the glass surface.
Choosing the Right Cleaning Solution
The choice of a suitable cleaning solution depends on the type of windows and the level of dirt. Consider the following options:
Store-bought window cleaning sprays are formulated for various types of windows and provide convenience.
Homemade solutions like vinegar and water, or dish soap and water, are cost-effective and environmentally friendly.
For specialized windows, such as tinted or coated glass, consult the manufacturer's recommendations or seek professional advice.
Using the Proper Technique
To achieve streak-free and shiny windows, follow these steps:
Spray the cleaning solution onto the glass surface or dampen your cloth or sponge.
Wipe the windows in a vertical or horizontal motion, applying gentle pressure.
For larger windows, use a squeegee to remove excess cleaning solution and avoid streaks.
Wipe off any remaining moisture with a clean, lint-free cloth.
Drying and Polishing the Windows
To ensure a spotless finish, it's crucial to dry and polish the windows properly. Here's what you need to do:
Use a dry, lint-free cloth to remove any moisture or streaks left on the glass.
Polish the windows using circular motions with a microfiber cloth.
Pay attention to the edges and corners to achieve a pristine shine.
Tips for Cleaning Hard-to-Reach Windows
Cleaning windows in high or hard-to-reach areas requires extra care and precaution. Consider the following tips:
Use an extension pole with a squeegee or attach a microfiber cloth to reach higher windows safely.
Secure the ladder properly and ensure it is on stable ground before climbing.
If the windows are extremely difficult to access, consider hiring professional window cleaners.
Maintenance and Regular Cleaning
To keep your windows looking their best, establish a regular cleaning routine. Here are some maintenance tips:
Clean your windows at least twice a year, ideally during spring and fall.
Regularly dust off window frames, sills, and tracks to prevent the accumulation of dirt.
Check for signs of damage or leaks and address them promptly.
The Benefits of Professional Window Cleaning
While DIY window cleaning is possible, professional window cleaning services offer several advantages:
Professional cleaners have the expertise, tools, and experience to achieve impeccable results.
They can clean hard-to-reach windows safely and efficiently.
Hiring professionals saves you time and ensures a thorough and hassle-free cleaning process.
Safety Precautions
When cleaning windows, it's essential to prioritize safety. Follow these safety precautions:
Use a sturdy ladder or appropriate equipment when accessing high windows.
Wear gloves to protect your hands from cleaning solutions and potential hazards.
Avoid leaning out of windows or overreaching to prevent accidents.
If you're unsure about your ability to clean windows safely, consider hiring professionals.
Troubleshooting Common Window Cleaning Issues
Sometimes, window cleaning can come with challenges. Here are solutions to common issues:
Streaks: Use a microfiber cloth or squeegee to remove excess moisture and prevent streaks.
Hard water spots: Mix equal parts vinegar and water, apply to the spots, and wipe gently.
Residue from old stickers: Apply a mixture of warm water and dish soap, let it soak, and scrape off gently with a razor blade.
Conclusion
Transforming your windows from grime to shine is a rewarding endeavor that enhances the overall appeal of your home. By following expert tips and techniques, gathering the right tools, and employing the appropriate cleaning solutions and methods, you can achieve sparkling clean windows that bring in natural light and offer unobstructed views. Remember to prioritize safety, establish a regular maintenance routine, and consider professional window cleaning services for challenging or hard-to-reach areas. With these expert tips in mind, you can enjoy the beauty and clarity of your windows for years to come.