Maintaining the cleanliness and functionality of our homes involves more than just tidying up the interiors and exteriors. Often overlooked but essential for the overall well-being of a house are the gutters. Gutters play a critical role in protecting our homes from water damage by diverting rainwater away from the roof and foundation. However, over time, gutters can become clogged with leaves, debris, and other obstructions, hindering their effectiveness. That's where professional gutter cleaning solutions come into play. In this article, we will explore the importance of expert gutter cleaning and the benefits it brings to homeowners.
The Importance of Clean Gutters
Clean gutters play a vital role in preserving the integrity and longevity of a home. Here are some key reasons why maintaining clean gutters is essential:
Water Damage Prevention: Gutters effectively channel rainwater away from the roof and foundation, preventing water from seeping into the house. When gutters are clogged, water can overflow and damage the roof, walls, and interior of the home.
Foundation Protection: Properly functioning gutters direct water away from the foundation, preventing excessive moisture accumulation that can compromise its stability. This helps avoid costly foundation repairs in the long run.
Preventing Mold and Mildew: Clogged gutters can become a breeding ground for mold and mildew due to the excess moisture they retain. Regular cleaning keeps gutters clear, reducing the risk of mold growth and maintaining a healthy indoor environment.

Gutter cleaning solutions are a vital component of home renovation, as they keep your property in prime condition by maintaining proper drainage and preventing water damage.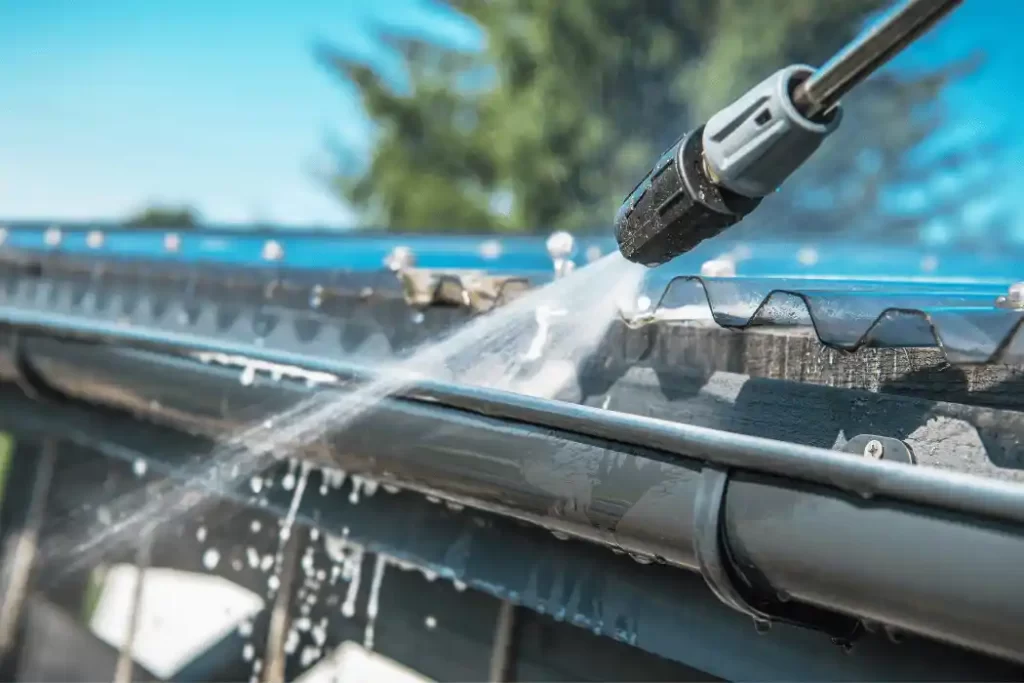 Why Choose Professional Gutter Cleaning Solutions?
Opting for professional gutter cleaning solutions offers several advantages over attempting to clean the gutters yourself. Here's why it's worth considering:
Expertise and Experience: Professional gutter cleaners are trained in the best practices and techniques for thorough gutter cleaning. They have the knowledge and experience to identify potential issues and ensure effective cleaning.
Safety: Gutter cleaning can be a hazardous task, especially if your home has multiple stories. Professionals have the necessary equipment, such as ladders and safety gear, to work safely at various heights and angles.
Time and Convenience: Hiring professionals saves you the time and effort required to clean the gutters yourself. They come equipped with the right tools and complete the job efficiently, allowing you to focus on other tasks.
The Process of Expert Gutter Cleaning
Professional gutter cleaning typically involves a systematic approach to ensure comprehensive cleaning and maintenance. Here's an overview of the typical process:
Inspection: The gutter cleaning team assesses the condition of the gutters, identifying any signs of damage or blockages that need attention.
Preparation: Safety measures are taken, including securing ladders and using protective covers to prevent debris from falling and causing a mess around the property.
Debris Removal: Using specialized tools and equipment, professionals remove leaves, twigs, dirt, and other debris from the gutters. They ensure downspouts and drainpipes are clear of obstructions.
Flushing and Cleaning: The gutters are thoroughly flushed with water to remove smaller particles and residue. If necessary, professionals may scrub the gutters to remove stubborn stains or mold.
Inspection and Maintenance Recommendations: After cleaning, the gutter cleaning team inspects the gutters and provides recommendations for any necessary repairs or future maintenance to ensure optimal gutter performance.
Benefits of Regular Gutter Maintenance
Regular maintenance of gutters through professional cleaning solutions offers several benefits:
Longevity: Regular cleaning prevents the buildup of debris and clogs, extending the lifespan of your gutters and reducing the need for costly repairs or replacements.
Prevention of Water Damage: Properly functioning gutters protect your home from water damage by directing rainwater away from sensitive areas such as the roof, walls, and foundation.
Preservation of Aesthetics: Clean gutters contribute to the overall curb appeal of your home. They enhance its appearance and give a positive first impression to visitors and potential buyers.
Peace of Mind: Regular gutter maintenance ensures that your home is well-protected from water-related issues, providing you with peace of mind and reducing the risk of unexpected expenses.
Factors to Consider when Selecting Gutter Cleaning Services
When choosing professional gutter cleaning services, it's important to consider the following factors:
Reputation and Experience: Look for service providers with a solid reputation and extensive experience in gutter cleaning.
Insurance and Licensing: Ensure that the company has proper insurance coverage and appropriate licensing to protect you from liability in case of accidents or damages.
Cost and Value: Compare prices from different providers while considering the value offered. Look for services that include comprehensive cleaning and maintenance.
Customer Reviews: Read customer reviews and testimonials to gauge the quality of service provided by the company.
Additional Services: Inquire about any additional services offered, such as gutter repairs, gutter guard installations, or roof inspections, to address all your gutter-related needs.
Conclusion
In conclusion, maintaining clean and functional gutters is crucial for the overall well-being of your home. By investing in professional gutter cleaning solutions, you ensure that water is effectively diverted away from your roof and foundation, preventing potential damage and costly repairs. With their expertise, experience, and efficient cleaning process, professional gutter cleaners provide a convenient and safe way to keep your gutters clear and your home protected. So, don't overlook the importance of expert gutter cleaning—clear the way for a healthy and well-maintained home.