Regular chimney cleaning is crucial to ensure the optimal functioning and safety of your chimney system. Over time, soot, creosote, and debris can accumulate in the chimney, leading to restricted airflow, increased fire hazards, and diminished performance. Hiring trusted chimney cleaning services will help you maintain a flawless chimney, providing you with peace of mind and a well-functioning fireplace or stove. In this article, we will explore the importance of chimney cleaning and how professional cleaning services can help you keep your chimney in top condition.
The Significance of Chimney Cleaning
Regular chimney cleaning offers several important benefits:
Fire Prevention: The accumulation of creosote and soot in the chimney can ignite and cause chimney fires. Regular cleaning removes these combustible materials, significantly reducing the risk of a dangerous fire in your home.
Improved Efficiency: A clean chimney allows for proper ventilation and airflow, enabling efficient combustion. By removing obstructions and buildup, chimney cleaning enhances the performance of your fireplace or stove, resulting in better heat output and fuel efficiency.
Reduced Health Risks: Soot and debris in the chimney can release harmful particles into the air, compromising indoor air quality and potentially causing respiratory issues. Regular cleaning helps maintain a clean and healthy environment inside your home.
Including chimney maintenance in your home renovation is crucial for ensuring a safe and efficient fireplace, allowing you to enjoy cozy moments without any worries.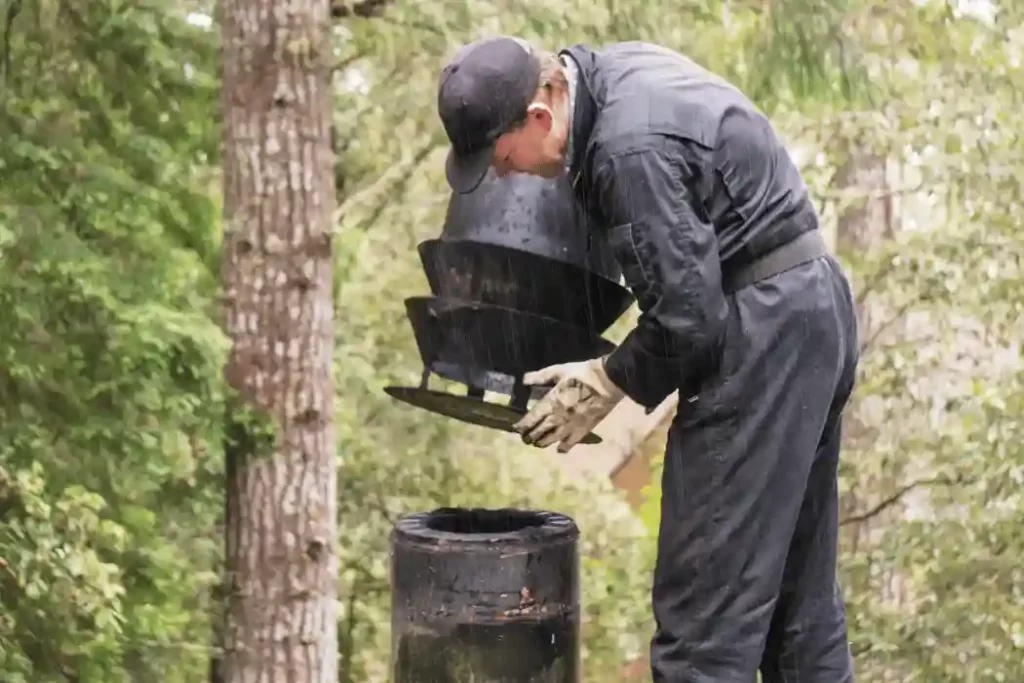 Extended Chimney Lifespan: Cleaning removes corrosive substances, such as creosote, that can damage chimney components over time. By keeping your chimney clean, you can prolong its lifespan and avoid costly repairs or replacements.
Benefits of Trusted Chimney Cleaning Services
Hiring trusted chimney cleaning services offers several advantages:
Expertise and Knowledge: Professional chimney cleaners have the necessary expertise and knowledge to effectively clean chimneys. They are trained in the latest cleaning techniques and safety measures, ensuring a thorough and safe cleaning process.
Comprehensive Cleaning: Trusted chimney cleaners use specialized tools and equipment to remove all types of buildup, including soot, creosote, and debris. They clean not only the flu but also other chimney components, such as the smoke chamber and chimney cap.
Safety Assurance: Professionals prioritize safety during the cleaning process. They take precautions to protect your home from dust and debris, use safety equipment to prevent accidents, and follow industry standards to ensure a safe and reliable cleaning service.
Inspection and Maintenance Recommendations: Along with cleaning, trusted chimney cleaning services often provide inspections. They can identify potential issues, such as cracks or deteriorating chimney liners, and offer maintenance recommendations to address them promptly.
Convenience and Time Savings: Hiring professionals saves you the time and effort of cleaning the chimney yourself. They have the experience and tools to efficiently complete the job, allowing you to focus on other tasks and enjoy your clean and functional chimney sooner.
The Process of Flawless Chimney Cleaning
Professional chimney cleaning typically involves the following steps:
Initial Assessment: Chimney cleaners assess the condition of your chimney and determine the extent of cleaning required.
Preparation: They take precautions to protect your home by covering nearby surfaces and furniture. Drop cloths or plastic sheets are used to prevent dust and debris from spreading.
Cleaning the Flue: Using specialized brushes and vacuum equipment, the cleaners remove soot, creosote, and debris from the flue. They ensure thorough cleaning from top to bottom, eliminating any blockages or buildup.
Cleaning Additional Components: Depending on the type of chimney, the professionals may clean other components, such as the smoke chamber, damper, chimney cap, and firebox.
Inspection: After cleaning, the chimney may be inspected to identify any structural issues or areas that require further attention.
Clean-Up: The cleaning team will clean up the work area, removing all dust, debris, and protective coverings. They leave your home clean and tidy, ready for you to enjoy your fireplace or stove.
Choosing the Right Chimney Cleaning Service
Consider the following factors when selecting a trusted chimney cleaning service:
Credentials and Certifications: Look for companies that are certified and have trained professionals. This ensures that they have the necessary skills and knowledge to perform the cleaning safely and effectively.
Experience and Reputation: Choose a chimney cleaning service with a proven track record and positive customer reviews. An experienced company is more likely to deliver reliable and satisfactory results.
Insurance Coverage: Verify that the company has adequate liability insurance to protect you and your property in case of any accidents or damages during the cleaning process.
Transparent Pricing: Request a detailed estimate from the chimney cleaning service before hiring them. Ensure that the pricing is transparent, with no hidden fees or charges.
Customer Service: Consider the level of customer service provided by the company. They should be responsive to your inquiries, address your concerns, and provide clear communication throughout the process.
Conclusion
Regular chimney cleaning is vital for maintaining a flawless and safe chimney system. Trusted chimney cleaning services offer expertise, comprehensive cleaning, safety assurance, and convenience. By hiring professionals, you can ensure that your chimney is cleaned thoroughly, promoting efficient operation, reducing fire risks, and enhancing indoor air quality. When selecting a chimney cleaning service, consider their credentials, experience, reputation, insurance coverage, pricing transparency, and customer service. With a trusted chimney cleaning service, you can keep your chimney in excellent condition and enjoy the warmth and comfort of a well-maintained fireplace or stove.