Carpet cleaning is an essential task that every homeowner should prioritize. Not only does it help to maintain the appearance of your carpets, but it also improves the air quality of your home and keeps your family healthy. However, carpet cleaning can be a daunting task, especially if you don't have the right tools or knowledge. In this article, we'll provide you with the ultimate guide to carpet cleaning, including tips and tricks to make the process easier and more effective.
Vacuum regularly
The first and most crucial step in carpet cleaning is to vacuum regularly. Vacuuming helps to remove dirt, dust, and other debris from your carpets, preventing them from settling deep into the fibers. We recommend vacuuming at least once a week, or more often if you have pets or kids. Be sure to use a high-quality vacuum cleaner with a HEPA filter, as this will help to trap even the smallest particles.
Spot clean spills immediately
Accidents happen, and spills are inevitable. But it's essential to spot clean spills as soon as possible to prevent them from setting into the carpet fibers. For most spills, blot the area with a clean cloth to absorb as much of the liquid as possible. Avoid rubbing the spill, as this can spread the stain and make it harder to remove. Once you've blotted the spill, apply a small amount of carpet cleaner to the affected area and blot again. Repeat this process until the stain is gone. Home renovation often involves various tasks, and carpet cleaning is an essential aspect of restoring the beauty and freshness of your space.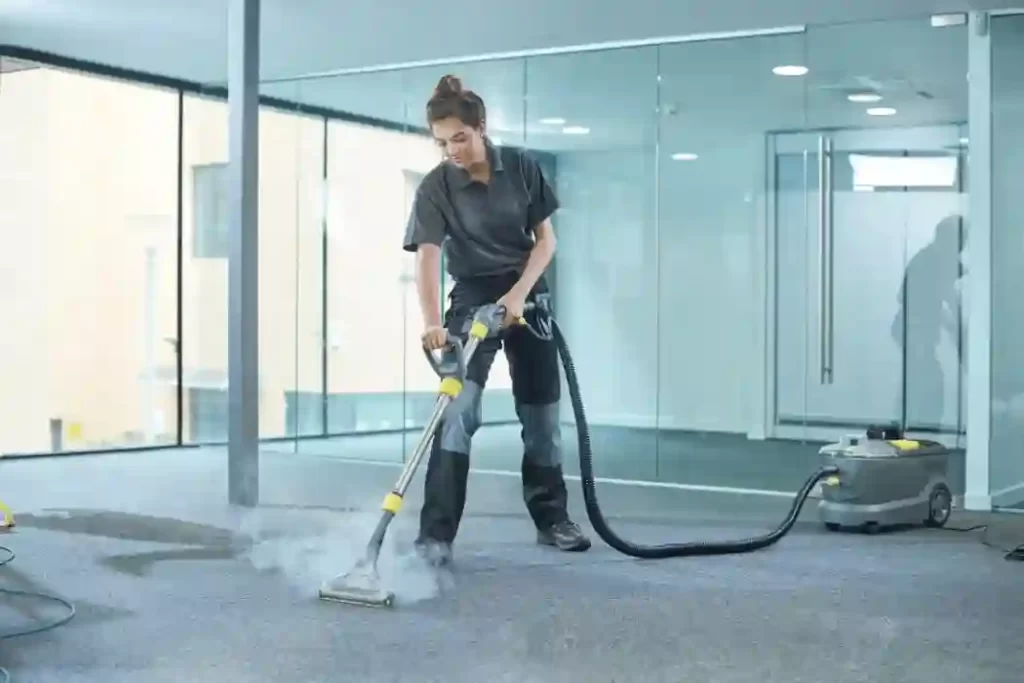 Use baking soda for odors
If your carpets are starting to smell musty or stale, baking soda can help. Sprinkle a liberal amount of baking soda over your carpets and let it sit for at least 30 minutes, or overnight if possible. Then, vacuum up the baking soda, and the odors should be gone. You can also add a few drops of essential oils to the baking soda for a fresh, clean scent.
Steam clean periodically
While regular vacuuming and spot cleaning can help keep your carpets looking clean, it's still important to steam clean them periodically. Steam cleaning uses hot water and cleaning solution to penetrate deep into the carpet fibers, removing dirt and grime that regular cleaning can't reach. We recommend steam cleaning your carpets at least once a year, or more often if you have pets or allergies.
Hire a professional
If you're not comfortable steam cleaning your carpets yourself, or if you want to ensure that your carpets are as clean as possible, consider hiring a professional carpet cleaner. Professional carpet cleaners have the equipment and expertise to clean even the dirtiest carpets, and they can also apply special treatments to remove pet odors, stains, and other stubborn problems. Just be sure to do your research and choose a reputable company that uses eco-friendly cleaning products.
Use the right cleaning products
When it comes to carpet cleaning products, there are a lot of options available, but not all of them are created equal. Be sure to choose cleaning products that are safe for your carpets and your family, and avoid products that contain harsh chemicals or toxins. Look for products that are labeled as eco-friendly, hypoallergenic, and safe for pets and kids. You can also make your own carpet cleaner using simple ingredients like vinegar, baking soda, and essential oils.
Don't forget the edges and corners
When vacuuming or steam cleaning your carpets, it's easy to focus on the main areas and forget about the edges and corners. But these areas are just as important and can quickly become dirty and dusty. Use a crevice tool or a small attachment to clean the edges and corners of your carpets thoroughly.
Use area rugs and doormats
One way to keep your carpets clean and reduce the amount of dirt and debris that gets tracked in from outside is to use area rugs and doormats. Place doormats at all of the entrances to your home to trap dirt and moisture before it gets onto your carpets. Use area rugs in high-traffic areas, like hallways and entryways, to protect your carpets from wear and tear. Be sure to vacuum and clean these rugs regularly as well.
Protect your carpets
In addition to using area rugs and doormats, there are other ways to protect your carpets from damage. For example, you can ask your family and guests to remove their shoes when entering your home, as shoes can track in dirt, mud, and other debris. You can also discourage eating and drinking in carpeted areas, especially if you have young children or pets.
Conclusion
Carpet cleaning may seem like a daunting task, but it's essential for maintaining the appearance and air quality of your home. By following these tips and tricks, you can make the process easier and more effective, and keep your carpets looking and smelling fresh for years to come. Remember to vacuum regularly, spot clean spills immediately, steam clean periodically, use the right cleaning products, and don't forget the edges and corners. With a little effort and care, your carpets will stay clean and beautiful for many years to come.