Are you tired of the same old conventional flooring options that lack excitement and creativity? Well, get ready to step into a world where floors become art, captivating every visitor with breathtaking designs and optical illusions. In this article, we delve into the mesmerizing realm of 3D flooring, exploring its uniqueness, benefits, installation process, and how it can elevate any space into an extraordinary work of art. Let's embark on this captivating journey and discover the wonders of 3D flooring!
What is 3D Flooring?
3D flooring is an innovative and avant-garde concept in the world of interior design and flooring solutions. Unlike traditional floorings that consist of mundane tiles, hardwood, or carpets, 3D flooring unleashes boundless creativity by using advanced technology to create visually stunning, three-dimensional images on the floor surface. These images are so realistic and vivid that they seem to come alive, transforming ordinary spaces into extraordinary masterpieces. Looking to elevate your home renovation to the next level? Consider adding mesmerizing 3D flooring designs that will transform your living space into an artistic masterpiece.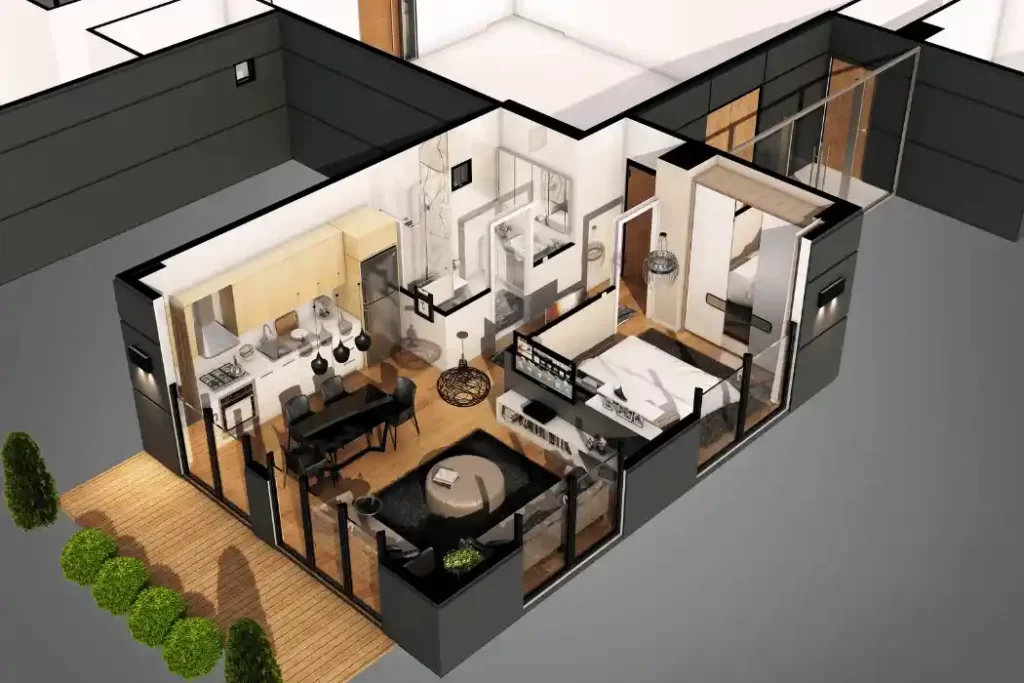 The Process of Creating 3D Floors
1. Design Selection:
The first step in the creation of a 3D floor is choosing the design. Thanks to modern printing techniques, virtually any image can be transferred onto the floor surface. From mesmerizing underwater scenes to optical illusions that deceive the eye, the design options are limited only by the imagination.
2. Preparing the Subfloor:
Before the actual 3D flooring is installed, proper preparation of the subfloor is crucial. It must be cleaned, leveled, and any imperfections addressed to ensure a smooth and flawless finish.
3. Adding the Base Layer:
A self-leveling compound is applied on the subfloor to create a seamless foundation for the 3D image. This base layer ensures that the final flooring will be even and devoid of any bumps or irregularities.
4. Printing the 3D Image:
Using advanced printing technology, the chosen design is printed on a special material, which will eventually become the top layer of the 3D floor. The level of detail and realism achieved by this printing process is awe-inspiring.
5. Application of the Top Layer:
The printed material is carefully placed on top of the base layer. As it adheres to the floor, it becomes an integral part of the surface, almost like an ethereal mural. The top layer is then sealed to protect the artwork and create a durable, long-lasting floor.
The Benefits of 3D Flooring
1. Unparalleled Aesthetics:
The most obvious advantage of 3D flooring is its striking visual appeal. It can turn a simple room into a captivating wonderland, leaving guests in awe and envy.
2. Versatility in Design:
The versatility of 3D flooring designs is unmatched. Whether you prefer the tranquility of nature scenes, the excitement of urban landscapes, or the whimsy of fantasy art, there's a 3D floor design to suit every taste and preference.
3. Creating Illusions of Space:
In smaller rooms, 3D flooring can be a game-changer. Cleverly designed 3D floors can create optical illusions that make the space seem larger, airier, and more open.
4. Durability and Easy Maintenance:
Contrary to what one might think, 3D flooring is not only about beauty but also practicality. These floors are durable, scratch-resistant, and easy to clean, making them ideal for both residential and commercial spaces.
5. Conversation Starter:
Imagine the conversations that will be sparked when guests step into a room with a jaw-dropping 3D floor! It's a conversation starter, an ice-breaker, and an impressive way to leave a lasting impression.
Places Where 3D Flooring Thrives
1. Residential Spaces:
In homes, 3D flooring is a rising trend that elevates the overall ambiance of living spaces. It can be used in living rooms, bedrooms, bathrooms, or even kitchens, adding an element of surprise and luxury to the home environment.
2. Commercial Establishments:
From trendy cafes to sophisticated hotels, 3D flooring has found its place in various commercial settings. It helps businesses create memorable spaces that attract customers and enhance the overall brand image.
3. Entertainment Venues:
Amusement parks, movie theaters, and game zones can benefit greatly from the immersive experience of 3D flooring. It adds an element of excitement and wonder, complementing the entertainment on offer.
4. Educational Spaces:
Schools, museums, and libraries can use 3D flooring to create engaging and interactive learning environments. It can turn a regular floor into an educational tool, enhancing the overall learning experience.
Installation and Maintenance Tips
1. Professional Installation:
While DIY tutorials may exist, it is highly recommended to have 3D flooring installed by professionals. They possess the expertise, tools, and experience needed to achieve flawless results.
2. Regular Cleaning:
Routine cleaning and maintenance are essential to keep 3D floors looking their best. Gentle sweeping and occasional mopping are usually sufficient to maintain their charm.
3. Avoid Harsh Chemicals:
To protect the artwork, avoid using harsh chemicals or abrasive cleaning tools. Stick to mild cleaning agents and soft cloths to ensure the longevity of the 3D floor.
Conclusion
In conclusion, 3D flooring is a masterpiece of art and technology combined. It opens up a world of possibilities, transforming floors into captivating works of art that leave an indelible mark on anyone who walks on them. From residential spaces to commercial establishments, 3D flooring thrives and continues to captivate minds and hearts alike. So, why settle for ordinary floors when you can turn them into extraordinary masterpieces? Embrace the marvel of 3D flooring and elevate your spaces to new dimensions of beauty and creativity!